Noios is a Wingdrake first introduced in Monster Hunter: World.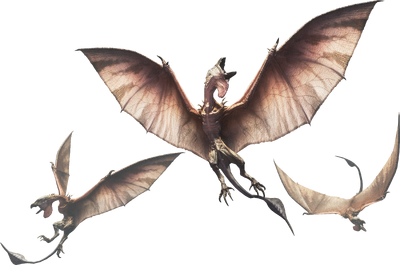 Physiology
Noios are wingdrakes that resemble vultures in addition to pterosaurs. They have a large beak, a waddle hanging from their neck, light-brown skin, and a long tail.
Behavior
They can often be seen flying around the wildspires seen in the wastes. When easily startled, they can let out a harsh cry which can startle those near and lead to a chain reaction.
Game Appearances
Chronological Appearances
| | | |
| --- | --- | --- |
| First US / EU Appearance: | First JP Appearance: | Latest Appearance: |
| (2018) | (2018) | (2018) |
In-Game Description
Monster Hunter: World

Wingdrakes that will produce a sound similar to screamer pods when startled. Use meat to get their attention and then hunt them for materials, or use them as transportation.
Notes
References