Nargacuga Discussion


Nargacuga is a Flying Wyvern introduced in Monster Hunter Freedom Unite.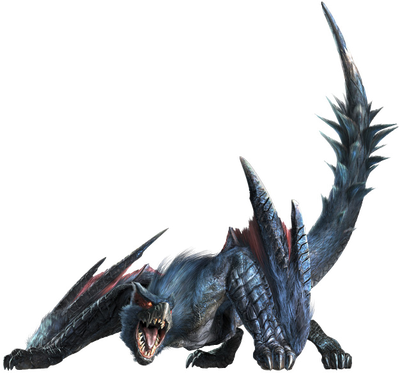 Physiology
It has black scales, black fur and nightmarish red eyes, giving it the look and style of a predatory black panther. Its dark, feral appearance suggests that it may mainly be a nocturnal predator. This wyvern has been sighted within the Great Forest at both night and daytime, the Jungle, and also the Old Swamp. When it's in Rage Mode, its eyes glow bright red and leave a trail of reddish lines when Nargacuga moves. Also, its tail erects large spikes which can be flung and linked up with its attacks for devastating hits. Their vertebrae and tail muscles are extremely flexible, making the tail of Nargacuga also prehensile. Its tail is also its most powerful weapon. The scales at the end of the tail can also be shaken to produce rattling sounds similar to that of a rattle snake.
Like Yian Kut-Ku, they are surprised by the shock of sound (Sonic Bombs, Barrel Bombs, etc.) which will make them enter rage mode as soon as they recover.
Nargacuga's face can be broken, as can its wings be cut. If Nargacuga's tail has been damaged enough, it can be cut off, but only during a state of Rage, this way of tail cutting is changed in Monster Hunter Portable 3rd, now the tail can be severed when not in rage mode. It is also immune to Pitfall Traps unless it is in Rage Mode or put to sleep.
Abilities
Nargacuga has the ability to attack with almost every part of its body, mainly its bladed wings and its spiked tail. Its head can be used for biting, similar to Tigrex. Its bladed wings are used almost for the entire battle and deal high damage. Its tail tip, which can be cut with a white bar of sharpness or above, is extremely dangerous. When in Rage Mode its tail spikes will protrude until it gets out of it (Although they will protrude when it uses tail slams and it shoots tail spikes). Nargacuga also has extremely strong muscles that let it jump long distances and tall heights.
Behavior
Nargacuga is a careful and cautious monster. It is very easy for it to sneak up to a hunter. Nargacuga lives in dark places that it has adapted to. It rests on high trees that are hard to reach, or maybe can't be reached, so hunters can't catch it by surprise for capturing it. Nargacuga will wake up when hunters are right in front of the tree due to its natural senses.
Habitat
Nargacuga is normally and mainly found in the Great Forest, although there are quests where Nargacuga can be found in the Old Swamp, Old Jungle, and Jungle. In Monster Hunter Portable 3rd Nargacuga can be found in the Misty Peaks. In Monster Hunter Generations Nargacuga can also be found in the Jurassic Frontier.
Other Non-Subspecies Forms
Silverwind Nargacuga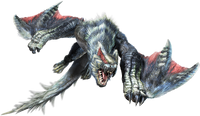 Main Article: Silverwind Nargacuga
A Deviant of Nargacuga first appearing in Monster Hunter Generations.
Breakable Parts
Face (Break)
Wing (Break)2x
Tail (Scar)
Tail (Sever)
Elemental/Status Effectiveness
Monster Hunter Portable 3rd
Information is taken from mhp3rd.net
Game Appearances
Chronological Appearances
| | | |
| --- | --- | --- |
| First US / EU Appearance: | First JP Appearance: | Latest Appearance: |
| (2009) | (2008) | (2017) |
In-Game Description
Monster Hunter Freedom Unite

A uniquely-evolved wyvern that calls the forest its home. It hides itself in the shadows and slyly stalks its prey with terrifying speed and tenacity. Its unique tail can take down a medium-sized monster in a single swish.

Monster Hunter Portable 3rd

木々の生い茂る土地に生息する、独特の進化を遂げた飛竜。別名 "迅竜" 。暗がりに身を潜め、恐るべき素早さで執拗かつ狡猾に獲物を狙い、追い詰める。戦うための武器として発達した尻尾は、非常にしなやかで、強烈な破壊力を持つ。

Monster Hunter 3 Ultimate

Flying wyverns that have evolved to live in thickly wooded areas. These sly beasts stalk their prey from the shadows with ferocious speed and dogged tecacity, and their massive tails are as dexterous as they are deadly.




Threat Level (危険度): ★★★★

Monster Hunter Generations

Flying wyverns that have evolved to live in thickly wooded areas. These sly beasts stalk their prey from the shadows with ferocious speed and dogged tecacity. Their massive tails are as dexterous as they are deadly, and powerful enough to slay smaller monsters with one strike.




Threat Level (危険度): ★★★★★

Monster Hunter Stories

Flying Wyverns residing in wooded areas. Fearfully fast, persistent, and sly, they excel at hunting prey.

Monster Hunter Frontier G

(?)




Threat Level (危険度): !!!!!!

Monster Hunter Online

(?)
Music Themes
| | Title |
| --- | --- |
| | MHFU/MHP3rd/MH3U/MHX: Nargacuga Theme |
Notes
If the tail spikes come into contact with a Large Barrel Bomb, the bomb will detonate.
When Nargacuga is very close to death in the Great Forest, it will rest in the trees in Area 5. It will wake up and come back to the ground once the hunter gets close to it. The same goes for Area 5 of the Flooded Forest and Area 9 of the Misty Peaks in Monster Hunter Portable 3rd, where a similarly large tree lives.
Pitfall traps work only when the Nargacuga is in Rage mode. They work for a greater length of time if it reverts to normal while trapped.
If a loud noise is made (Sonic Bombs, bombs) the Narga will flinch. However it will immediately go into Rage Mode.
If the hunter throws a Sonic Bomb while the Nargacuga is in its Prowler Stance in Rage Mode, it falls over and drops a shiny.
When flinching, it moves 2 steps backward and shakes its head. This is also done by Tigrex.
Upon entering Rage Mode, it will jump horizontally quickly and roar.
Nargacuga can fly off from any part of the area, unlike other wyverns, they must limp to a certain spot to flee.
Nargacuga's roar requires Earplugs to block.
According to one of the Uniqlo Monster Hunter 10th Anniversary T-Shirts, the size of the foot of a Nargacuga is 139 centimeters.
Nargacuga makes a comeback and gains a new attack.
A new green Subspecies is introduced.
The Nargacuga will now often slip after it pounces from its Prowler Stance when low on stamina and its wings are broken. To regain that stamina, Nargacuga feeds on Kelbi and Aptonoth.
After Nargacuga does a spinning attack, it will pause and shake its head.
Pitfall Traps now only last longer for one use on Narga. Subsequent pitfalls will only have regular pitfall durations.

Nargacuga may jump out of Pitfall Traps in High Rank Quests.

Breaking one of its wings will always cause it to fall to its side, leaving it open for attacks. Break its other wing for it to fall over again. This also applies to its subspecies.
Nargacuga is now most vulnerable to Thunder, as opposed to in Monster Hunter Freedom Unite, where it was weakest to Fire.
Nargacuga does not need to be in Rage Mode before its tail can be severed.
Nargacuga is one of the Warning Monsters in the High Rank Quests.
In High Rank Guild Quests, Nargacuga sometimes charges at the hunter then jumps unexpectedly.