Home
Talk

30
4,484pages on
this wiki

The comprehensive database devoted to the Monster Hunter series since June 19, 2007
Monster Appreciation Week:
| | |
| --- | --- |
| | Duramboros: Giant brute wyverns with hammer-like growths on their tails. They subsist on fallen or withered trees, often using their tails to knock said trees over. Researchers speculate that the lumps on their backs act as some sort of energy source. |
NOTE:

The Monster Hunter Wikia is an English Wiki, with Japanese and Korean texts used to illustrate certain articles. Users are not allowed to alter contents of Articles in this wiki to languages other than English.
However, the Monster Hunter Wiki Staff Team are looking at ways other languages can be incorporated into the site in the future.

Promoting any English Patch and .ISO downloads is forbidden here! The Monster Hunter Wiki does not support illegal Downloads, and Users caught in the act will be blocked from the Wiki permanently!
Create blog post
News
Hey there Monster Hunters!

We have an opportunity for a UK based MH community member to help Nintendo with their upcoming Unleashed tour in London on May 24-26. The event will take place at the Excel …

Read more >
See more >

To write a new article, just enter the article title in the box below.
Or add to an existing page that is currently lacking content:
If you are creating a new weapon page or updating an existing one, please use these Weapon Images.


Monster Hunter 4 is a new game being produced by Capcom. It is the second game in the Monster Hunter series to be released on the Nintendo 3DS. There is a stronger emphasis on platforming than previously; walls can now be climbed more fluidly and in any direction, and for the first time Hunters can grab onto monsters and attack them. Environments shown also appear to be larger than before.
Various monsters have been confirmed to return, most notably Rathalos, Rathian, Tigrex and Yian Kut-Ku.
Two new weapon classes, the Insect Staff and Charge Axe, have been confirmed.
In an interview article, it was stated that the game is going to put far more effort into adventure and storyline, and there will be a group of traveling caravans.
Music Theme of シャンティエン (Shantien) the upcoming Elder Dragon in MHFG.

Scans from the Monster Hunter Hunting Card Artworks book.

More
Featured Images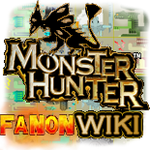 The Monster Hunter Fanon Wiki is a comprehensive database for fan-made content about the Monster Hunter series. The wiki is dedicated to collecting all fan-made content from MH fans, such as fanarts, fanfics, fancomics, cosplay images and more!
(Click here)!


Check out the current Poll's discussion board!
MH3U is coming to the USA and Europe! Which version will you be buying?
Like answering polls? Check out the Polls Index!
Look at:
Poll Archives.

Check out the
Quest Board
for some current goal pages.


Are you a custom smiley / emoticon maker? Come and click here!