MHFO Forward 2 Discussion

The newest addition to the Frontier series. Updates include a new monster, area, some brand new HC monsters and perhaps most controversially, a Halk.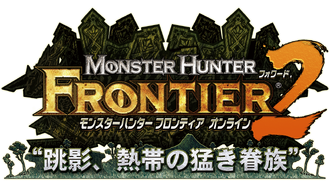 Updates
Gogomoa
Gogomoa is a monkey-like creature with giant claws and the unique ability to shoot webs from his hands like a spider. It was originally slowly revealed to players in a mosaic of MHFO screenshots.
New HC Monsters
00:33

MHF『フォワード.2 特異個体"ドラギュロス"』

00:32

MHF『フォワード.2 特異個体"ディアブロス亜種"』

HC Doragyurosu

HC Black Diablos

00:38

MHF『フォワード.2 特異個体"イャンクック亜種"』

00:38

MHF『フォワード.2 特異個体"ドスファンゴ"』

HC Blue Yian Kut-Ku

HC Bulldrome

00:33

MHF『フォワード.2 特異個体"グラビモス"』

HC Gravios
New Comrades
The Halk is a Flying Wyvern type creature and they are able to help the hunter in battle. They seem to be at least partially customizable.
New Area
A new area called Tide Island. Is a forest type area with an active volcano lurking in the background.
Trailers