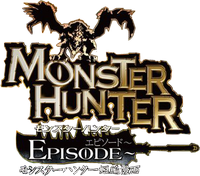 Monster Hunter Episode (モンスターハンターエピソード) is an official series of novels and mangas about the Monster Hunter series. The author is Ryuta Fuse (布施龍太). There are currently five Novels and three Manga Volumes.
Plot
The series tells short stories of different Hunters, whether random groups or solo hunters. Not all of the stories end with a good ending.
Differences from Monster Hunter Orage
Unlike Monster Hunter Orage, Episode more closely follows the MH series of games locations (from the locations itself to its specific Areas in-game). It also only uses the original monsters that have appeared from the games, although Equipment and Monsters that have appeared from the first generation up to the third generation are all combined into this series.
Novels
Manga Volumes
Purchase Links
Note: Please help the Monster Hunter Wiki in information regarding Monster Hunter Episode by either finding information on the net, or purchasing and translating the chapters for us. We would greatly appreciate the effort.
Ad blocker interference detected!
Wikia is a free-to-use site that makes money from advertising. We have a modified experience for viewers using ad blockers

Wikia is not accessible if you've made further modifications. Remove the custom ad blocker rule(s) and the page will load as expected.