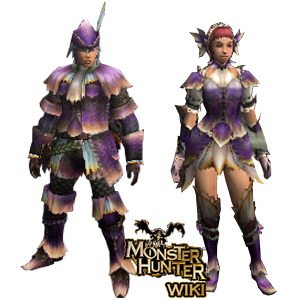 Armor Skills
| Armor Piece | Skill Points |
| --- | --- |
| Melahoa Flower hat Z | HiSpdGathr +3, Whim -2, SpeedSetup +2. |
| Melahoa FlowerJacket Z | HiSpdGathr +2, Whim -2, SpeedSetup +1. |
| Melahoa Branch Z | HiSpdGathr +2, Whim -2, Evade Dist +2, SpeedSetup +3. |
| Melahoa Skirt Z | HiSpdGathr +1, Whim -3, Evade Dist +4, SpeedSetup +1. |
| Melahoa Roots Z | HiSpdGathr +2, Whim -2, Evade Dist +2, SpeedSetup +3. |
| Total | HiSpdGathr +10, Whim -10, Evade Dist +8, SpeedSetup +10. |
The armor gives the following skills:
HiSpdGathr:Increases speed of Carving, Mining, Gathering, and Bugnetting
Spectre's Whim:Greater chance of breaking(Affects Pick axe and Bug nets breaking.)
TrapMaster: increases the speed of laying traps and bombs
Slots per Piece
Helm: 3.
Torso: 3.
Arms: 2.
Waist: 2.
Legs: 2
Ad blocker interference detected!
Wikia is a free-to-use site that makes money from advertising. We have a modified experience for viewers using ad blockers

Wikia is not accessible if you've made further modifications. Remove the custom ad blocker rule(s) and the page will load as expected.