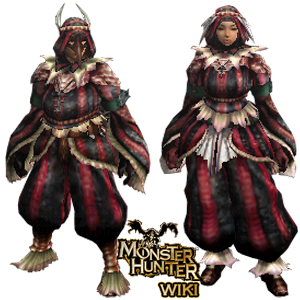 Armor Skills
| Armor Piece | Skill Points |
| --- | --- |
| Makluva Hood Z | MixSucRate +5, Protection -2, HearProtct +2. |
| Makluva Cover Z | MixSucRate +2, Protection -2, HearProtct +2. |
| Makluva Sleeves Z | MixSucRate +2, Everlastng +5. |
| Makluva Coilt Z | MixSucRate +3, HearProtct +3, Protection -3. |
| Makluva Pants Z | MixSucRate +2, Everlastng +5. |
| Total | MixSucRate +15, Everlastng +10, Protection -7, HearProtct +7.. |
The armor gives the following skills:
Comb Suc+30%:Increases all combo's success rates.
Item Usage Improved: Items effects last 50% longer.Item effects (i.e. cool drinks)
Slots per Piece
Helm: 2.
Torso: 2.
Arms: 3.
Waist: 2.
Legs: 3.
Ad blocker interference detected!
Wikia is a free-to-use site that makes money from advertising. We have a modified experience for viewers using ad blockers

Wikia is not accessible if you've made further modifications. Remove the custom ad blocker rule(s) and the page will load as expected.