Ad blocker interference detected!
Wikia is a free-to-use site that makes money from advertising. We have a modified experience for viewers using ad blockers

Wikia is not accessible if you've made further modifications. Remove the custom ad blocker rule(s) and the page will load as expected.
reA MH gallery showing the merchandise that can be bought. Many of these collectibles and souvenirs are from a new MH store found only in Japan. These items can also be bought on many online stores, like AmiAmi or Play Asia.
A Japanese Capcom store for Monster Hunter can be found at the Official Japanese Monster Hunter Store.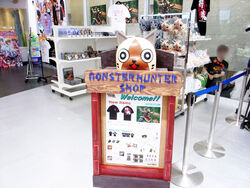 PSP Souvenirs
Plushies\Teddies
Toys/Figures/Statues/Models
Capcom Figure Builder Volume 1
Capcom Figure Builder Volume 2
Capcom Figure Builder Volume 3
Capcom Figure Builder Volume 4
Capcom Figure Builder Volume 5
Capcom Figure Builder Volume 6
Capcom Figure Builder Volume 7
Capcom Figure Builder Volume 8
Capcom Figure Builder Volume 9
Capcom Figure Builder Volume 10
Capcom Figure Builder Plus Volume 4
Capcom Figure Builder Palicoes Volume 1
Capcom Figure Builder Palicoes Volume 2
Capcom Figure Builder Palicoes Volume 3
Capcom Figure Builder Creator's Model - Rathalos
Capcom Figure Builder Creator's Model - Azure Rathalos
Capcom Figure Builder Creator's Model - Silver Rathalos
Capcom Figure Builder Creator's Model - Zinogre
Capcom Figure Builder Creator's Model - Stygian Zinogre
Capcom Figure Builder Creator's Model - Lagiacrus
Capcom Figure Builder Creator's Model - Ivory Lagiacrus
Capcom Figure Builder Creator's Model - Abyssal Lagiacrus
Capcom Figure Builder Creator's Model - Brachydios
Capcom Figure Builder Creator's Model - Brachydios (Rage Mode)
Capcom Figure Builder Creator's Model - Rathian
Capcom Figure Builder Creator's Model - Pink Rathian
Capcom Figure Builder Creator's Model - Gold Rathian
Capcom Figure Builder Creator's Model - Tigrex
Capcom Figure Builder Creator's Model - Brute Tigrex
Capcom Figure Builder Creator's Model - Tigrex Rare Species
Capcom Figure Builder Creator's Model - Gore Magala
Capcom Figure Builder Creator's Model - Golden Rajang
Chogokin Monster Hunter G Class Henkei Rathalos
Ichiban KUJI Seregios
Play Arts Kai - Tetsuya Nomura x Monster Hunter 4 Ultimate Collaboration Figure
Revoltech - Tigrex Figure
Revoltech - Brute Tigrex Figure
Revoltech - Molten Tigrex Figure
Clothing
http://www.capcom.co.jp/blog/unity/sakiko/2011/10/06_4291.html
Jewelery
Collectibles\Cards
Soundtracks\Books
Extras