MHP3rd: Felyne Comrade Weapons
Talk

0
Felyne Comrade Weapons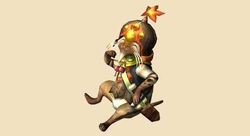 The weapons of Felyne comrades are now customizable in Monster Hunter Portable 3rd. Hunters can let their Felyne Comrades equip a weapon of different varieties. Felyne Comrade Weapons can be either among Slash or Impact damage. The weapons come with each of their own Attack Power, Elemental Attribute, Sharpness Level, and Affinity.
Creating Felyne Comrade weapons are different from creating Hunter's weapons, as Material Scraps are required instead of the main materials itself. Material Scraps are obtained by either making a piece of equipment, or turning a material into a scrap.
This Article shall list every Felyne Comrade Weapon obtainable in Monster Hunter Portable 3rd.

NOTE: