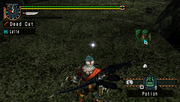 Fallen Objects, they fall off of a monster when they are surprised, flashed bombed, Sonic Bombed, or when stuck in a wall/trap. They appear as a shiny dot on the floor, and make a twinkle noise when dropped.
There are a lot of objects that can "Fall" or that can be "dropped" from monsters, here is a list of them:
Ad blocker interference detected!
Wikia is a free-to-use site that makes money from advertising. We have a modified experience for viewers using ad blockers

Wikia is not accessible if you've made further modifications. Remove the custom ad blocker rule(s) and the page will load as expected.