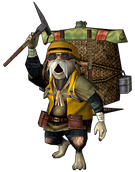 Treasure Quests are offered by Treshi who stands in the top left corner of the Gathering Hall.
Notes
Time limit on all Treasure Quests is 20 minutes.
Treasure Quests are only available in the Online Gathering Hall.
Treasure quests can only be undertaken by two players. There is no single player option.
Treasure Quests
One Star Quests
No.
Name
Objective
Location
Reward
Contract Fee
1/5
Treasure in the Hills!
Gather 2000 Points Before Time Over
Forest and Hills
1000z
500z
2/5
Treasure in the Jungle!
Gather 2000 Points Before Time Over
Jungle
1000z
500z
3/5
Treasure in the Swamp!
Gather 2000 Points Before Time Over
Swamp
1000z
500z
4/5
Treasure in the Desert!
Gather 2000 Points Before Time Over
Desert
1000z
500z
5/5
Treasure in the Lava!
Gather 2000 Points Before Time Over
Volcano
1000z
500z