Ad blocker interference detected!
Wikia is a free-to-use site that makes money from advertising. We have a modified experience for viewers using ad blockers

Wikia is not accessible if you've made further modifications. Remove the custom ad blocker rule(s) and the page will load as expected.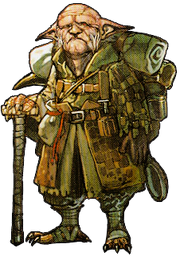 Veggie Elders roam the lands, gathering veggies during their travels, and trading their treasured items with hunters they meet; the better the items on hand, the more generous the Veggie Elder will be when offering a trade. They tend to have fickle personalities and, after persistently bothering them, Veggie Elders will become highly disgruntled with hunters. If hunters are awarded a Veggie Elder ticket from the Guild, it can be traded to the Veggie Elders for what can be considered an excellent item.
Ancestral Steppe Trades
Item Given
Item Received
# Recieved

Unique Mushroom
特産キノコ

Ration
携帯食料
x1

Choice Mushroom
厳選キノコ

Catalyst
増強剤
x1

Small Goldenfish
小金魚

Felvine Bomb
マタタビ爆弾
x1

Goldenfish
黄金魚

EZ Shock Trap
携帯シビレ罠
x1

Wyvern Egg
飛竜の卵

Mega Bug Net
虫あみグレート
x1

Gargwa Egg
ガーグァの卵

First-aid Med
応急薬
x1

Gold Gargwa Egg
ガーグァの金の卵

Max Potion
秘薬
x1

White Liver
ホワイトレバー

Mega Fishing Fly
釣りフィーバエ
x2

Auristone Chunk
黄金石の塊

Lifepowder
生命の粉塵
x2

VE Ticket
山菜組引換券

Lifecrystals
生命の粉
x1

VE Deluxe Ticket
山菜組引換券G

Lifepowder
生命の粉塵
x1

VE Bronze Ticket
鋼の山菜組引換券

Kecha Tail
奇猿狐の尻尾
x1

VE Silver Ticket
銀の山菜組引換券

Rathalos Plate
火竜の逆鱗
x1

VE Golden Ticket
金の山菜組引換券

Rathalos Ruby
火竜の紅玉
x1

VE Cosmic Ticket
天の山菜組引換券

Rathalos Mantle
火竜の天鱗
x1

Dundorma Tuna
ドンドルマグロ

Dust of Life
生命の大粉塵
x1
Sunken Hollow Trades
Item Given
Item Received
# Recieved

Sulfur Crystal
硫黄結晶

Ration
携帯食料
x1

Small Goldenfish
小金魚

EZ Shock Trap
携帯シビレ罠
x1

Goldenfish
黄金魚

Mega Pickaxe
ピッケルグレート
x1

Herbivore Egg
草食竜の卵

Tiny Spall
小さなかけら
x1

Sootstone Ore
灰水晶の原石

Tiny Spall
小さなかけら
x1

White Liver
ホワイトレバー

Mega Fishing Fly
釣りフィーバエ
x2

VE Ticket
山菜組引換券

Armorskin
硬化薬
x1

VE Deluxe Ticket
山菜組引換券G

Mega Armorskin
硬化薬グレート
x1

VE Bronze Ticket
鋼の山菜組引換券

Dignified Skull
厳めしい頭骨
x1

VE Silver Ticket
銀の山菜組引換券

Rathian Plate
雌火竜の逆鱗
x1

VE Golden Ticket
金の山菜組引換券

Rathian Ruby
雌火竜の紅玉
x1

VE Cosmic Ticket
天の山菜組引換券

Rathian Mantle
雌火竜の天鱗
x1

Dundorma Tuna
ドンドルマグロ

Mega Dash Juice
強走薬グレート
x2
Primal Forest Trades
Item Given
Item Received
# Recieved

Crystal Bone
竜骨結晶

Ration
携帯食料
x1

Small Goldenfish
小金魚

First-aid Med+
応急薬グレート
x2

Goldenfish
黄金魚

EZ Shock Trap
携帯シビレ罠
x1

Wyvern Egg
飛竜の卵

Tiny Spall
小さなかけら
x1

Royal Rhino
ロイヤルカブト

Crystal Bone
竜骨結晶
x1

Divine Rhino
ゴッドカブト

First-aid Med
応急薬
x3

White Liver
ホワイトレバー

Mega Fishing Fly
釣りフィーバエ
x2

Slagtoth Oil
垂皮油

Bug Net
虫あみ
x1

VE Ticket
山菜組引換券

Nutrients
栄養剤
x1

VE Deluxe Ticket
山菜組引換券G

Mega Nutrients
栄養剤グレート
x1

VE Bronze Ticket
鋼の山菜組引換券

Chilling Beak
寒気立つクチバシ
x1

VE Silver Ticket
銀の山菜組引換券

Gore Magala Plate
黒蝕竜の逆鱗
x1

VE Golden Ticket
金の山菜組引換券

Gore Magala Nyctgem
黒蝕竜の闇玉
x1

VE Cosmic Ticket
天の山菜組引換券

Gore Magala Mantle
黒蝕竜の天鱗
x1

Dundorma Tuna
ドンドルマグロ

Dust of Life
生命の大粉塵
x1
Frozen Seaway Trades
Item Given
Item Received
# Recieved

Bloodstone
血石

Ration
携帯食料
x1

Small Goldenfish
小金魚

EZ Shock Trap
携帯シビレ罠
x1

Goldenfish
黄金魚

Cleanser
消散剤
x1

Decayed Scale
朽ちた龍鱗

Hot Meat
ホットミート
x1

Popo Tongue
ポポノタン

Hot Drink
ホットドリンク
x1

Monster Guts
モンスターのキモ

Hot Meat
ホットミート
x1

VE Ticket
山菜組引換券

Dash Juice
強走薬
x1

VE Deluxe Ticket
山菜組引換券G

Mega Dash Juice
強走薬グレート
x1

VE Bronze Ticket
鋼の山菜組引換券

Lagombi Iceclaw
白兎獣の氷爪
x1

VE Silver Ticket
銀の山菜組引換券

Tigrex Scalp
轟竜の頭殻
x1

VE Golden Ticket
金の山菜組引換券

Tigrex Maw
轟竜のアギト
x1

VE Cosmic Ticket
天の山菜組引換券

Tigrex Mantle
轟竜の天鱗
x1

Dundorma Tuna
ドンドルマグロ

Ancient Potion
いにしえの秘薬
x1
Volcanic Hollow Trades
Item Given
Item Received
# Recieved

Coal
燃石炭

Ration
携帯食料
x1

Powderstone
火薬岩

Chilled Meat
クーラーミート
x1

Sootstone Ore
灰水晶の原石

Tiny Spall
小さなかけら
x1

White Liver
ホワイトレバー

Iron Pickaxe
ピッケル
x1

Slagtoth Oil
垂皮油

Coal
燃石炭
x1

VE Ticket
山菜組引換券

Demondrug
鬼人薬
x1

VE Deluxe Ticket
山菜組引換券G

Mega Demondrug
鬼人薬グレート
x1

VE Bronze Ticket
鋼の山菜組引換券

Iodrome Head
ドスイーオスの頭
x1

VE Silver Ticket
銀の山菜組引換券

Brach Marrow
砕竜の骨髄
x1

VE Golden Ticket
金の山菜組引換券

Brach Gem
砕竜の宝玉
x1

VE Cosmic Ticket
天の山菜組引換券

Brach Pallium
砕竜の天殻
x1

Dundorma Tuna
ドンドルマグロ

Slickaxe
フエールピッケル
x1
Heaven's Mount Trades
Item Given
Item Received
# Recieved

Mistentoe
霞ヶ草

Ration
携帯食料
x1

Fossilized Bone
化石骨

Mistentoe
霞ヶ草
x1

Wyvern Egg
飛竜の卵

Dash Juice
強走薬
x1

Auristone Chunk
黄金石の塊

Lifepowder
生命の粉塵
x2

White Liver
ホワイトレバー

Mega Fishing Fly
釣りフィーバエ
x2

VE Ticket
山菜組引換券

Max Potion
秘薬
x1

VE Deluxe Ticket
山菜組引換券G

Ancient Potion
いにしえの秘薬
x1

VE Bronze Ticket
鋼の山菜組引換券

Congalala Fang
桃毛獣の牙
x1

VE Silver Ticket
銀の山菜組引換券

Zinogre Plate
雷狼竜の逆鱗
x1

VE Golden Ticket
金の山菜組引換券

Zinogre Jasper
雷狼竜の碧玉
x1

VE Cosmic Ticket
天の山菜組引換券

Zinogre Skymerald
雷狼竜の天玉
x1

Dundorma Tuna
ドンドルマグロ

Ancient Potion
いにしえの秘薬
x1
Dunes (Day) Trades
Item Given
Item Received
# Recieved

Monster Guts
モンスターのキモ

Frozen Berry
氷結晶イチゴ
x2

Piscine Liver
魚竜のキモ

Cool Drink
クーラードリンク
x1

Tropical Berry
熱帯イチゴ

Ration
携帯食料
x1

Fossilized Bone
化石骨

Tropical Berry
熱帯イチゴ
x1

Wyvern Egg
飛竜の卵

Tiny Spall
小さなかけら
x1

Carapaceon Brains
ザザミン

Sonic Bomb
音爆弾
x1

Carapaceon Brains+
極上ザザミン

Max Potion
秘薬
x1

VE Ticket
山菜組引換券

Chilled Meat
クーラーミート
x1

VE Deluxe Ticket
山菜組引換券G

Mega Bug Net
虫あみグレート
x1

VE Bronze Ticket
鋼の山菜組引換券

Great Jaggi Head
狗竜の頭
x1

VE Silver Ticket
銀の山菜組引換券

Black Pearl
黒真珠
x1

VE Golden Ticket
金の山菜組引換券

Seregios Dissenter
千刃竜の反逆鱗
x1

VE Cosmic Ticket
天の山菜組引換券

Seregios Lens
千刃竜の鏡玉
x1

Dundorma Tuna
ドンドルマグロ

Mega Dash Juice
強走薬グレート
x2
Dunes (Night) Trades
Item Given
Item Received
# Recieved

Monster Guts
モンスターのキモ

Hot Meat
ホットミート
x1

Meteor Chunk
隕石の大塊

Mega Dash Juice
強走薬グレート
x1

Piscine Liver
魚竜のキモ

Hot Drink
ホットドリンク
x1

Silverfish
白金魚

Iron Pickaxe
ピッケル
x1

Wyvern Egg
飛竜の卵

Tiny Spall
小さなかけら
x1

Royal Rhino
ロイヤルカブト

Mega Fishing Fly
釣りフィーバエ
x1

Divine Rhino
ゴッドカブト

First-aid Med+
応急薬グレート
x3

Carapaceon Brains
ザザミン

Sonic Bomb
音爆弾
x1

Carapaceon Brains+
極上ザザミン

Lifepowder
生命の粉塵
x1

VE Ticket
山菜組引換券

Hot Meat
ホットミート
x1

VE Deluxe Ticket
山菜組引換券G

Mega Pickaxe
ピッケルグレート
x1

VE Bronze Ticket
鋼の山菜組引換券

Gendrome Head
ドスゲネポスの頭
x1

VE Silver Ticket
銀の山菜組引換券

Cephalos Fin+
砂竜の上ヒレ
x1

VE Golden Ticket
金の山菜組引換券

Monoblos Heart
モノブロスハート
x1

VE Cosmic Ticket
天の山菜組引換券

Diablos Hardhorn
大地を穿つ剛角
x1

Dundorma Tuna
ドンドルマグロ

Dust of Life
生命の大粉塵
x1
Everwood Trades
Item Given
Item Received
# Recieved

Unique Mushroom
特産キノコ

Bomb Casing
素材玉
x1

Choice Mushroom
厳選キノコ

Farcaster
モドリ玉
x1

Gargwa Egg
ガーグァの卵

Catalyst
増強剤
x1

Gold Gargwa Egg
ガーグァの金の卵

Max Potion
秘薬
x1

Tiny Spall
小さなかけら

Lifecrystals
生命の粉
x1

Lucky Spall
幸運のかけら

Lifepowder
生命の粉塵
x1

Miracle Spall
激運のかけら

Ancient Potion
いにしえの秘薬
x1

Poogie Pearl
プーギーパール

Cathangea Elixir
竜仙丹
x3

VE Ticket
山菜組引換券

Lifecrystals
生命の粉
x1

VE Deluxe Ticket
山菜組引換券G

Slickaxe
フエールピッケル
x1

VE Bronze Ticket
鋼の山菜組引換券

Velocidrome Head
ドスランポスの頭
x1

VE Silver Ticket
銀の山菜組引換券

Giant Beak
巨大なクチバシ
x1

VE Golden Ticket
金の山菜組引換券

Splendid Beak
立派なクチバシ
x1

VE Cosmic Ticket
天の山菜組引換券

Kut-Ku Luckear
怪鳥の福耳
x1

Dundorma Tuna
ドンドルマグロ

Slickaxe
フエールピッケル
x1