Ad blocker interference detected!
Wikia is a free-to-use site that makes money from advertising. We have a modified experience for viewers using ad blockers

Wikia is not accessible if you've made further modifications. Remove the custom ad blocker rule(s) and the page will load as expected.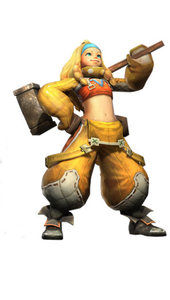 Decorations are special Jewels that can be crafted from the Blacksmith after arriving in Harth and meeting the Chief's Daughter, Little Miss Forge, whom specializes in said Decorations and after leaving Harth, will join the Caravan and continue to craft Decorations for you when needed. These Decorations once crafted have no use until you equip them onto the slots which some Armor Pieces, Weapons and even Talismans have. Once equipped, the Jewel provides additional points for various skills, such as +2 Bombardier, or +3 Handicraft/-2 Sharpness. Some Jewels require more than 1 Slot (Up to a Maximum of 3), and each Decoration provides a different amount of Positive Points and Negative Points for Skills, and some might not even have any Negative Points. Using Jewels and Talismans, you can customize a set with a whole new skill, improve a skill it already has, and much more.
Craftable Decorations
Jewel Name
Cost
Slots
Positive Skill
Negative Skill
Materials
Steadfast Jwl 1
耐絶珠【1】
200z
1
+1 Stun
+1 気絶
-1 Paralysis
-1 麻痺
Aquaglow Jewel x1, Bird Wyvern Fang x3
Standfast Jwl 1
制絶珠【1】
300z
1
+2 Stun
+2 気絶
Sunspire Jewel x1, King's Frill x1, Arzuros Pelt x2
Standfast Jwl 1
制絶珠【1】
300z
1
+2 Stun
+2 気絶
Bloodrun Jewel x1, G.Jaggi Hide+ x2
Paralysis Jwl 1
耐痺珠【1】
200z
1
+1 Paralysis
+1 麻痺
-1 Poison
-1 毒
Aquaglow Jewel x1, Bnahabra Shell x2
Paralysis Jwl 2
耐痺珠【2】
300z
2
+3 Paralysis
+3 麻痺
-1 Poison
-1 毒
Sunspire Jewel x1, Gendrome Hide x2, Monster Fluid x2
Paralysis Jwl 2
耐痺珠【2】
300z
2
+3 Paralysis
+3 麻痺
-1 Poison
-1 毒
Bloodrun Jewel x1, Gendrome Tail x1
Pep Jewel 1
耐眠珠【1】
200z
1
+1 Sleep
+1 睡眠
-1 Mud/Snow
-1 耐泥耐雪
Aquaglow Jewel x1, Nerscylla Shell x2
Pep Jewel 2
耐眠珠【2】
300z
2
+3 Sleep
+3 睡眠
-1 Mud/Snow
-1 耐泥耐雪
Sunspire Jewel x1, Nerscylla Chelicera x1, Warm Pelt x2
Pep Jewel 2
耐眠珠【2】
300z
2
+3 Sleep
+3 睡眠
-1 Mud/Snow
-1 耐泥耐雪
Bloodrun Jewel x1, Nerscylla Sharpclaw x1
Antidote Jewel 1
耐毒珠【1】
200z
1
+1 Poison
+1 毒
-1 Stun
-1 気絶
Aquaglow Jewel x1, Ioprey Fang x2
Antidote Jewel 2
耐毒珠【2】
300z
2
+3 Poison
+3 毒
-1 Stun
-1 気絶
Sunspire Jewel x1, Iodrome Hide x2, Screamer Sac x2
Antidote Jewel 2
耐毒珠【2】
300z
2
+3 Poison
+3 毒
-1 Stun
-1 気絶
Bloodrun Jewel x1, Toxin Sac x1
Def Lock Jewel 1
耐防珠【1】
200z
1
+2 Def Lock
+2 対防御DOWN
Aquaglow Jewel x1, Adamant Seed x2, Catalyst x2
Alarm Jewel 1
防盗珠【1】
200z
1
+2 Anti-Theft
+2 盗み無効
Aquaglow Jewel x1, Felvine x3
Tracker Jewel 1
耐粘珠【1】
200z
1
+1 Mud/Snow
+1 耐泥耐雪
-1 Sleep
-1 睡眠
Aquaglow Jewel x1, Rhenoplos Shell x2
Trekker Jewel 1
抗粘珠【1】
200z
1
+2 Mud/Snow
+2 耐泥耐雪
Sunspire Jewel x1, Lagombi Plastron x1, Dragonite Ore x2
Staunch Jewel 1
抗傷珠【1】
200z
1
+2 Bleeding
裂傷
Lazurite Jewel x1, Seregios Airblade x1, Cephalos Fin+ x2
Clean Jewel 1
抗着珠【1】
500z
1
+2 Sticky Res
+2 耐粘
Adamant Orb x1, Nerscylla Scishorn x2, Nerscylla Hardclaw x1
Sane Jewel 1
抗狂珠【1】
600z
1
+1 Frenzy Res
+1 狂撃耐性
-1 Evasion
-1 回避性能
Adamant Orb x1, Antinomic Wing x2, Zenith Wyvern Gem x1
Sane Jewel 3
抗狂珠【3】
600z
3
+4 Frenzy Res
+4 狂撃耐性
-2 Evasion
-2 回避性能
Sovereign Orb x1, Diametrical Horn x1, Chaos Scale x3
Footing Jewel 1
耐震珠【1】
200z
1
+1 Tremor Res
+1 耐震
-1 Sleep
-1 睡眠
Aquaglow Jewel x1, Paddock Oil x1
Tectonic Jewel 1
抗震珠【1】
200z
1
+2 Tremor Res
+2 耐震
Sunspire Jewel x1, Dignified Skull x1, Glueglopper x2
Heat Res Jewel 1
耐暑珠【1】
200z
1
+2 Heat Res
+2 耐暑
Aquaglow Jewel x1, Ice Crystal x1
Cold Res Jewel 1
耐寒珠【1】
200z
1
+2 Cold Res
+2 耐寒
Aquaglow Jewel x1, Sharqskin Scale x2
Earplug Jewel 1
防音珠【1】
200z
1
+1 Hearing
+1 聴覚保護
-1 Protection
-1 加護
Sunspire Jewel x1, Rathian Webbing x1, Lagombi Ear x2
Earplug Jewel 1
防音珠【1】
200z
1
+1 Hearing
+1 聴覚保護
-1 Protection
-1 加護
Bloodrun Jewel x1, Tigrex Carapace x2
Earplug Jewel 3
防音珠【3】
400z
3
+4 Hearing
+4 聴覚保護
-2 Protection
-2 加護
Lazurite Jewel x1, Chameleos Gem x1, Pearl Hide x1
Wind Res Jewel 1
防風珠【1】
200z
1
+1 Wind Res
+1 風圧
-1 Fate
-1 運気
Sunspire Jewel x1, Zinogre Claw x1, Dragonite Ore x2
Wind Res Jewel 2
防風珠【2】
300z
2
+3 Wind Res
+3 風圧
-1 Fate
-1 運気
Bloodrun Jewel x1, Daora Webbing x1, Carbalite Ore x3
Attack Jewel 1
攻撃珠【1】
200z
1
+1 Attack
+1 攻撃
-1 Defense
-1 防御
Aquaglow Jewel x1, Jaggi Scale x2, Might Seed x1
Attack Jewel 2
攻撃珠【2】
300z
2
+3 Attack
+3 攻撃
-1 Defense
-1 防御
Sunspire Jewel x1, Rath Wingtalon x2, Demondrug x1
Attack Jewel 3
攻撃珠【3】
400z
3
+5 Attack
+5 攻撃
-1 Defense
-1 防御
Bloodrun Jewel x1, Gore Magala Ripclaw+ x1, Mega Demondrug x2
Expert Jewel 1
達人珠【1】
200z
1
+1 Expert
+1 達人
-1 Dragon Res
-1 龍耐性
Aquaglow Jewel x1, Sharp Fang x2, Iron Ore x1
Expert Jewel 2
達人珠【2】
300z
2
+3 Expert
+3 達人
-1 Dragon Res
-1 龍耐性
Sunspire Jewel x1, Nargacuga Cutwing x1, Nerscylla Claw x2
Expert Jewel 2
達人珠【2】
300z
2
+3 Expert
+3 達人
-1 Dragon Res
-1 龍耐性
Bloodrun Jewel x1, Nerscylla Shear x2
Expert Jewel 3
達人珠【3】
400z
3
+5 Expert
+5 達人
-1 Dragon Res
-1 龍耐性
Lazurite Jewel x1, Akantor Spike x1, Najarala Carapace x2
Disabler Jewel 1
特攻珠【1】
200z
1
+1 Status
+1 特殊攻撃
-1 Elemental
-1 属性攻撃
Sunspire Jewel x1, Bnahabra Wing x3, Genprey Fang x3
Disabler Jewel 1
特攻珠【1】
200z
1
+1 Status
+1 特殊攻撃
-1 Elemental
-1 属性攻撃
Bloodrun Jewel x1, Bnahabra Carapace x2, Remobra Hide+ x2
Disabler Jewel 2
特攻珠【2】
300z
2
+3 Status
+3 特殊攻撃
-1 Elemental
-1 属性攻撃
Bloodrun Jewel x1, Pale Steak x1, Monster Broth x2
Element Jewel 1
属攻珠【1】
200z
1
+1 Elemental
+1 属性攻撃
-1 Status
-1 特殊攻撃
Bloodrun Jewel x1, Alatreon Plate x3
Element Jewel 3
属攻珠【3】
400z
3
+4 Elemental
+4 属性攻撃
-2 Status
-2 特殊攻撃
Lazurite Jewel x1, Dalamadur Talon x2, Zinogre Shocker+ x1
Blaze Jewel 1
火炎珠【1】
200z
1
+1 Fire Atk
+1 火属性攻撃
-1 Water Atk
-1 水属性攻撃
Sunspire Jewel x1, Rathian Scale x2
Blaze Jewel 2
火炎珠【2】
300z
2
+3 Fire Atk
+3 火属性攻撃
-1 Water Atk
-1 水属性攻撃
Bloodrun Jewel x1, Inferno Sac x1, Volvidon Carapace x2
Stream Jewel 1
流水珠【1】
200z
1
+1 Water Atk
+1 水属性攻撃
-1 ThunderAtk
-1 雷属性攻撃
Sunspire Jewel x1, Royal Ludroth Claw x1
Stream Jewel 2
流水珠【2】
300z
2
+3 Water Atk
+3 水属性攻撃
-1 ThunderAtk
-1 雷属性攻撃
Bloodrun Jewel x1, S.Queen Extract x1, Plesioth Scale x2
Bolt Jewel 1
雷光珠【1】
200z
1
+1 ThunderAtk
+1 雷属性攻撃
-1 Ice Atk
-1 氷属性攻撃
Sunspire Jewel x1, Flabby Hide x1, Thunderbug x2
Bolt Jewel 2
雷光珠【2】
400z
2
+3 ThunderAtk
+3 雷属性攻撃
-1 Ice Atk
-1 氷属性攻撃
Bloodrun Jewel x1, Thunder Sac x1, Zinogre Carapace x1
Frost Jewel 1
氷結珠【1】
200z
1
+1 Ice Atk
+1 氷属性攻撃
-1 Fire Atk
-1 火属性攻撃
Sunspire Jewel x1, Zamtrios Hide x2
Frost Jewel 2
氷結珠【2】
300z
2
+3 Ice Atk
+3 氷属性攻撃
-1 Fire Atk
-1 火属性攻撃
Bloodrun Jewel x1, Freezer Sac x1. Lagombi Plastron+ x2
Dragon Jewel 1
破龍珠【1】
200z
1
+1 Dragon Atk
+1 龍属性攻撃
-1 Status
-1 特殊攻撃
Sunspire Jewel x1, D.Mohran Bloodscale x2
Dragon Jewel 2
破龍珠【2】
300z
2
+3 Dragon Atk
+3 龍属性攻撃
-1 Status
-1 特殊攻撃
Bloodrun Jewel x1, Dragonbone Relic x2, Rathalos Carapace x2
Tenderizer Jwl 1
痛撃珠【1】
200z
1
+1 Tenderizer
+1 痛撃
-1 Health
-1 体力
Sunspire Jewel x1, Rathalos Webbing x1, Rathian Spike x1
Tenderizer Jwl 1
痛撃珠【1】
200z
1
+1 Tenderizer
+1 痛撃
-1 Health
-1 体力
Bloodrun Jewel x1, Rathalos Scale+ x2
Tenderizer Jwl 3
痛撃珠【3】
400z
3
+4 Tenderizer
+4 痛撃
-2 Health
-2 体力
Lazurite Jewel x1, Akantor Tallfang x1, Rathalos Ruby x1
Tenderizer Jwl 3
痛撃珠【3】
400z
3
+4 Tenderizer
+4 痛撃
-2 Health
-2 体力
Sovereign Orb x1, Scarlet Stouthorn x1, Monoblos Heart x1
Destroyer Jwl 1
重撃珠【1】
200z
1
+1 Destroyer
+1 重撃
-1 Expert
-1 達人
Sunspire Jewel x1, Duramboros Mossplate x1, Gravios Shell x2
Destroyer Jwl 1
重撃珠【1】
200z
1
+1 Destroyer
+1 重撃
-1 Expert
-1 達人
Bloodrun Jewel x1, Gravios Carapace x2
Destroyer Jwl 3
重撃珠【3】
400z
3
+4 Destroyer
+4 重撃
-2 Expert
-2 達人
Lazurite Jewel x1, Ukanlos Carapace x1, Rathian Ruby x1
Destroyer Jwl 3
重撃珠【3】
400z
3
+4 Destroyer
+4 重撃
-2 Expert
-2 達人
Sovereign Orb x1, Twisted Stouthorn x2, Blos Medulla x1
CritElementJwl 1
属会珠【1】
600z
1
+1 CritElemnt
+1 属性会心
-1 Attack
-1 攻撃
Adamant Orb x1, A.Rathalos Cortex x2
CritElementJwl 2
属会珠【2】
700z
2
+3 CritElemnt
+3 属性会心
-1 Attack
-1 攻撃
Sovereign Orb x1, Daora Cortex x2, A.Rathalos Lash x1
Crit Status Jwl 1
特会珠【1】
600z
1
+1 CritStatus
+1 特殊会心
-1 Attack
-1 攻撃
Adamant Orb x1, S.Nerscylla Cortex x2
Crit Status Jwl 2
特会珠【2】
700z
2
+3 CritStatus
+3 特殊会心
-1 Attack
-1 攻撃
Sovereign Orb x1, Chameleos Finehide x2, Nerscylla Surspike x1
Capacity Jewel 2
装填珠【2】
300z
2
+1 Loading
+1 装填数
-1 Reload Spd
-1 装填速度
Sunspire Jewel x1, D.Mohran Brace x1, Tigrex Claw x2
Capacity Jewel 2
装填珠【2】
300z
2
+1 Loading
+1 装填数
-1 Reload Spd
-1 装填速度
Bloodrun Jewel x1, Deviljho Scalp x1
Capacity Jewel 3
装填珠【3】
400z
3
+2 Loading
+2 装填数
-2 Reload Spd
-2 装填速度
Lazurite Jewel x1, D.Mohran Brace+ x1
Laden Jewel 3
増填珠【3】
600z
3
+3 Loading
+3 装填数
-2 Reload Spd
-2 装填速度
Sovereign Orb x1, Gravios Crown x2, Purecrystal x1
Charger Jewel 1
短縮珠【1】
200z
1
+1 FastCharge
+1 溜め短縮
-1 Constitutn
-1 体術
Sunspire Jewel x1, Tetsucabra Claw x1, Barroth Shell x2
Charger Jewel 1
短縮珠【1】
200z
1
+1 FastCharge
+1 溜め短縮
-1 Constitutn
-1 体術
Bloodrun Jewel x1, Tigres Scale+ x2
Charger Jewel 3
短縮珠【3】
400z
3
+4 FastCharge
+4 溜め短縮
-2 Constitutn
-2 体術
Lazurite Jewel x1, D.Mohran Carapace x1, Najarala Carapace x2
Throttle Jewel 1
全開珠【1】
200z
1
+1 Gloves Off
+1 本気
-1 Sense
-1 気配
Sunspire Jewel x1, Zinogre Horn x1, Gore Magala Feeler x2
Throttle Jewel 1
全開珠【1】
200z
1
+1 Gloves Off
+1 本気
-1 Sense
-1 気配
Bloodrun Jewel x1, Zinogre Horn+ x1
Throttle Jewel 2
全開珠【2】
300z
2
+3 Gloves Off
+3 本気
-1 Sense
-1 気配
Lazurite Jewel x1, Gore Magala Feeler+ x1, Blangonga Pelt+ x2
KO Jewel 1
KO珠【1】
200z
1
+1 KO
+1 KO
-1 FastCharge
-1 溜め短縮
Sunspire Jewel x1, Monster Bone+ x1, Rhenoplos Scalp x1
KO Jewel 2
KO珠【2】
300z
2
+3 KO
+3 KO
-1 FastCharge
-1 溜め短縮
Sunspire Jewel x1, Diablos Shell x2, Butterfly Beetle x2
KO Jewel 2
KO珠【2】
300z
2
+3 KO
+3 KO
-1 FastCharge
-1 溜め短縮
Bloodrun Jewel x1, Stoutbone x2
Drain Jewel 1
奪気珠【1】
200z
1
+1 Stam Drain
+1 減気攻撃
-1 Stamina
-1 スタミナ
Sunspire Jewel x1, Congalala Claw x1, Monster Bone M x1
Drain Jewel 2
奪気珠【2】
300z
2
+3 Stam Drain
+3 減気攻撃
-1 Stamina
-1 スタミナ
Sunspire Jewel x1, Chameleos Hide+ x1, Caravan Ticket x1
Drain Jewel 2
奪気珠【2】
300z
2
+3 Stam Drain
+3 減気攻撃
-1 Stamina
-1 スタミナ
Bloodrun Jewel x1, E.Congalala Claw+ x1
Potential Jwl 1
底力珠【1】
200z
1
+1 Potential
+1 底力
-1 Protection
-1 加護
Sunspire Jewel x1, Duramboros Mossplate x2
Potential Jwl 2
底力珠【2】
300z
2
+3 Potential
+3 底力
-1 Protection
-1 加護
Bloodrun Jewel x1, Zamtrios Scale+ x3, Lagombi Ear+ x1
Fortitude Jwl 1
逆境珠【1】
200z
1
+1 Survivor
+1 逆境
-1 Rec Level
-1 回復量
Sunspire Jewel x1, S.Queen Crescent x1
Fortitude Jwl 2
逆境珠【2】
300z
2
+3 Survivor
+3 逆境
-1 Rec Level
-1 回復量
Bloodrun Jewel x1, Gravios Carapace x1, Garuga Ear x1
Bombardier Jwl 1
爆師珠【1】
200z
1
+2 Bomb Boost
+2 爆弾強化
Sunspire Jewel x1, Mystery Slime x2, G.Jaggi Hide x1
Sonorous Jewel 1
鼓笛珠【1】
200z
1
+2 Maestro
+2 笛
Sunspire Jewel x1, Najarala Sounder x1, Field Horn x1
Artillery Jwl 1
砲術珠【1】
200z
1
+2 Artillery
+2 砲術
Sunspire Jewel x1, Ice Crystal x2, Barrel Bomb L+ x2
Defense Jewel 1
防御珠【1】
200z
1
+1 Defense
+1 防御
-1 Attack
-1 攻撃
Aquaglow Jewel x1, Arzuros Shell x1, Adamant Seed x2
Defense Jewel 2
防御珠【2】
300z
2
+3 Defense
+3 防御
-1 Attack
-1 攻撃
Sunspire Jewel x1, Uragaan Scute x1, Armorskin x2
Defense Jewel 2
防御珠【2】
300z
2
+3 Defense
+3 防御
-1 Attack
-1 攻撃
Bloodrun Jewel x1, Seltas Carapace x1, Mega Armorskin x2
Defense Jewel 3
防御珠【3】
500z
3
+5 Defense
+5 防御
-1 Attack
-1 攻撃
Adamant Orb x1, Konchu Cortex x4, Monster Slogbone x2
Resistor Jewel 1
属耐珠【1】
200z
1
+1 Blight Res
+1 属性耐性
-1 Health
-1 体力
Lazurite Jewel x1, Alatreon Plate x2
Resistor Jewel 3
属耐珠【3】
400z
3
+4 Blight Res
+4 属性耐性
-2 Health
-2 体力
Lazurite Jewel x1, Skypiercer x1
Fire Res Jewel 1
耐火珠【1】
200z
1
+1 Fire Res
+1 火耐性
-1 Water Res
-1 水耐性
Aquaglow Jewel x1, Fire Herb x5
Nul-Fire Jewel 1
制火珠【1】
200z
1
+2 Fire Res
+2 火耐性
Sunspire Jewel x1, Flame Sac x2, Monster Bone L x3
Water Res Jwl 1
耐水珠【1】
200z
1
+1 Water Res
+1 水耐性
-1 ThunderRes
-1 雷耐性
Aquaglow Jewel x1, Whetfish x5
Nul-Water Jwl 1
制水珠【1】
200z
1
+2 Water Res
+2 水耐性
Sunspire Jewel x1, Aqua Sac x2, Monster Bone L x3
ThunderRes Jwl 1
耐雷珠【1】
200z
1
+1 ThunderRes
+1 雷耐性
-1 Ice Res
-1 氷耐性
Aquaglow Jewel x1, Thunderbug x3
Nul-Thundr Jwl 1
制雷珠【1】
200z
1
+2 ThunderRes
+2 雷耐性
Sunspire Jewel x1, Zinogre Shocker x1, Monster Bone L x1
Ice Res Jewel 1
耐氷珠【1】
200z
1
+1 Ice Res
+1 氷耐性
-1 Fire Res
-1 火耐性
Aquaglow Jewel x1, Ice Crystal x5
Nul-Ice Jewel 1
制氷珠【1】
200z
1
+2 Ice Res
+2 氷耐性
Sunspire Jewel x1, Lagombi Iceclaw x2, Monster Bone L x3
Dragon Res Jwl 1
耐龍珠【1】
200z
1
+1 Dragon Res
+1 龍耐性
-1 Poison
-1 毒
Aquaglow Jewel x1, Dragonfell Berry x2
Nul-Dragon Jwl 1
制龍珠【1】
200z
1
+2 Dragon Res
+2 龍耐性
Bloodrun Jewel x1, Dragonbone Relic x1, Monster Keenbone x2
Protection Jwl 1
加護珠【1】
200z
1
+1 Protection
+1 加護
Sunspire Jewel x1, Rathian Shell x2
Asylum Jewel 1
神護珠【1】
200z
1
+2 Protection
+2 加護
Lazurite Jewel x1, G.Rathian Carapace x2, Caravan Ticket x1
Vitality Jewel 1
体力珠【1】
200z
1
+2 Health
+2 体力
Aquaglow Jewel x1, Konchu Shell x1
Recovery Jewel 1
早復珠【1】
200z
1
+1 Rec Speed
+1 回復速度
-1 Eating
-1 食事
Aquaglow Jewel x1, Jaggi Hide x2
Recovery Jewel 2
早復珠【2】
300z
2
+3 Rec Speed
+3 回復速度
-1 Eating
-1 食事
Sunspire Jewel x1, Kut-Ku Shell x1, Pale Extract x2
Recovery Jewel 2
早復珠【2】
300z
2
+3 Rec Speed
+3 回復速度
-1 Eating
-1 食事
Bloodrun Jewel x1, G.Jaggi Hide+ x2
Medicine Jewel 1
治癒珠【1】
200z
1
+1 Rec Level
+1 回復量
-1 Rec Speed
-1 回復速度
Sunspire Jewel x1, Kecha Longbone x1, Kelbi Horn x2
Medicine Jewel 2
治癒珠【2】
300z
2
+3 Rec Level
+3 回復量
-1 Rec Speed
-1 回復速度
Bloodrun Jewel x1, Kecha Grandbone x1, Ancient Potion x1
Evasion Jewel 1
回避珠【1】
200z
1
+1 Evasion
+1 回避性能
-1 Health
-1 体力
Sunspire Jewel x1, Lagombi Plastron x2, Killer Beetle x2
Evasion Jewel 1
回避珠【1】
200z
1
+1 Evasion
+1 回避性能
-1 Health
-1 体力
Bloodrun Jewel x1, Nerscylla Shear x2
Evasion Jewel 2
回避珠【2】
300z
2
+3 Evasion
+3 回避性能
-1 Health
-1 体力
Lazurite Jewel x1, Najarala Hide+ x2, Lagombi Pelt+ x2
Jumping Jewel 1
跳躍珠【1】
200z
1
+1 Evade Dist
+1 回避距離
-1 Health
-1 体力
Sunspire Jewel x1, Nargacuga Blackfur x2, Bnahabra Wing x2
Jumping Jewel 1
跳躍珠【1】
200z
1
+1 Evade Dist
+1 回避距離
-1 Health
-1 体力
Bloodrun Jewel x1, P.Gypceros Wing x2
Jumping Jewel 2
跳躍珠【2】
600z
2
+3 Evade Dist
+3 回避距離
-1 Health
-1 体力
Sovereign Orb x1, Seregios Carver+ x2, Lagombi Auricle x2
Sheath Jewel 1
速納珠【1】
200z
1
+1 Sheathing
+1 納刀
-1 Sharpener
-1 研ぎ師
Sunspire Jewel x1, Glutton Tuna x1, Altaroth Stomach x1
Sheath Jewel 1
速納珠【1】
200z
1
+1 Sheathing
+1 納刀
-1 Sharpener
-1 研ぎ師
Bloodrun Jewel x1, Jaggi Scale+ x1, Caravan Ticket x1
Sheath Jewel 2
速納珠【2】
300z
2
+3 Sheathing
+3 納刀
-1 Sharpener
-1 研ぎ師
Bloodrun Jewel x1, R.Basarios Carapace x2, Quality Stomach x2
Trapmaster Jwl 1
罠師珠【1】
200z
1
+2 SpeedSetup
+2 高速設置
Sunspire Jewel x1, Meaty Hide x1, Shock Trap x1
Gobbler Jewel 1
早食珠【1】
200z
1
+1 Eating
+1 食事
-1 Rec Level
-1 回復量
Sunspire Jewel x1, Nibelsnarf Hide x1, Arzuros Shell x2
Gobbler Jewel 1
早食珠【1】
200z
1
+1 Eating
+1 食事
-1 Rec Level
-1 回復量
Bloodrun Jewel x1, Zamtrios Hide+ x2
Gobbler Jewel 3
早食珠【3】
400z
3
+4 Eating
+4 食事
-2 Rec Level
-2 回復量
Lazurite Jewel x1, Deviljho Tallfang x2, Tigrex Fang+ x2
Satiated Jewel 1
節食珠【1】
500z
1
+2 LightEater
+2 節食
-1 Whim
-1 気まぐれ
Adamant Orb x1, Cephalos Grandfin x1, Piercing Claw x2
Sprinter Jewel 1
強走珠【1】
200z
1
+1 Stamina
+1 スタミナ
-1 Hunger
-1 腹減り
Sunspire Jewel x1, Royal Ludroth Claw x1, Mega Dash Juice x2
Sprinter Jewel 1
強走珠【1】
200z
1
+1 Stamina
+1 スタミナ
-1 Hunger
-1 腹減り
Bloodrun Jewel x1, Rubbery Purple Hide x2
Sprinter Jewel 3
強走珠【3】
400z
3
+4 Stamina
+4 スタミナ
-2 Hunger
-2 腹減り
Lazurite Jewel x1, Garuga Scale+ x1, P.Gypceros Wing x2
Physique Jewel 1
体術珠【1】
200z
1
+1 Constitun
+1 体術
-1 Stamina
-1 スタミナ
Sunspire Jewel x1, Sharpened Beak x1, Ioprey Scale x2
Physique Jewel 1
体術珠【1】
200z
1
+1 Constitun
+1 体術
-1 Stamina
-1 スタミナ
Bloodrun Jewel x1, Barioth Pelt+ x2
Physique Jewel 2
体術珠【2】
300z
2
+3 Constitun
+3 体術
-1 Stamina
-1 スタミナ
Lazurite Jewel x1, B.Gravios Carapace x1, Ioprey Hide+ x2
Refresh Jewel 1
早気珠【1】
200z
1
+1 Stam Recov
+1 気力回復
-1 Evasion
-1 回避性能
Sunspire Jewel x1, Zinogre Shell x1, Monster Bone M x2
Refresh Jewel 1
早気珠【1】
200z
1
+1 Stam Recov
+1 気力回復
-1 Evasion
-1 回避性能
Bloodrun Jewel x1, Rhenoplos Carapace x2, Caravan Ticket x1
Refresh Jewel 2
早気珠【2】
300z
2
+3 Stam Recov
+3 気力回復
-1 Evasion
-1 回避性能
Bloodrun Jewel x1, Zinogre Claw x1, Monster Keenbone x2
Hungerless Jwl 1
無食珠【1】
200z
1
+2 Hunger
+2 腹減り
Aquaglow Jewel x1, Seltas Horn x1, Well-done Steak x1
Metabolism Jwl 1
食漢珠【1】
200z
1
+2 Gluttony
+2 食いしん坊
Aquaglow Jewel x1, Jumbo Bone x1
Fate Jewel 1
運気珠【1】
200z
1
+1 Fate
+1 運気
-1 Whim
-1 気まぐれ
Bloodrun Jewel x1, Bird Wyvern Gem x1, Silver Egg x2
Fate Jewel 3
運気珠【3】
400z
3
+4 Fate
+4 運気
-2 Whim
-2 気まぐれ
Adamant Orb x1, G.Rathian Spike+ x2, Golden Egg x2
Capture Jewel 1
捕獲珠【1】
200z
1
+1 Tranquilzr
+1 捕獲
-1 Fate
-1 運気
Bloodrun Jewel x1, Commendation x1, Zinogre Shockfur x1
Capture Jewel 3
捕獲珠【3】
400z
3
+4 Tranquilzr
+4 捕獲
-2 Fate
-2 運気
Adamant Orb x1, Commendation G x2, Zinogre Plate x1
Carver Jewel 1
皮剥珠【1】
200z
1
+1 Carving
+1 剥ぎ取り
-1 Fate
-1 運気
Bloodrun Jewel x1, Deviljho Hide x1
Carver Jewel 3
皮剥珠【3】
400z
3
+4 Carving
+4 剥ぎ取り
-2 Fate
-2 運気
Adamant Orb x1, Dalamadur Steel x1, Earth Dragongem x1
Transportr Jwl 1
運搬珠【1】
200z
1
+2 Transportr
+2 運搬
Aquaglow Jewel x1, Dash Extract x1
Gathering Jwl 1
採取珠【1】
200z
1
+2 Gathering
+2 採取
Aquaglow Jewel x1, Bumblepimpkin x2
Spree Jewel 1
速集珠【1】
200z
1
+2 Spd Gather
+2 高速収集
Aquaglow Jewel x1, Bumblepumpkin x1, Monster Bone S x2
Blessing Jewel 1
祝福珠【1】
200z
1
+2 Whim
+2 気まぐれ
Aquaglow Jewel x1, Iron Ore x2
Friendship Jwl 1
友愛珠【1】
200z
1
+1 Wide-Range
+1 広域
-1 Sense
-1 気配
Aquaglow Jewel x1, Kut-Ku Webbing x1
Friendship Jwl 1
友愛珠【1】
200z
1
+1 Wide-Range
+1 広域
-1 Sense
-1 気配
Sunspire Jewel x1, Palico Ticket x1, Small Goldenfish x2
Friendship Jwl 2
友愛珠【2】
300z
2
+3 Wide-Range
+3 広域
-1 Sense
-1 気配
Bloodrun Jewel x1, Blue Kut-Kut Carapace x1, Lifepowder x2
Psychic Jewel 1
千里珠【1】
200z
1
+2 Psychic
+2 千里眼
Aquaglow Jewel x1, Vivid Feather x1
Professor Jwl 1
博士珠【1】
200z
1
+2 Combo Rate
+2 調合成功率
Aquaglow Jewel x1, Book of Combos 1 x1, Gargwa Feather x1
Factory Jewel 1
博士珠【1】
200z
1
+2 Combo Plus
+2 調合数
Aquaglow Jewel x1, Small Goldenfish x1
Enduring Jewel 1
持続珠【1】
200z
1
+2 LastingPwr
+2 効果持続
Aquaglow Jewel x1, Remobra Hide x1
Perception Jwl 1
観察珠【1】
200z
1
+2 Perception
+2 観察眼
Aquaglow Jewel x1, Slagtoth Hide x1, Binoculars x1
Ranger Jewel 1
狩人珠【1】
200z
1
+2 Ranger
+2 狩人
Aquaglow Jewel x1, Sushifish x1, Raw Meat x2
Ninja Jewel 1
忍脚珠【1】
200z
1
+2 Sense
+2 気配
Aquaglow Jewel x1, Blue Kelbi Horn x2
Handicraft Jwl 2
匠珠【2】
300z
2
+1 Handicraft
+1 匠
-1 Sharpness
-1 斬れ味
Sunspire Jewel x1, Brutal Horn x1, Agnaktor Carapace x2
Handicraft Jwl 2
匠珠【2】
300z
2
+1 Handicraft
+1 匠
-1 Sharpness
-1 斬れ味
Bloodrun Jewel x1, Deviljho Talon x2
Handicraft Jwl 3
匠珠【3】
400z
3
+2 Handicraft
+2 匠
-2 Sharpness
-2 斬れ味
Lazurite Jewel x1, Dalamadur Talon x1, Deviljho Gem x1
Artisan Jewel 3
名匠珠【3】
600z
3
+3 Handicraft
+3 匠
-2 Sharpness
-2 斬れ味
Sovereign Orb x1, Rathalos Fellwing x2, Lrg Wyvern Gem x1
Fencer Jewel 1
剣豪珠【1】
200z
1
+1 Fencing
+1 剣術
-1 Handicraft
-1 匠
Sunspire Jewel x1, Elder Dragon Blood x1
Fencer Jewel 1
剣豪珠【1】
200z
1
+1 Fencing
+1 剣術
-1 Handicraft
-1 匠
Bloodrun Jewel x1, S.Rathalos Carapace x2, B.Gravios Carapace x1
Fencer Jewel 3
剣豪珠【3】
400z
3
+4 Fencing
+4 剣術
-2 Handicraft
-2 匠
Lazurite Jewel x1, Ukanlos Carapace x2, Tigrex Maw x1
Razor Jewel 1
斬鉄珠【1】
200z
1
+1 Sharpness
+1 斬れ味
-1 Handicraft
-1 匠
Sunspire Jewel x1, Basarios Wing x1, Zinogre Shell x1
Razor Jewel 1
斬鉄珠【1】
200z
1
+1 Sharpness
+1 斬れ味
-1 Handicraft
-1 匠
Bloodrun Jewel x1, Rathian Plate x1
Razor Jewel 3
斬鉄珠【3】
400z
3
+4 Sharpness
+4 斬れ味
-2 Handicraft
-2 匠
Lazurite Jewel x1, R.Basarios Wing x1, Pale Bone x1
Draw Jewel 1
抜刀珠【1】
200z
1
+1 Crit Draw
+1 抜刀会心
-1 Expert
-1 達人
Sunspire Jewel x1, Diablos Shell x2, Zinogre Horn x1
Draw Jewel 1
抜刀珠【1】
200z
1
+1 Crit Draw
+1 抜刀会心
-1 Expert
-1 達人
Bloodrun Jewel x1, Uragaan Scute x2
Draw Jewel 2
抜刀珠【2】
300z
2
+3 Crit Draw
+3 抜刀会心
-1 Expert
-1 達人
Lazurite Jewel x1, Brach Ebonshell+ x1, R.Basarios Carapace x1
Gambit Jewel 1
抜打珠【1】
200z
1
+1 PunishDraw
+1 抜刀減気
-1 Sharpness
-1 斬れ味
Sunspire Jewel x1, Uragaan Scute x1, Monster Bone+ x2
Gambit Jewel 1
抜打珠【1】
200z
1
+1 PunishDraw
+1 抜刀減気
-1 Sharpness
-1 斬れ味
Bloodrun Jewel x1, M.Tigrex Scale+ x2
Gambit Jewel 3
抜打珠【3】
400z
3
+4 PunishDraw
+4 抜刀減気
-2 Sharpness
-2 斬れ味
Lazurite Jewel x1, S.Zinogre Horn+ x1, Zamtrios Hide+ x1
Ironwall Jewel 1
鉄壁珠【1】
200z
1
+1 Guard
+1 ガード性能
-1 Constitutn
-1 体術
Sunspire Jewel x1, Barroth Shell x2
Ironwall Jewel 2
鉄壁珠【2】
300z
2
+3 Guard
+3 ガード性能
-1 Constitutn
-1 体術
Sunspire Jewel x1, Agnaktor Fin+ x1, Agnaktor Carapace x3
Ironwall Jewel 2
鉄壁珠【2】
300z
2
+3 Guard
+3 ガード性能
-1 Constitutn
-1 体術
Bloodrun Jewel x1, R.Basarios Wing x2
Shield Jewel 1
強壁珠【1】
200z
1
+1 Guard Up
+1 ガード強化
-1 Stamina
-1 スタミナ
Sunspire Jewel x1, Firestone x2
Shield Jewel 2
強壁珠【2】
300z
2
+3 Guard Up
+3 ガード強化
-1 Stamina
-1 スタミナ
Bloodrun Jewel x1, Brach Ebonshell+ x1, Firecell Stone x3
Grinder Jewel 1
研磨珠【1】
200z
1
+2 Sharpener
+2 研ぎ師
Aquaglow Jewel x1, G.Jaggi Claw x1, Machalite Ore x1
Forceshot Jwl 1
強弾珠【1】
200z
1
+1 Normal Up
+1 通常弾強化
-1 Recoil
-1 反動
Sunspire Jewel x1, Monster Bone+ x2, Popfish x5
Forceshot Jwl 3
強弾珠【3】
400z
3
+4 Normal Up
+4 通常弾強化
-2 Recoil
-2 反動
Lazurite Jewel x1, R.Basarios Carapace x2, Monster Keenbone x2
Pierce Jewel 1
貫通珠【1】
200z
1
+1 Pierce Up
+1 貫通弾強化
-1 Recoil
-1 反動
Sunspire Jewel x1, Dignified Skull x1, Hercudrome x2
Pierce Jewel 3
貫通珠【3】
400z
3
+4 Pierce Up
+4 貫通弾強化
-2 Recoil
-2 反動
Lazurite Jewel x1, B.Gravios Scalp x1, Rare Scarab x2
Pellet Jewel 1
散弾珠【1】
200z
1
+1 Pellet Up
+1 散弾強化
-1 Recoil
-1 反動
Sunspire Jewel x1, Ice Crystal x3, Wyvern Fang x5
Pellet Jewel 3
散弾珠【3】
400z
3
+4 Pellet Up
+4 散弾強化
-2 Recoil
-2 反動
Lazurite Jewel x1, B.Gravios Carapace x1, Fucium Ore x2
ShotPlus Jewel 1
加弾珠【1】
200z
1
+1 Normal S+
+1 通常弾追加
-1 Reload Spd
-1 装填速度
Aquaglow Jewel x1, Monster Bone M x2
ShotPlus Jewel 2
加弾珠【2】
300z
2
+3 Normal S+
+3 通常弾追加
-1 Reload Spd
-1 装填速度
Sunspire Jewel x1, Monster Bone+ x2, Blue Cutthroat x2
ShotPlus Jewel 2
加弾珠【2】
300z
2
+3 Normal S+
+3 通常弾追加
-1 Reload Spd
-1 装填速度
Bloodrun Jewel x1, Avian Finebone x2, Stoutbone x1
PiercePlus Jwl 1
加貫珠【1】
200z
1
+2 Pierce S+
+2 貫通弾追加
Sunspire Jewel x1, Dragonite Ore x2
PelletPlus Jwl 1
加散珠【1】
200z
1
+2 Pellet S+
+2 散弾追加
Sunspire Jewel x1, Nibelsnarf Hide x2
CragPlus Jewel 1
加榴珠【1】
200z
1
+2 Crag S+
+2 榴弾追加
Sunspire Jewel x1, Rathalos Shell x2
ClustPlus Jwl 1
加拡珠【1】
200z
1
+1 Clust S+
+1 拡散弾追加
-1 Reload Spd
-1 装填速度
Sunspire Jewel x1, Urgaaan Scute x2
SlicePlus Jwl 1
加斬珠【1】
200z
1
+2 Slicing S+
+2 斬裂弾追加
Aquaglow Jewel x1, Lagombi Pelt x2
BlastPlus Jwl 1
加爆珠【1】
200z
1
+2 Blast S+
+2 爆破弾追加
Bloodrun Jewel x1, Brach Ebonshell x2, Fire Herb x4
Salvo Jewel 1
速射珠【1】
200z
1
+1 Rapid Fire
+1 速射
-1 Reload Spd
-1 装填速度
Sunspire Jewel x1, Tigrex Fang x2, Zinogre Claw x2
Salvo Jewel 1
速射珠【1】
200z
1
+1 Rapid Fire
+1 速射
-1 Reload Spd
-1 装填速度
Bloodrun Jewel x1, Rath Medulla x2
Salvo Jewel 3
速射珠【3】
400z
3
+4 Rapid Fire
+4 速射
-2 Reload Spd
-2 装填速度
Lazurite Jewel x1, Ukanlos Shoveljaw x2, Rathalos Plate x1
Quickload Jwl 1
早填珠【1】
200z
1
+1 Reload Spd
+1 装填速度
-1 Recoil
-1 反動
Sunspire Jewel x1, Carbalite Ore x3
Quickload Jwl 2
早填珠【2】
300z
2
+3 Reload Spd
+3 装填速度
-1 Recoil
-1 反動
Sunspire Jewel x1, Nargacuga Cutwing x2, Lightcrystal x2
Quickload Jwl 2
早填珠【2】
300z
2
+3 Reload Spd
+3 装填速度
-1 Recoil
-1 反動
Bloodrun Jewel x1, Alluring Webbing x2
Absorber Jewel 1
抑反珠【1】
200z
1
+1 Recoil
+1 反動
-1 Reload Spd
-1 装填速度
Sunspire Jewel x1, Barroth Scalp x1, Royal Ludroth Claw x1
Absorber Jewel 1
抑反珠【1】
200z
1
+1 Recoil
+1 反動
-1 Reload Spd
-1 装填速度
Bloodrun Jewel x1, Tetsucabra Carapace x2
Absorber Jewel 3
抑反珠【3】
400z
3
+4 Recoil
+4 反動
-2 Reload Spd
-2 装填速度
Lazurite Jewel x1, Zamtrios Hide+ x2, B.Gravios Carapace x2
Precise Jewel 1
射法珠【1】
700z
1
+1 Dead Eye
+1 射法
-1 Loading
-1 装填数
Adamant Orb x1, Heavy Drakesbone Oil x1, S.Queen Cortex x2
Precise Jewel 2
射法珠【2】
700z
2
+3 Dead Eye
+3 射法
-1 Loading
-1 装填数
Sovereign Orb x1, Gogmazios Offenders x1, Gravios Fellwing x3
Sniper Jewel 1
点射珠【1】
200z
1
+2 Precision
+2 精密射撃
Aquaglow Jewel x1, Unknown Skull x2
Paracoat Jewel 1
痺瓶珠【1】
200z
1
+1 Para C+
+1 麻痺瓶追加
-1 Attack
-1 攻撃
Sunspire Jewel x1, Paralysis Sac x1
Paracoat Jewel 2
痺瓶珠【2】
300z
2
+3 Para C+
+3 麻痺瓶追加
-1 Attack
-1 攻撃
Bloodrun Jewel x1, Alluring Hide x1, Paralysis Sac x1
Sleepcoat Jwl 1
眠瓶珠【1】
200z
1
+2 Sleep C+
+2 睡眠瓶追加
Sunspire Jewel x1, Sleep Sac x1
Poisoncoat Jwl 1
毒瓶珠【1】
200z
1
+2 Poison C+
+2 毒瓶追加
Sunspire Jewel x1, Poison Sac x1
Powercoat Jwl 1
強瓶珠【1】
200z
1
+1 Power C+
+1 強撃瓶追加
-1 Expert
-1 達人
Sunspire Jewel x1, Seltas Shell x1, Nitroshroom x5
Powercoat Jwl 2
痺瓶珠【2】
400z
2
+3 Power C+
+3 強撃瓶追加
-1 Expert
-1 達人
Bloodrun Jewel x1, Seltas Carapace x1, Uragaan Marrow x1
Rangecoat Jwl 1
接瓶珠【1】
200z
1
+2 C.Range C+
+2 接撃瓶追加
Sunspire Jewel x1, Royal Ludroth Claw x1, Spongy Hide x1
Blastcoat Jwl 1
爆瓶珠【1】
200z
1
+2 Blast C+
+2 爆破瓶追加
Bloodrun Jewel x1, Brach Carapace x2, Mystery Slime x1
Draincoat Jwl 1
減瓶珠【1】
200z
1
+2 Exhaust C+
+2 減気瓶追加
Sunspire Jewel x1, Wanchovy x2, Monster Bone L x1
Torchlight Jwl 1
燃焼珠【1】
200z
1
+2 Flame Aura
+2 燃鱗
Sunspire Jewel x1, Mystery Slime x2, Agnaktor Carapace x2
Release Jewel 2
解放珠【2】
300z
2
+1 FreeElemnt
+1 属性解放
-1 Status
-1 特殊攻撃
Adamant Orb x1, Kirin Hide+ x1, Kirin Icehorn x1
Catalyst Jewel 3
覚醒珠【3】
400z
3
+2 FreeElemnt
+2 属性解放
-2 Status
-2 特殊攻撃
Adamant Orb x1, Kirin Frost Tail x2, Kirin Azure Horn x1
TrueCatalystJwl 3
真覚醒珠【3】
600z
3
+3 FreeElemnt
+3 属性解放
-2 Status
-2 特殊攻撃
Sovereign Orb x1, S.Queen Moonlash x2, Lrg Wyvern Gem x1
Guts Jewel 1
根性珠【1】
200z
1
+1 Guts
+1 根性
-1 Combo Rate
-1 調合成功率
Adamant Orb x1, Rajang Blackfur x2, Rajang Fang+ x1
Guts Jewel 2
根性珠【2】
300z
2
+3 Guts
+3 根性
-1 Combo Rate
-1 調合成功率
Adamant Orb x1, Rajang Nerve x1, Rajang Horn+ x3
Meateater Jwl 1
肉食珠【1】
200z
1
+1 Carnivore
+1 肉食
-1 Hunger
-1 腹減り
Adamant Orb x1, Deviljho Scalp x2
Meatlover Jwl 1
肉好珠【1】
200z
1
+2 Carnivore
+2 肉食
Adamant Orb x1, Deviljho Scalp x2, Paddock Oil x1
Fungiform Jewel 1
茸好珠【1】
500z
1
+2 Mycology
+2 茸食
-1 Carnivore
-1 肉食
Adamant Orb x1, Congalala Fur x4, Massive Bone x1
Honeybee Jewel 1
蜜集珠【1】
200z
1
+1 Honey
+1 ハチミツ
-1 Whim
-1 気まぐれ
Aquaglow Jewel x1, Arzuros Shell x2
Queenbee Jewel 1
蜜占珠【1】
200z
1
+2 Honey
+2 ハチミツ
Bloodrun Jewel x1, Arzuros Shell x4, Congalala Claw+ x1
Biology Jewel 1
菌学珠【1】
200z
1
+1 Biology
+1 細菌学
-1 Sense
-1 気配
Adamant Orb x1, Volvidon Carapace x2
Microbio Jewel 1
菌究珠【1】
200z
1
+2 Biology
+2 細菌学
Adamant Orb x1, Volvidon Carapace x1, Brach Ebonshell+ x2
Spirit Jewel 1
闘魂珠【1】
200z
1
+1 Spirit
+1 闘魂
-1 Guard
-1 ガード性能
Adamant Orb x1, Brach Carapace x2, Barroth Scalp x2
Spirit Jewel 2
闘魂珠【2】
300z
2
+3 Spirit
+3 闘魂
-1 Guard
-1 ガード性能
Adamant Orb x1, Brach Pounder x2, Zingore Electrofur x1
Flawless Jewel 1
無傷珠【1】
200z
1
+1 Unscathed
+1 無傷
-1 Rec Speed
-1 回復速度
Adamant Orb x1, S.Zinogre Horn+ x2, S.Zinogre Carapace x2
Flawless Jewel 2
無傷珠【2】
300z
2
+3 Unscathed
+3 無傷
-1 Rec Speed
-1 回復速度
Adamant Orb x1, S.Zinogre Claw+ x2, Dalamadur Steel x2
Steady Jewel 1
剛体珠【1】
200z
1
+1 Unshakable
+1 不動
-1 Defense
-1 防御
Fatalis Shell x2, Adamant Orb x1, Mystery Slime x1
Steady Jewel 3
剛体珠【2】
400z
3
+4 Unshakable
+4 不動
-2 Defense
-2 防御
Fatalis Webbing x1, Adamant Orb x1, Kirin Hide+ x1
Player Jewel 1
采配珠【1】
200z
1
+1 TeamPlayer
+1 采配
-1 LastingPwr
-1 効果持続
Aquaglow Jewel x1, Palico Ticket x2, Pawprint Stamp x2
Morale Jewel 1
名采配珠【1】
300z
1
+2 TeamPlayer
+2 采配
Bloodrun Jewel x1, Palico Ticket x3, King's Frill x2
Leader Jewel 1
号令珠【1】
200z
1
+1 TeamLeader
+1 号令
-1 Gathering
-1 採取
Aquaglow Jewel x1, Palico Ticket x3, Catalyst x2, Max Potion x2
Leader Jewel 2
号令珠【2】
300z
2
+3 TeamLeader
+3 号令
-1 Gathering
-1 採取
Lazurite Jewel x1, Palico Ticket x4, Snakebee Larva x2
Charmer Jewel 1
護石珠【1】
200z
1
+1 Charmer
+1 護石王
Fucium Ore x3, Adamant Orb x1, Rath Gleam x1
Rodeo Jewel 1
乗慣珠【1】
500z
1
+2 Mounting
+2 乗り
Adamant Orb x1, Kecha Leadbone x2, Vespoid Razorwing x2
Relic Only Decorations
Jewel Name
Slots
Positive Skill
Honed Jwl 1
刀匠珠【1】
1
+2 Edgemaster
+2 刀匠
Honed Jwl 2
刀匠珠【2】
2
+3 Edgemaster
+3 刀匠
Honed Jwl 3
刀匠珠【3】
3
+3 Edgemaster
+3 刀匠
True Honed Jwl 2
刀匠真珠【2】
2
+4 Edgemaster
+4 刀匠
True Honed Jwl 3
刀匠真珠【3】
3
+4 Edgemaster
+4 刀匠
UltimateHonedJwl3
刀匠極珠【3】
3
+5 Edgemaster
+5 刀匠
Cutting Jwl 1
斬術珠【1】
1
+2 Edge Lore
+2 斬術
Cutting Jwl 2
斬術珠【2】
2
+4 Edge Lore
+4 斬術
Cutting Jwl 3
斬術珠【3】
3
+5 Edge Lore
+5 斬術
TrueCuttingJwl 3
斬術真珠【3】
3
+6 Edge Lore
+6 斬術
Calm Jwl 1
射手珠【1】
1
+2 SteadyHand
+2 射手
Calm Jwl 2
射手珠【2】
2
+3 SteadyHand
+3 射手
Calm Jwl 3
射手珠【3】
3
+3 SteadyHand
+3 射手
True Calm Jwl 2
射手真珠【2】
2
+4 SteadyHand
+4 射手
True Calm Jwl 3
射手真珠【3】
3
+4 SteadyHand
+4 射手
UltimateCalmJwl 3
射手極珠【3】
3
+5 SteadyHand
+5 射手
Hale Jwl 1
状耐珠【1】
1
+2 Status Res
+2 状態耐性
Hale Jwl 2
状耐珠【2】
2
+3 Status Res
+3 状態耐性
Hale Jwl 3
状耐珠【3】
3
+3 Status Res
+3 状態耐性
True Hale Jwl 2
状耐真珠【2】
2
+4 Status Res
+4 状態耐性
True Hale Jwl 3
状耐真珠【3】
3
+4 Status Res
+4 状態耐性
UltimateHaleJwl 3
状耐極珠【3】
3
+5 Status Res
+5 状態耐性
Ire Jwl 1
怒珠【1】
1
+2 Fury
+2 怒
Ire Jwl 2
怒珠【2】
2
+3 Fury
+3 怒
Ire Jwl 3
怒珠【3】
3
+3 Fury
+3 怒
True Ire Jwl 2
怒真珠【2】
2
+4 Fury
+4 怒
True Ire Jwl 3
怒真珠【3】
3
+4 Fury
+4 怒
UltimateIreJwl 3
怒極珠【3】
3
+5 Fury
+5 怒
Nimble Jwl 1
回術珠【1】
1
+2 Nimbleness
+2 回避術
True Nimble Jwl 1
回術真珠【1】
1
+3 Nimbleness
+3 回避術
Nimble Jwl 2
回術珠【2】
2
+4 Nimbleness
+4 回避術
Nimble Jwl 3
回術珠【3】
3
+4 Nimbleness
+4 回避術
True Nimble Jwl 3
回術真珠【3】
3
+5 Nimbleness
+5 回避術
Hardy Jwl 1
頑強珠【1】
1
+2 Resilience
+2 頑強
True Hardy Jwl 1
頑強真珠【1】
1
+3 Resilience
+3 頑強
Hardy Jwl 2
頑強珠【2】
2
+4 Resilience
+4 頑強
Hardy Jwl 3
頑強珠【3】
3
+4 Resilience
+4 頑強
True Hardy Jwl 3
頑強真珠【3】
3
+5 Resilience
+5 頑強
Furtive Jwl 1
裏業珠【1】
1
+2 Covert
+2 裏稼業
Furtive Jwl 2
裏業珠【2】
2
+4 Covert
+4 裏稼業
Furtive Jwl 3
裏業珠【3】
4
+5 Covert
+5 裏稼業
TrueFurtiveJwl 3
裏業真珠【3】
4
+6 Covert
+6 裏稼業
Withdrawn Jwl 1
居合珠【1】
1
+2 Readiness
+2 居合
Withdrawn Jwl 2
居合珠【2】
2
+4 Readiness
+4 居合
Withdrawn Jwl 3
居合珠【3】
3
+4 Readiness
+4 居合
TrueWithdrawnJwl3
居合真珠【3】
3
+5 Readiness
+5 居合
Arcane Jwl 1
秘伝珠【1】
1
+2 Arcana
+2 秘伝
Arcane Jwl 2
秘伝珠【2】
2
+4 Arcana
+4 秘伝
Arcane Jwl 3
秘伝珠【3】
3
+5 Arcana
+5 秘伝
True Arcane Jwl 3
秘伝真珠【3】
3
+6 Arcana
+6 秘伝
Brawn Jwl 1
剛腕珠【1】
1
+2 Brawn
+2 剛腕
Brawn Jwl 2
剛腕珠【2】
2
+4 Brawn
+4 剛腕
Brawn Jwl 3
剛腕珠【3】
3
+5 Brawn
+5 剛腕
True Brawn Jwl 3
剛腕真珠【3】
3
+6 Brawn
+6 剛腕
Impactful Jwl 1
剛撃珠【1】
1
+2 Brutality
+2 剛撃
Impactful Jwl 2
剛撃珠【2】
2
+4 Brutality
+4 剛撃
Impactful Jwl 3
剛撃珠【3】
3
+4 Brutality
+4 剛撃
TrueImpactfulJwl3
剛撃真珠【3】
3
+5 Brutality
+5 剛撃
Intense Jwl 2
一心珠【1】
2
+3 Ferocity
+3 一心
Intense Jwl 3
一心珠【2】
3
+4 Ferocity
+4 一心
TrueIntenseJwl 2
一心珠【3】
2
+4 Ferocity
+4 一心
TrueIntenseJwl 3
一心真珠【3】
3
+5 Ferocity
+5 一心
Aegis Jwl 2
盾持珠【1】
2
+3 Stalwart
+3 盾持
Aegis Jwl 3
盾持珠【2】
3
+4 Stalwart
+4 盾持
True Aegis Jwl 2
盾持珠【3】
2
+4 Stalwart
+4 盾持
True Aegis Jwl 3
盾持真珠【3】
3
+5 Stalwart
+5 盾持
Tactful Jwl 2
潔癖珠【2】
2
+3 Prudence
+3 潔癖
Tactful Jwl 3
潔癖珠【3】
3
+4 Prudence
+4 潔癖
TrueTactfulJwl 2
潔癖真珠【2】
2
+4 Prudence
+4 潔癖
TrueTactfulJwl 3
潔癖真珠【3】
3
+5 Prudence
+5 潔癖
Broad Jwl 2
増幅珠【2】
2
+3 Amplify
+3 増幅
Broad Jwl 3
増幅珠【3】
3
+4 Amplify
+4 増幅
True Broad Jwl 2
増幅真珠【2】
2
+4 Amplify
+4 増幅
True Broad Jwl 3
増幅真珠【3】
3
+5 Amplify
+5 増幅
Supplicant Jwl 1
祈願珠【1】
1
+2 Prayer
+2 祈願
Supplicant Jwl 2
祈願珠【2】
2
+4 Prayer
+4 祈願
Supplicant Jwl 3
祈願珠【3】
3
+5 Prayer
+5 祈願
Trove Jwl 1
護収珠【1】
1
+2 Hoarding
+2 護石収集
True Trove Jwl 1
護収真珠【1】
1
+3 Hoarding
+3 護石収集
Trove Jwl 2
護収珠【2】
2
+3 Hoarding
+3 護石収集
True Trove Jwl 2
護収真珠【2】
2
+4 Hoarding
+4 護石収集
Trove Jwl 3
護収珠【3】
3
+6 Hoarding
+6 護石収集
Avid Jwl 1
強欲珠【1】
1
+2 Avarice
+2 強欲
Avid Jwl 2
強欲珠【2】
2
+3 Avarice
+3 強欲
Avid Jwl 3
強欲珠【3】
3
+6 Avarice
+6 強欲
True Avid Jwl 1
強欲真珠【1】
1
+3 Avarice
+3 強欲
True Avid Jwl 2
強欲真珠【2】
2
+4 Avarice
+4 強欲