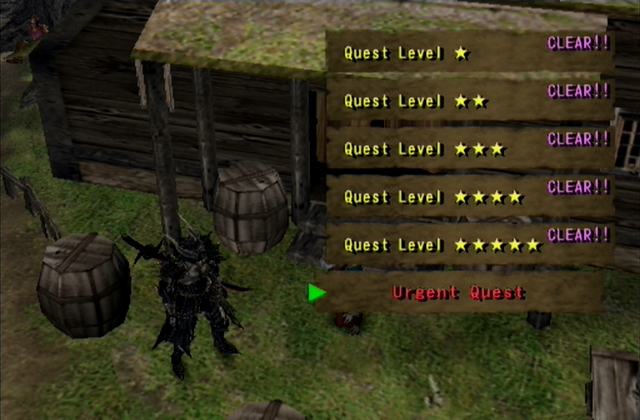 Level 1 Quests
Level 2 Quests
Level 3 Quests
Level 4 Quests
Level 5 Quests
Urgent Quests
Urgent Quests
Name
Goal Condition
Area
Time
Contract
Reward
Notes
The Shadow in the Cave
Slay the Khezu
Swamp
50
700z
2250z
Unlock: Forge piece of Vespoid armor.
The Runaway Diablos
Slay the Diablos
Desert
50
800z
3200z
Unlock: Forge piece of Monoblos armor.
Terror of the Gravios
Slay the Gravios
Volcano
50
1200z
4800z
Unlock: Forge piece of Cephalos armor.
Handle with Care!
Deliver 1 Powderstone
Volcano
50
500z
3000z

Unlock: Clear "Terror of the Gravios." Gravios is here.

A Troublesome Pair
Slay the Rathalos and Rathian
Swamp
50
1240z
6400z

Unlock: Clear all quests. Quest is High Rank.
Notes
For the Urgent Quests, one only has to forge a single piece of the said armor to unlock the mission; they do not have to wear it.
Ad blocker interference detected!
Wikia is a free-to-use site that makes money from advertising. We have a modified experience for viewers using ad blockers

Wikia is not accessible if you've made further modifications. Remove the custom ad blocker rule(s) and the page will load as expected.