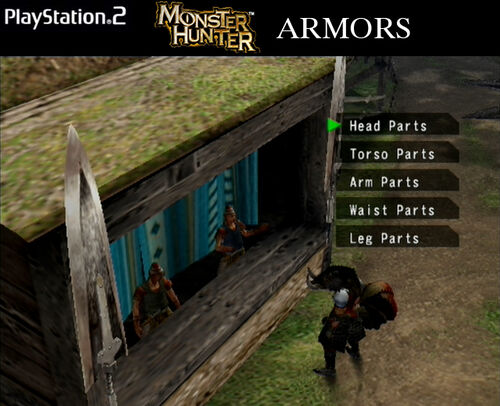 Rare 1
Leather Armor
| | | | | | |
| --- | --- | --- | --- | --- | --- |
| | Def | Name | Crafting Materials | Buy Cost | Create Cost |
| | 1 | Leather Helm | Iron Ore x1, Kelbi Hide x1 | 300z | 150z |
| | 1 | Leather Armor | Iron Ore x1, Kelbi Hide x1 | 300z | 150z |
| | 1 | Leather Vambraces | Iron Ore x1, Kelbi Hide x1 | 300z | 150z |
| | 1 | Leather Belt | Iron Ore x1, Kelbi Hide x1 | 300z | 150z |
| | 1 | Green Pants | Iron Ore x1, Kelbi Hide x1 | 300z | 150z |
Skills: None
Resistance: +5 Fire, 0 Water, 0 Thunder, 0 Dragon
Chain Armor
| | | | | | |
| --- | --- | --- | --- | --- | --- |
| | Def | Name | Crafting Materials | Buy Cost | Create Cost |
| | 2 | Chain Helm | Iron Ore x2, Kelbi Hide x2 | 700z | 350z |
| | 2 | Chain Mail | Iron Ore x2, Kelbi Hide x2 | 700z | 350z |
| | 2 | Chain Vambraces | Iron Ore x2, Kelbi Hide x2 | 700z | 350z |
| | 2 | Chain Belt | Iron Ore x2, Kelbi Hide x2 | 700z | 350z |
| | 2 | Blue Pants | Iron Ore x2, Kelbi Hide x2 | 700z | 350z |
Skills: None
Resistance: +5 Fire, +5 Water, -5 Thunder, 0 Dragon
Hunter's Armor
| | | | | | |
| --- | --- | --- | --- | --- | --- |
| | Def | Name | Crafting Materials | Buy Cost | Create Cost |
| | 4 | Hunter's Helm | Iron Ore x3, Bullfango Pelt x1, Kelbi Hide x2 | 1500z | 750z |
| | 4 | Hunter's Mail | Iron Ore x3, Bullfango Pelt x1, Kelbi Hide x2 | 1500z | 750z |
| | 4 | Hunter's Vambraces | Iron Ore x3, Bullfango Pelt x1, Kelbi Hide x2 | 1500z | 750z |
| | 4 | Hunter's Tasset | Iron Ore x3, Bullfango Pelt x1, Kelbi Hide x2 | 1500z | 750z |
| | 4 | Hunter's Greaves | Iron Ore x3, Bullfango Pelt x1, Kelbi Hide x2 | 1500z | 750z |
Skills: None
Resistance: -5 Fire, -5 Water, 0 Thunder, -10 Dragon
Rare 2
Velociprey Armor
| | | | | |
| --- | --- | --- | --- | --- |
| | Def | Name | Crafting Materials | Cost |
| | 6 | Velociprey Helm | Velociprey Scale x3, Iron Ore x2, Kelbi Hide x1 | 1500z |
| | 6 | Velociprey Mail | Velociprey Scale x3, Iron Ore x2, Kelbi Hide x1 | 1500z |
| | 6 | Velociprey Vambraces | Velociprey Scale x3, Iron Ore x2, Kelbi Hide x1 | 1500z |
| | 6 | Velociprey Tasset | Velociprey Scale x3, Iron Ore x2, Kelbi Hide x1 | 1500z |
| | 6 | Velociprey Greaves | Velociprey Scale x3, Iron Ore x2, Kelbi Hide x1 | 1500z |
Skills: Knock Out Negated
Resistance: 0 Fire, -10 Water, -10 Thunder, -5 Dragon
Bone Armor
| | | | | |
| --- | --- | --- | --- | --- |
| | Def | Name | Crafting Materials | Cost |
| | 6 | Bone Helm | Unknown Skull x1, Bullfango Pelt x1, Kelbi Hide x2 | 1500z |
| | 6 | Bone Mail | Sm Monster Bone x7, Bullfango Pelt x1, Kelbi Hide x2 | 1500z |
| | 6 | Bone Vambraces | Sm Monster Bone x5, Bullfango Pelt x1, Kelbi Hide x2, Velociprey Scale x1 | 1500z |
| | 6 | Bone Tasset | Unknown Skull x1, Bullfango Pelt x1, Kelbi Hide x2 | 1500z |
| | 6 | Bone Greaves | Sm Monster Bone x7, Bullfango Pelt x1, Kelbi Hide x2 | 1500z |
Skills: Provocation, Anti-Thief, Hunger Halved
Resistance: 0 Fire, 0 Water, -5 Thunder, -5 Dragon
Battle Armor
| | | | | | |
| --- | --- | --- | --- | --- | --- |
| | Def | Name | Crafting Materials | Buy Cost | Create Cost |
| | 7 | Battle Helm | Kut-Ku Scale x3, Iron Ore x5, Earth Crystal x3, Whetstone x5 | 4050z | 2050z |
| | 7 | Battle Mail | Kut-Ku Scale x3, Iron Ore x5, Earth Crystal x3, Whetstone x5 | 4050z | 2050z |
| | 7 | Battle Vambraces | Kut-Ku Scale x3, Iron Ore x5, Earth Crystal x3, Whetstone x5 | 4050z | 2050z |
| | 7 | Battle Tasset | Kut-Ku Scale x3, Iron Ore x5, Earth Crystal x3, Whetstone x5 | 4050z | 2050z |
| | 7 | Battle Greaves | Kut-Ku Scale x3, Iron Ore x5, Earth Crystal x3, Whetstone x5 | 4050z | 2050z |
Skills: Sharpness Restoration +25%
Resistance: -5 Fire, -5 Water, -5 Thunder, -5 Dragon
Genprey Armor
| | | | | |
| --- | --- | --- | --- | --- |
| | Def | Name | Crafting Materials | Cost |
| | 8 | Genprey Helm | Genprey Scale x6, Iron Ore x4, Bullfango Pelt x2 | 2300z |
| | 8 | Genprey Mail | Genprey Scale x6, Iron Ore x3, Bullfango Pelt x2 | 2300z |
| | 8 | Genprey Vambraces | Genprey Scale x6, Iron Ore x3, Bullfango Pelt x2 | 2300z |
| | 8 | Genprey Tasset | Genprey Scale x6, Iron Ore x3, Bullfango Pelt x2 | 2300z |
| | 8 | Genprey Greaves | Genprey Scale x6, Iron Ore x3, Bullfango Pelt x2 | 2300z |
Skills: Stun Negated
Resistance: -10 Fire, 0 Water, -10 Thunder, -5 Dragon
Ioprey Armor
| | | | | |
| --- | --- | --- | --- | --- |
| | Def | Name | Crafting Materials | Cost |
| | 10 | Ioprey Helm | Ioprey Scale x9, Iron Ore x6, Sm Monster Bone x10 | 3700z |
| | 10 | Ioprey Mail | Ioprey Scale x9, Iron Ore x6, Sm Monster Bone x10 | 3700z |
| | 10 | Ioprey Vambraces | Ioprey Scale x9, Iron Ore x6, Sm Monster Bone x10 | 3700z |
| | 10 | Ioprey Tasset | Ioprey Scale x9, Iron Ore x6, Sm Monster Bone x10 | 3700z |
| | 10 | Ioprey Greaves | Ioprey Scale x9, Iron Ore x6, Sm Monster Bone x10 | 3700z |
Skills: Poison Negated
Resistance: -10 Fire, -10 Water, -5 Thunder, -10 Dragon
Rare 3
Vespoid Armor
| | | | | |
| --- | --- | --- | --- | --- |
| | Def | Name | Crafting Materials | Cost |
| | 9 | Vespoid Helm | Vespoid Wing x10, Machalite Ore x5, Genprey Hide x3 | 2700z |
| | 9 | Vespoid Mail | Vespoid Wing x10, Machalite Ore x5, Genprey Hide x3 | 2700z |
| | 9 | Vespoid Vambraces | Vespoid Wing x10, Machalite Ore x5, Genprey Hide x3 | 2700z |
| | 9 | Vespoid Tasset | Vespoid Wing x10, Machalite Ore x5, Genprey Hide x3 | 2700z |
| | 9 | Vespoid Greaves | Vespoid Wing x10, Machalite Ore x5, Genprey Hide x3 | 2700z |
Skills: Sleep Negated
Resistance: -25 Fire, -25 Water, 0 Thunder, 10 Dragon
Hi-Metal Armor
| | | | | |
| --- | --- | --- | --- | --- |
| | Def | Name | Crafting Materials | Cost |
| | 9 | Hi-Metal Helm | Lightcrystal x1, Machalite Ore x4, Iron Ore x3 | 2700z |
| | 9 | Hi-Metal Mail | Machalite Ore x8, Iron Ore x6, Velociprey Hide x5 | 2700z |
| | 9 | Hi-Metal Vambraces | Machalite Ore x8, Iron Ore x6, Velociprey Hide x5 | 2700z |
| | 9 | Hi-Metal Tasset | Machalite Ore x7, Iron Ore x5, Velociprey Hide x5 | 2700z |
| | 9 | Hi-Metal Greaves | Machalite Ore x8, Iron Ore x6, Velociprey Hide x5 | 2700z |
Skills: Health +10
Resistance: -5 Fire, -5 Water, 0 Thunder, 0 Dragon
Kut-Ku Armor
| | | | | |
| --- | --- | --- | --- | --- |
| | Def | Name | Crafting Materials | Cost |
| | | N/A | | |
| | 10 | Kut-Ku Mail | Kut-Ku Scale x5, Kut-Ku Shell x3, Kut-Ku Webbing x1, Sm Monster Bone x3 | 3700z |
| | 10 | Kut-Ku Vambraces | Kut-Ku Scale x5, Kut-Ku Shell x3, Kut-Ku Webbing x1, Sm Monster Bone x3 | 3700z |
| | 10 | Kut-Ku Tasset | Kut-Ku Scale x5, Kut-Ku Shell x3, Kut-Ku Webbing x1, Sm Monster Bone x3 | 3700z |
| | | N/A | | |
Skills: Attack Up (Small)
Resistance: 0 Fire, -15 Water, -3 Thunder, 0 Dragon
Cephalos Armor
| | | | | |
| --- | --- | --- | --- | --- |
| | Def | Name | Crafting Materials | Cost |
| | 11 | Cephalos Helm | Cephalos Scale x5, Cephalos Fin x1, Machalite Ore x2, Iron Ore x3 | 4700z |
| | 11 | Cephalos Mail | Cephalos Scale x5, Cephalos Fin x1, Machalite Ore x2, Iron Ore x3 | 4700z |
| | 11 | Cephalos Vambraces | Cephalos Scale x5, Cephalos Fin x1, Machalite Ore x2, Iron Ore x5 | 4700z |
| | 11 | Cephalos Tasset | Cephalos Scale x5, Cephalos Fin x1, Machalite Ore x2, Iron Ore x5 | 4700z |
| | 11 | Cephalos Greaves | Cephalos Scale x5, Cephalos Fin x1, Machalite Ore x2, Iron Ore x5 | 4700z |
Skills: Anti-Heat
Resistance: -15 Fire, 0 Water, -25 Thunder, 5 Dragon
Gypceros Armor
| | | | | |
| --- | --- | --- | --- | --- |
| | Def | Name | Crafting Materials | Cost |
| | 11 | Gypceros Helm | Rubbery Hide x4, Antiseptic Stone x2, Genprey Hide x5 | 4700z |
| | 11 | Gypceros Mail | Rubbery Hide x5, Antiseptic Stone x1, Genprey Hide x5 | 4700z |
| | 11 | Gypceros Vambraces | Rubbery Hide x4, Antiseptic Stone x2, Genprey Hide x3 | 4700z |
| | 11 | Gypceros Tasset | Rubbery Hide x4, Antiseptic Stone x2, Genprey Hide x5 | 4700z |
| | 11 | Gypceros Greaves | Rubbery Hide x4, Antiseptic Stone x2, Genprey Hide x5 | 4700z |
Skills: Wide Area Antidote, Health +10
Resistance: -20 Fire, 0 Water, 0 Thunder, 0 Dragon
Lobster Armor
| | | | | |
| --- | --- | --- | --- | --- |
| | Def | Name | Crafting Materials | Cost |
| | 12 | Lobster Helm | Sm Lobstershell x1, Machalite Ore x4, Genprey Hide x2 | 10500z |
| | 12 | Lobster Mail | Sm Lobstershell x1, Machalite Ore x4, Genprey Hide x2 | 10500z |
| | 12 | Lobster Vambraces | Sm Lobstershell x1, Machalite Ore x4, Genprey Hide x2 | 10500z |
| | | N/A | | |
| | | N/A | | |
Skills: Anti-Cold
Resistance: -3 Fire, +6 Water, -15 Thunder, -3 Dragon
Hornet Armor
| | | | | |
| --- | --- | --- | --- | --- |
| | Def | Name | Crafting Materials | Cost |
| | 12 | Hornet Helm | Hornetaur Wing x10, Hornetaur Shell x5, Machalite Ore x3, Monster Fluid x1 | 5700z |
| | 12 | Hornet Mail | Hornetaur Wing x10, Hornetaur Shell x5, Machalite Ore x3, Monster Fluid x1 | 5700z |
| | 12 | Hornet Vambraces | Hornetaur Wing x10, Hornetaur Shell x5, Machalite Ore x3, Monster Fluid x1 | 5700z |
| | 12 | Hornet Tasset | Hornetaur Wing x10, Hornetaur Shell x5, Machalite Ore x3, Monster Fluid x1 | 5700z |
| | 12 | Hornet Greaves | Hornetaur Wing x10, Hornetaur Shell x5, Machalite Ore x3, Monster Fluid x1 | 5700z |
Skills: Poison Negated
Resistance: -25 Fire, -25 Water, 0 Thunder, +10 Dragon
Khezu Armor
| | | | | |
| --- | --- | --- | --- | --- |
| | Def | Name | Crafting Materials | Cost |
| | 12 | Khezu Helm | Flabby Hide x3, Iron Ore x16, Monster Fluid x2 | 5700z |
| | 12 | Khezu Mail | Flabby Hide x4, Iron Ore x16, Monster Fluid x2 | 5700z |
| | 12 | Khezu Vambraces | Flabby Hide x4, Iron Ore x16, Monster Fluid x2 | 5700z |
| | 12 | Khezu Tasset | Flabby Hide x3, Iron Ore x16, Monster Fluid x2 | 5700z |
| | 12 | Khezu Greaves | Flabby Hide x4, Iron Ore x16, Monster Fluid x2 | 5700z |
Skills: High-Speed Damage Recovery
Resistance: -5 Fire, -5 Water, 0 Thunder, 0 Dragon
Plesioth Armor
| | | | | |
| --- | --- | --- | --- | --- |
| | Def | Name | Crafting Materials | Cost |
| | 12 | Plesioth Helm | Plesioth Scale x3, Monster Fluid x1, Cephalos Scale x3, Plesioth Fin x1 | 5700z |
| | 12 | Plesioth Mail | Plesioth Scale x3, Monster Fluid x1, Cephalos Scale x3, Plesioth Fin x1 | 5700z |
| | 12 | Plesioth Vambraces | Plesioth Scale x3, Monster Fluid x1, Cephalos Scale x3, Plesioth Fin x1 | 5700z |
| | | N/A | | |
| | 12 | Plesioth Greaves | Plesioth Scale x3, Monster Fluid x1, Cephalos Scale x3, Plesioth Fin x1 | 5700z |
Skills: Hunger Halved
Resistance: -8 Fire, +8 Water, -20 Thunder, 4 Dragon
Steel Armor
| | | | | |
| --- | --- | --- | --- | --- |
| | Def | Name | Crafting Materials | Cost |
| | | N/A | | |
| | 12 | Steel Mail | Machalite Ore x12, Iron Ore x10 | 5700z |
| | 12 | Steel Vambraces | Machalite Ore x12, Iron Ore x10 | 5700z |
| | 12 | Steel Belt | Machalite Ore x12, Iron Ore x10 | 5700z |
| | | N/A | | |
Skills: Combining Success +10%
Resistance: +4 Fire, +2 Water, -3 Thunder, +1 Dragon
Rathian Armor
| | | | | |
| --- | --- | --- | --- | --- |
| | Def | Name | Crafting Materials | Cost |
| | 13 | Rathian Helm | Rathian Scale x3, Rathian Shell x3, Machalite Ore x3, Iron Ore x5 | 7300z |
| | 13 | Rathian Mail | Rathian Scale x4, Rathian Shell x2, Machalite Ore x3, Iron Ore x8 | 7300z |
| | 13 | Rathian Vambraces | Rathian Scale x3, Rathian Shell x3, Machalite Ore x3, Iron Ore x5 | 7300z |
| | 13 | Rathian Tasset | Rathian Scale x2, Rathian Shell x4, Machalite Ore x3, Iron Ore x8 | 7300z |
| | 13 | Rathian Greaves | Rathian Scale x3, Rathian Shell x3, Machalite Ore x3, Iron Ore x8 | 7300z |
Skills: Provocation, Health +20
Resistance: +10 Fire, -5 Water, -5 Thunder, -10 Dragon
Diablos Armor
| | | | | |
| --- | --- | --- | --- | --- |
| | Def | Name | Crafting Materials | Cost |
| | 13 | Diablos Helm | Twisted Horn x1, Diablos Shell x3, Machalite Ore x3 | 7300z |
| | 13 | Diablos Mail | Twisted Horn x2, Diablos Shell x2, Sm Monster Bone x20 | 7300z |
| | 13 | Diablos Vambraces | Twisted Horn x1, Diablos Shell x3, Sm Monster Bone x20 | 7300z |
| | | N/A | | |
| | | N/A | | |
Skills: Anti-Wind
Resistance: -3 Fire, -3 Water, -3 Thunder, -3 Dragon
Rathalos Armor
| | | | | |
| --- | --- | --- | --- | --- |
| | Def | Name | Crafting Materials | Cost |
| | 15 | Rathalos Helm | Rathalos Wing x1, Rathalos Scale x4, Machalite Ore x3 | 10500z |
| | 15 | Rathalos Mail | Rathalos Shell x3, Rathalos Scale x5, Rathalos Webbing x1, Machalite Ore x2 | 10500z |
| | 15 | Rathalos Vambraces | Rathalos Shell x2, Rathalos Scale x6, Rathalos Webbing x1, Machalite Ore x2 | 10500z |
| | 15 | Rathalos Tasset | Rathalos Shell x2, Rathalos Scale x5, Rathalos Webbing x1, Machalite Ore x2 | 10500z |
| | 15 | Rathalos Greaves | Rathalos Shell x2, Rathalos Scale x6, Rathalos Webbing x1, Machalite Ore x2 | 10500z |
Skills: Provocation, Attack Up (Large), Dragon Resistance -10
Resistance: +10 Fire, -5 Water, -5 Thunder, -20 Dragon
Monoblos Armor
| | | | | |
| --- | --- | --- | --- | --- |
| | Def | Name | Crafting Materials | Cost |
| | 15 | Monoblos Helm | Crimson Horn x1, Monoblos Shell x2, Machalite Ore x3, Ioprey Hide x5 | 10500z |
| | 15 | Monoblos Mail | Crimson Horn x2, Monoblos Spine x1, Monoblos Shell x1, Machalite Ore x1 | 10500z |
| | 15 | Monoblos Vambraces | Crimson Horn x1, Monoblos Spine x1, Monoblos Shell x2, Machalite Ore x2 | 10500z |
| | | N/A | | |
| | | N/A | | |
Skills: Attack Up (Large), Stun Negated, Hunger x 1.5
Resistance: -3 Fire, -3 Water, -3 Thunder, -3 Dragon
Gravios Armor
| | | | | |
| --- | --- | --- | --- | --- |
| | Def | Name | Crafting Materials | Cost |
| | 15 | Gravios Helm | Gravios Shell x5, Med Monster Bone x5, Iron Ore x12, Ioprey Hide x5 | 10500z |
| | 15 | Gravios Mail | Gravios Shell x6, Med Monster Bone x5, Iron Ore x12, Ioprey Hide x5 | 10500z |
| | 15 | Gravios Vambraces | Gravios Shell x6, Med Monster Bone x5, Iron Ore x12, Ioprey Hide x5 | 10500z |
| | 15 | Gravios Tasset | Gravios Shell x5, Med Monster Bone x5, Iron Ore x12, Ioprey Hide x5 | 10500z |
| | 15 | Gravios Greaves | Gravios Shell x6, Med Monster Bone x5, Iron Ore x12, Ioprey Hide x5 | 10500z |
Skills: Health +10
Resistance: -5 Fire, -10 Water, 0 Thunder, 0 Dragon
Rare 4
Kut-Ku+ Armor
| | | | | |
| --- | --- | --- | --- | --- |
| | Def | Name | Crafting Materials | Cost |
| | | N/A | | |
| | 18 | Kut-Ku Mail+ | Dragonite Ore x3, Kut-Ku Shell x10, Kut-Ku Ear x1, Lg Monster Bone x3 | 28500z |
| | 18 | Kut-Ku Vambraces+ | Dragonite Ore x3, Kut-Ku Shell x10, Kut-Ku Ear x1, Lg Monster Bone x3 | 28500z |
| | 18 | Kut-Ku Tasset+ | Dragonite Ore x3, Kut-Ku Shell x10, Kut-Ku Ear x1, Lg Monster Bone x3 | 28500z |
| | | N/A | | |
Skills: Attack Up (Small), Knockout Probability Halved
Resistance: 0 Fire, -15 Water, -3 Thunder, 0 Dragon
Lobster+ Armor
| | | | | |
| --- | --- | --- | --- | --- |
| | Def | Name | Crafting Materials | Cost |
| | 18 | Lobster Helm+ | Lg Lobstershell x3, Dragonite Ore x5, Union Ore x5, Iodrome Hide x3 | 28500z |
| | 18 | Lobster Mail+ | Lg Lobstershell x3, Dragonite Ore x5, Union Ore x5, Iodrome Hide x3 | 28500z |
| | 18 | Lobster Vambraces+ | Lg Lobstershell x3, Dragonite Ore x5, Union Ore x5, Iodrome Hide x3 | 28500z |
| | | N/A | | |
| | | N/A | | |
Skills: Anti-Cold, Knockout Probability Halved
Resistance: -3 Fire, +6 Water, -15 Thunder, -3 Dragon
Rathian+ Armor
| | | | | |
| --- | --- | --- | --- | --- |
| | Def | Name | Crafting Materials | Cost |
| | 18 | Rathian Helm+ | Rathian Plate x1, Rathian Shell x10, Rathian Claw x12, Dragonite Ore x12 | 28500z |
| | 18 | Rathian Mail+ | Rathian Plate x1, Rathian Scale x20, Rathian Spike x15, Dragonite Ore x10 | 28500z |
| | 18 | Rathian Vambraces+ | Rathian Plate x1, Rathian Shell x10, Rathian Claw x12, Dragonite Ore x12 | 28500z |
| | 18 | Rathian Tasset+ | Rathian Plate x1, Rathian Shell x18, Rathian Claw x12, Dragonite Ore x10 | 28500z |
| | 18 | Rathian Greaves+ | Rathian Plate x1, Rathian Scale x20, Rathian Spike x15, Dragonite Ore x10 | 28500z |
Skills: Provocation, Health +30, Defense +10
Resistance: +10 Fire, -5 Water, -5 Thunder, -10 Dragon
Vespoid+ Armor
| | | | | |
| --- | --- | --- | --- | --- |
| | Def | Name | Crafting Materials | Cost |
| | 20 | Vespoid Helm+ | Vespoid Bladefin x1, Vespoid Wing x25, Union Ore x5, Gendrome Hide x2 | 34500z |
| | 20 | Vespoid Mail+ | Vespoid Bladefin x1, Vespoid Wing x25, Union Ore x6, Gendrome Hide x3 | 34500z |
| | 20 | Vespoid Vambraces+ | Vespoid Bladefin x1, Vespoid Wing x25, Union Ore x6, Gendrome Hide x3 | 34500z |
| | 20 | Vespoid Tasset+ | Vespoid Bladefin x1, Vespoid Wing x25, Union Ore x6, Gendrome Hide x3 | 34500z |
| | 20 | Vespoid Greaves+ | Vespoid Bladefin x1, Vespoid Wing x25, Union Ore x6, Gendrome Hide x3 | 34500z |
Skills: Sleep Negated, Stun Duration Halved, Poison Duration Halved
Resistance: -25 Fire, -25 Water, 0 Thunder, 10 Dragon
Khezu+ Armor
| | | | | |
| --- | --- | --- | --- | --- |
| | Def | Name | Crafting Materials | Cost |
| | 20 | Khezu Helm+ | Pale Bone x1, Flabby Hide x5, Monster Fluid x4, Lifepowder x2 | 34500z |
| | 20 | Khezu Mail+ | Pale Bone x1, Flabby Hide x6, Monster Fluid x3, Lifepowder x2 | 34500z |
| | 20 | Khezu Vambraces+ | Pale Bone x1, Flabby Hide x6, Monster Fluid x3, Lifepowder x2 | 34500z |
| | 20 | Khezu Tasset+ | Pale Bone x1, Flabby Hide x5, Monster Fluid x3, Lifepowder x2 | 34500z |
| | 20 | Khezu Greaves+ | Pale Bone x1, Flabby Hide x6, Monster Fluid x3, Lifepowder x2 | 34500z |
Skills: Wide Area Recovery, Anti-Heat, KO Duration Doubled
Resistance: -5 Fire, -5 Water, 0 Thunder, 0 Dragon
Plesioth+ Armor
| | | | | |
| --- | --- | --- | --- | --- |
| | Def | Name | Crafting Materials | Cost |
| | 20 | Plesioth Helm+ | Union Ore x3, Cephalos Scale x5, Plesioth Fin x2, Plesioth Scale x5 | 34500z |
| | 20 | Plesioth Mail+ | Union Ore x3, Cephalos Scale x5, Plesioth Fin x2, Plesioth Scale x5 | 34500z |
| | 20 | Plesioth Vambraces+ | Union Ore x3, Cephalos Scale x5, Plesioth Fin x2, Plesioth Scale x5 | 34500z |
| | | N/A | | |
| | 20 | Plesioth Greaves+ | Union Ore x3, Cephalos Scale x5, Plesioth Fin x2, Plesioth Scale x5 | 34500z |
Skills: Hunger Halved, Anti-Heat, KO Duration Doubled
Resistance: -8 Fire, +8 Water, -20 Thunder, +4 Dragon
Steel+ Armor
| | | | | |
| --- | --- | --- | --- | --- |
| | Def | Name | Crafting Materials | Cost |
| | | N/A | | |
| | 20 | Steel Mail+ | Dragonite Ore x12, Machalite Ore x10 | 34500z |
| | 20 | Steel Vambraces+ | Dragonite Ore x12, Machalite Ore x10 | 34500z |
| | 20 | Steel Belt+ | Dragonite Ore x12, Iron Ore x10 | 34500z |
| | | N/A | | |
Skills: Combining Success +20%
Resistance: +4 Fire, +2 Water, -3 Thunder, +1 Dragon
Diablos+ Armor
| | | | | |
| --- | --- | --- | --- | --- |
| | Def | Name | Crafting Materials | Cost |
| | 21 | Diablos Helm+ | Diablos Spine x3, Majestic Horn x1, Diablos Shell x5, Gendrome Hide x2 | 37500z |
| | 21 | Diablos Mail+ | Diablos Spine x3, Majestic Horn x1, Diablos Shell x5, Gendrome Hide x2 | 37500z |
| | 21 | Diablos Vambraces+ | Diablos Spine x3, Majestic Horn x1, Diablos Shell x5, Gendrome Hide x2 | 37500z |
| | | N/A | | |
| | | N/A | | |
Skills: Attack Up (Small), Hunger x 1.5, Anti-Wind
Resistance: -3 Fire, -3 Water, -3 Thunder, -3 Dragon
Hornet+ Armor
| | | | | |
| --- | --- | --- | --- | --- |
| | Def | Name | Crafting Materials | Cost |
| | 22 | Hornet Helm+ | Hornet Bladefin x2, Hornetaur Wing x10, Hornetaur Shell x10, Union Ore x4 | 41500z |
| | 22 | Hornet Mail+ | Hornet Bladefin x1, Hornetaur Head x2, Hornetaur Shell x10, Union Ore x4 | 41500z |
| | 22 | Hornet Vambraces+ | Hornet Bladefin x1, Hornetaur Wing x20, Hornetaur Shell x10, Union Ore x4 | 41500z |
| | 22 | Hornet Tasset+ | Hornet Bladefin x1, Hornetaur Head x2, Hornetaur Shell x10, Union Ore x4 | 41500z |
| | 22 | Hornet Greaves+ | Hornet Bladefin x1, Hornetaur Head x2, Hornetaur Shell x10, Union Ore x4 | 41500z |
Skills: Poison Negated, Stun Negated
Resistance: -25 Fire, -25 Water, 0 Thunder, +10 Dragon
Hi-Metal+ Armor
| | | | | |
| --- | --- | --- | --- | --- |
| | Def | Name | Crafting Materials | Cost |
| | 22 | Hi-Metal Helm+ | Novacrystal x1, Dragonite Ore x15, Machalite Ore x10, Iron Ore x5 | 41500z |
| | 22 | Hi-Metal Mail+ | Dragonite Ore x20, Machalite Ore x15, Iron Ore x10, Velociprey Hide x10 | 41500z |
| | 22 | Hi-Metal Vambraces+ | Dragonite Ore x20, Machalite Ore x15, Iron Ore x10, Velociprey Hide x10 | 41500z |
| | 22 | Hi-Metal Tasset+ | Dragonite Ore x15, Machalite Ore x10, Iron Ore x10, Velociprey Hide x10 | 41500z |
| | 22 | Hi-Metal Greaves+ | Dragonite Ore x20, Machalite Ore x15, Iron Ore x10, Velociprey Hide x10 | 41500z |
Skills: Stealth, Health +30, Hunger x 1.5
Resistance: -5 Fire, -5 Water, 0 Thunder, 0 Dragon
Rathalos+ Armor
| | | | | |
| --- | --- | --- | --- | --- |
| | Def | Name | Crafting Materials | Cost |
| | 22 | Rathalos Helm+ | Rathalos Plate x1, Rathalos Wing x3, Rathalos Webbing x7, Firestone x3 | 41500z |
| | 22 | Rathalos Mail+ | Rathalos Plate x1, Rathalos Shell x15, Rathalos Webbing x7, Union Ore x7 | 41500z |
| | 22 | Rathalos Vambraces+ | Rathalos Plate x1, Rathalos Shell x15, Rathalos Scale x7, Union Ore x7 | 41500z |
| | 22 | Rathalos Tasset+ | Rathalos Plate x1, Rathalos Shell x15, Rathalos Scale x7, Union Ore x7 | 41500z |
| | 22 | Rathalos Greaves+ | Rathalos Plate x1, Rathalos Shell x15, Rathalos Webbing x7, Union Ore x7 | 41500z |
Skills: Attack Up (Large), High-Speed Damage Recovery, Provocation
Resistance: +10 Fire, -5 Water, -5 Thunder, -10 Dragon
Gravios+ Armor
| | | | | |
| --- | --- | --- | --- | --- |
| | Def | Name | Crafting Materials | Cost |
| | 23 | Gravios Helm+ | Gravios Carapace x1, Gravios Shell x5, Lg Monster Bone x3, Iodrome Hide x2 | 45500z |
| | 23 | Gravios Mail+ | Gravios Carapace x3, Gravios Shell x8, Lg Monster Bone x5, Iodrome Hide x3 | 45500z |
| | 23 | Gravios Vambraces+ | Gravios Carapace x2, Gravios Shell x5, Lg Monster Bone x5, Iodrome Hide x3 | 45500z |
| | 23 | Gravios Tasset+ | Gravios Carapace x2, Gravios Shell x5, Lg Monster Bone x5, Iodrome Hide x3 | 45500z |
| | 23 | Gravios Greaves+ | Gravios Carapace x3, Gravios Shell x8, Lg Monster Bone x5, Iodrome Hide x3 | 45500z |
Skills: Anti-Heat, Health +20, Hunger x 1.5
Resistance: -5 Fire, -10 Water, 0 Thunder, 0 Dragon
Rare 5
Shinobi Sun
| | | | | |
| --- | --- | --- | --- | --- |
| | Def | Name | Crafting Materials | Cost |
| | 10 | Shinobi Mask (Sun) | Fatalis' Webbing x1, Guild Ticket x1, Monster Fluid x2, Rathalos Webbing x5 | 98000z |
| | 10 | Shinobi Suit (Sun) | Fatalis' Webbing x1, Guild Ticket x1, Monster Fluid x2, Rathalos Webbing x5 | 98000z |
| | 10 | Shinobi Kote (Sun) | Fatalis' Webbing x1, Guild Ticket x1, Monster Fluid x2, Rathalos Webbing x5 | 98000z |
| | 10 | Shinobi Belt (Sun) | Fatalis' Webbing x1, Guild Ticket x1, Monster Fluid x2, Rathalos Webbing x5 | 98000z |
| | 10 | Shinobi Boots (Sun) | Fatalis' Webbing x1, Guild Ticket x1, Monster Fluid x2, Rathalos Webbing x5 | 98000z |
Skills: Hunger Negated, Poison Negated, Stealth
Resistance: -15 Fire, -25 Water, 0 Thunder, +10 Dragon
Shinobi Moon
| | | | | |
| --- | --- | --- | --- | --- |
| | Def | Name | Crafting Materials | Cost |
| | 10 | Shinobi Mask (Moon) | Fatalis' Webbing x1, Guild Ticket x1, Monster Fluid x2, Rathalos Webbing x5 | 98000z |
| | 10 | Shinobi Suit (Moon) | Fatalis' Webbing x1, Guild Ticket x1, Monster Fluid x2, Rathalos Webbing x5 | 98000z |
| | 10 | Shinobi Kote (Moon) | Fatalis' Webbing x1, Guild Ticket x1, Monster Fluid x2, Rathalos Webbing x5 | 98000z |
| | 10 | Shinobi Belt (Moon) | Fatalis' Webbing x1, Guild Ticket x1, Monster Fluid x2, Rathalos Webbing x5 | 98000z |
| | 10 | Shinobi Boots (Moon) | Fatalis' Webbing x1, Guild Ticket x1, Monster Fluid x2, Rathalos Webbing x5 | 98000z |
Skills: Hunger Negated, Poison Negated, Stealth
Resistance: 0 Fire, -10 Water, +10 Thunder, +25 Dragon
Guild Knight Armor (Red)
| | | | | |
| --- | --- | --- | --- | --- |
| | Def | Name | Crafting Materials | Cost |
| | 12 | Guild Knight Feather | Novacrystal x1, Guild Ticket x1, Egg Ticket x5, Jewel Ticket x3 | 98000z |
| | 12 | Guild Knight Suit | Novacrystal x1, Guild Ticket x1, Egg Ticket x5, Jewel Ticket x3 | 98000z |
| | 12 | Guild Knight Gloves | Novacrystal x1, Guild Ticket x1, Egg Ticket x5, Jewel Ticket x3 | 98000z |
| | 12 | Guild Knight Coat | Novacrystal x1, Guild Ticket x1, Egg Ticket x5, Jewel Ticket x3 | 98000z |
| | 12 | Guild Knight Boots | Novacrystal x1, Guild Ticket x1, Egg Ticket x5, Jewel Ticket x3 | 98000z |
Skills: Gatherer, Divine Toolsaver, Good Luck
Resistance: -5 Fire, -5 Water, -5 Thunder, -5 Dragon
Guild Knight Armor (Black)
| | | | | |
| --- | --- | --- | --- | --- |
| | Def | Name | Crafting Materials | Cost |
| | 7 | Guild Knight Mask | Novacrystal x1, Guild Ticket x1, Egg Ticket x5, Jewel Ticket x3 | 98000z |
| | 7 | Guild Knight Vest | Novacrystal x1, Guild Ticket x1, Egg Ticket x5, Jewel Ticket x3 | 98000z |
| | 7 | Guild Knight Sleeves | Novacrystal x1, Guild Ticket x1, Egg Ticket x5, Jewel Ticket x3 | 98000z |
| | 7 | Guild Knight Kilt | Novacrystal x1, Guild Ticket x1, Egg Ticket x5, Jewel Ticket x3 | 98000z |
| | 7 | Guild Knight Tights | Novacrystal x1, Guild Ticket x1, Egg Ticket x5, Jewel Ticket x3 | 98000z |
Skills: Gatherer, Divine Toolsaver, Good Luck
Resistance: 0 Fire, 0 Water, 0 Thunder, +10 Dragon
Maiden's Armor (Red)
| | | | | |
| --- | --- | --- | --- | --- |
| | Def | Name | Crafting Materials | Cost |
| | 12 | Maiden's Hat | Novacrystal x1, Guild Ticket x1, Egg Ticket x5, Jewel Ticket x3 | 98000z |
| | 12 | Maiden's Vest | Novacrystal x1, Guild Ticket x1, Egg Ticket x5, Jewel Ticket x3 | 98000z |
| | 12 | Maiden's Sleeves | Novacrystal x1, Guild Ticket x1, Egg Ticket x5, Jewel Ticket x3 | 98000z |
| | 12 | Maiden's Skirt | Novacrystal x1, Guild Ticket x1, Egg Ticket x5, Jewel Ticket x3 | 98000z |
| | 12 | Maiden's Stockings | Novacrystal x1, Guild Ticket x1, Egg Ticket x5, Jewel Ticket x3 | 98000z |
Skills: Gatherer, Divine Toolsaver, Good Luck
Resistance: -5 Fire, -5 Water, -5 Thunder, -5 Dragon
Personal Armor (Black)
| | | | | |
| --- | --- | --- | --- | --- |
| | Def | Name | Crafting Materials | Cost |
| | 12 | Personal ? | Novacrystal x1, Guild Ticket x1, Egg Ticket x5, Jewel Ticket x3 | 98000z |
| | 12 | Personal ? | Novacrystal x1, Guild Ticket x1, Egg Ticket x5, Jewel Ticket x3 | 98000z |
| | 12 | Personal ? | Novacrystal x1, Guild Ticket x1, Egg Ticket x5, Jewel Ticket x3 | 98000z |
| | 12 | Personal ? | Novacrystal x1, Guild Ticket x1, Egg Ticket x5, Jewel Ticket x3 | 98000z |
| | 12 | Personal ? | Novacrystal x1, Guild Ticket x1, Egg Ticket x5, Jewel Ticket x3 | 98000z |
Skills: Gatherer, Divine Toolsaver, Good Luck
Resistance: -5 Fire, -5 Water, -5 Thunder, -5 Dragon
Auroros/Borealis Armor
| | | | | |
| --- | --- | --- | --- | --- |
| | Def | Name | Crafting Materials | Cost |
| | 24 | Auroros/Borealis Helm | Lao-Shan's Spine x1, Lao-Shan's Scale x5, Majestic Horn x1, Commendation x3 | 98000z |
| | 24 | Auroros/Borealis Torso | Lao-Shan's Spine x1, Lao-Shan's Shell x5, Crimson Horn x1, Commendation x3 | 98000z |
| | 24 | Auroros/Borealis Gauntlets | Lao-Shan's Spine x1, Lao-Shan's Scale x5, Rathalos Wing x1, Commendation x3 | 98000z |
| | 24 | Auroros/Borealis Tasset | Lao-Shan's Spine x1, Lao-Shan's Shell x5, Gravios Wing x1, Commendation x3 | 98000z |
| | 24 | Auroros/Borealis Pants | Lao-Shan's Spine x1, Lao-Shan's Scale x5, Rathian Plate x1, Commendation x3 | 98000z |
Skills: High-Speed Damage Recovery, Farsight, Sharpness Restoration +50%
Resistance: +10 Fire, +10 Water, +10 Thunder, -25 Dragon
Dragon Armor
| | | | | |
| --- | --- | --- | --- | --- |
| | Def | Name | Crafting Materials | Cost |
| | 24 | Dragonhead | Fatalis' Eye x1, Fatalis' Scale x3, Fatalis' Horn x2, Rathalos Plate x1 | 192000z |
| | 24 | Dragonhide | Fatalis' Crust x1, Fatalis' Shell x3, Fatalis' Scale x2, Rathalos Plate x1 | 192000z |
| | 24 | Dragonclaw | Fatalis' Horn x2, Fatalis' Crust x1, Fatalis' Shell x3, Rathalos Plate x1 | 192000z |
| | 24 | Dragonwings | Fatalis' Shell x3, Fatalis' Scale x2, Fatalis' Webbing x1, Rathalos Plate x1 | 192000z |
| | 24 | Dragonfeet | Fatalis' Scale x3, Fatalis' Scale x2, Fatalis' Webbing x1, Rathalos Plate x1 | 192000z |
Skills: High-Speed Damage Recovery, Attack Up (Small), Anti-Wind
Resistance: +5 Fire, +5 Water, +5 Thunder, -15 Dragon
Miscellaneous
| | | | | |
| --- | --- | --- | --- | --- |
| | Def | Name | Crafting Materials | Cost |
| | 1 | Mosswine Mask | Mosswine Head x1, Bullfango Pelt x5 | 200z |
| | 3 | Bullfango Mask | Bullfango Head x1, Bullfango Pelt x5 | 400z |
| | 10 | Skull Face | Master's Skull x1, Ancient Potion x1, Lifecrystals x1 | 3700z |
Note
Some of these armor sets are no longer possible to make due to the fact that the servers have been shut down. The online had different quests which gave some of the required materials.
Ad blocker interference detected!
Wikia is a free-to-use site that makes money from advertising. We have a modified experience for viewers using ad blockers

Wikia is not accessible if you've made further modifications. Remove the custom ad blocker rule(s) and the page will load as expected.