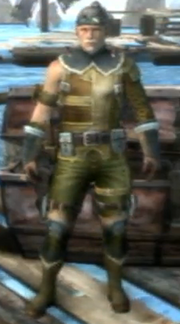 Defense
Name
Slots
Skills
Cost
[1]
26~58
Leather Headgear+
OO
+4 Whim, +2 Spd Gather, +2 Gathering
4600z
[2]
26~58
Leather Vest+
O
+2 Whim, +1 Spd Gather, +5 Gathering
4600z
[3]
26~58
Leather Gloves+
OO
+3 Whim, +3 Spd Gather, +2 Gathering
4600z
[4]
26~58
Leather Belt+
OO
+4 Whim, +1 Spd Gather, +3 Gathering
4600z
[5]
26~58
Leather Pants+
OO
+2 Whim, +3 Spd Gather, +3 Gathering
4600z
Skills: Divine Whim, Gathering +2, Speed Gatherer Total Cost:23,000z
Resistance: -10 Fire, -10 Ice, +15 Thunder, +10 Dragon

Total Defense
Initial Defense: 130
Final Defense: 290
Fire Res: -10
Water Res: 0
Thundr Res: 15
Ice Res: -10
Dragon Res: 10
Other information
Rarity: 4
Total Slots: 9
Skill Effects
Skill 1: Divine Whim
Skill 2: Gathering +2
Skill 3: Item Use Up
Skill 4: Speed Gatherer
Skill 5: n/a
Armor Pieces
Head: Leather Helm+
Torso: Leather Mail+
Gauntlets: Leather Vambraces+
Waist: Leather Faulds+
Leggings: Leather Greaves+
Notes:
This armor set offers great gathering skills, making it a highly recommended set for gathering quests.
It is, however, not necessary to forge over its low rank equivalent as the same skill set can be achieved through gems. Despite this, the Leather+ Armor is still regarded as a wiser choice due to the sheer amount of slots it boasts, giving hunters an even greater amount of freedom when adding additional skills.
Ad blocker interference detected!
Wikia is a free-to-use site that makes money from advertising. We have a modified experience for viewers using ad blockers

Wikia is not accessible if you've made further modifications. Remove the custom ad blocker rule(s) and the page will load as expected.