Lavasioth Subspecies Topics:

Lavasioth Subspecies is a Subspecies of Lavasioth introduced in Monster Hunter Frontier Season 1.5.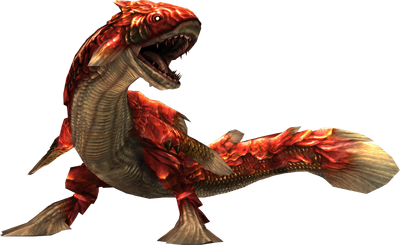 Physiology
Lavasioth Subspecies are actually female Lavasioth. Its armor has become a red-orange color due to being covered in melted rare ore that never cools down.
Abilities
Lavasioth Subspecies is faster, stronger, and more resilient than normal Lavasioth in addition to being able to shoot three magma balls alongside instantly slithering across the area in a semi-circle when leaping out of the lava.
Behavior
Lavasioth Subspecies is highly aggressive in comparison to a normal Lavasioth and will attack foes on sight.
Other Non-Subspecies Forms
Hardcore (HC) Lavasioth Subspecies
Game Appearances
Chronological Appearances
| | | |
| --- | --- | --- |
| First US / EU Appearance: | First JP Appearance: | Latest Appearance: |
| None | (2007) | (2016) |
In-Game Description
Monster Hunter Frontier G

(?)
Notes
Ad blocker interference detected!
Wikia is a free-to-use site that makes money from advertising. We have a modified experience for viewers using ad blockers

Wikia is not accessible if you've made further modifications. Remove the custom ad blocker rule(s) and the page will load as expected.