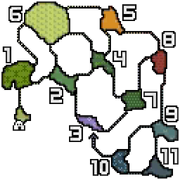 The Jurassic Frontier is an area first introduced in Monster Hunter Generations. It is an island filled with primitive plants. The ecosystem for this area has many different types of resources along with variety of species such as Larinoth, Great Maccao, and Glavenus.
Music Themes
MHGen: Jurassic Frontier Theme
Gallery
Notes
In Area 10, a corpse of Shen Gaoren can be found.
Interestingly, Area 8 is actually a giant mushroom hanging over the forest.
The Base Camp in Area 5 was destroyed by a Glavenus, when the first research teams came to study the Jurassic Frontier.

Though it was destroyed by a Glavenus, Glavenus actually doesn't appear in this area in-game.

In the Base Camp, a herd of Aptonoth can be seen in the horizon of the fields.
Ad blocker interference detected!
Wikia is a free-to-use site that makes money from advertising. We have a modified experience for viewers using ad blockers

Wikia is not accessible if you've made further modifications. Remove the custom ad blocker rule(s) and the page will load as expected.