Jungle
Talk

6
11,743pages on
this wiki
Jungle
Names
English Name:
Jungle
Japanese Name:
密林
General Information
Icon:
Number of Areas:
10
Main Resources:
(?)
Small Monsters:
Bullfango, Conga, Hornetaur, Velociprey, Vespoid
Large Monsters:
Abiorugu, Baruragaru, Bulldrome, Chameleos, Congalala, Daimyo Hermitaur, Plum Daimyo Hermitaur, Gypceros, Kushala Daora, Plesioth, Rathian, Pink Rathian, Unknown (Black Flying Wyvern), Velocidrome, Yian Garuga, Yian Kut-Ku
Game Appearances:
MH2, MHF2, MHFU, MHFO
Generation:
Second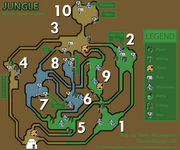 The Jungle is an area introduced in Monster Hunter 2. It is situated in and around a tropical coastline and is located near Jumbo Village. This area is characterized by white sandy beaches, turqouise seawater, lofty cliffs and subterranean caves. This area is inhabited by many types of monsters, such as Rathian, Congalala, and Velocidrome. 
Common Resources
Bone
Bone
Small Bone Husk
Unknown Skull
Mystery Bone
Beautiful Shell
Black Pearl
Bug
Godbug
Royal Rhino 
Flashbug
Firefly
Bitterbug
Insect Husk
Carpenterbug
Thunderbug
Cricket
Fish
Speartuna
Pin Tuna
Knife Mackerel
Burst Arrowana
Sleepyfish
Glutton Tuna
Rumblefish
Small Goldenfish
Goldenfish
Scatterfish
Fruit
Huskberry
Needleberry
Paintberry
Mushroom
Special Mushroom
Exciteshroom
Blue Mushroom
Nitroshroom
Parashroom
Ore
Iron Ore
Earth Crystal
Stone
Whetstone
Goldstone Piece
Disk Stone
Machalite Ore
Suiko Jewel
Plant
Herb
Hot Pepper
Sunset Herb
Sap Plant
Ivy
Notes
When raining, bombs of all kinds will be rendered useless.
At night, Area 10 will become inaccessible, as the land bridge connecting it to the mainland will be flooded.
Videos
00:20

The Green of the Land




The Green of the Land MHF2 Jungle Day Video

00:20

The Green of the Land




The Green of the Land MHF2 Jungle Night
Gallery
See Also