Jumbo Village
Names
English Name:
Jumbo Village
Japanese Name:
ジャンボ村
(ジャンボむら)
Janbo Mura
General Information
Game Appearances:
MH2, mentioned by name in Monster Hunter 4 Ultimate
Generation:
Second
Jumbo Village is the village setting for Monster Hunter 2. It is a port village located near the Jungle.
Town Layout
Theres a Tavern where you can partake quests (vary depending on the season) & play some mini-games such as Arm Wrestling with the shipyard manager & Drinking game with the Wyverian Lady (once the Tavern reaches level 3)
Hunters can pick off useful items from the Felyne Merchant.
You can combine at the combiner shop(depends on your combo info list)
A Blacksmith where you can buy weapons, supplies(if the Blacksmith is level 2) & you can Improve your weapons/armor there.
A Shipyard where you can travel back to Kokoto Village once the conditions are met(Slaying Lunastra, completing the Shipyard manager's red bubble requests).
A Food Shop where you can buy food as a Felyne Chef ingredient & as a Food for your Poogie.
A Fishing corner where you can catch fishes there(If you brought some fishing rods).
A Mining Cave where you can give the miner a Pickaxe to mine you ores after the quest.
Time and Seasons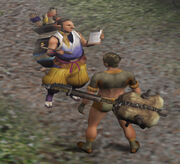 Monster Hunter 2 introduces the concept of time with Day and Night passages. The game also progresses into different seasons. Each season will dictate a monster's behavior and the materials you get from quests. During the Warm Season, carnivorous monsters like Wyverns are highly active, thus the ideal time for hunting. Come the Cold Season, monsters will become aggressive due to hunger and food shortages. This is a good time to obtain rare monster materials. Breeding Season is a time when Herbivorous monsters are most active and Carnivorous monsters are at their least. This particular season is best to gather materials from the field.
By paying a certain amount of zenny, you may directly switch over to next season by using your bed.
温暖期
Warm Season
寒冷期
Cold Season
繁殖期
Breeding Season
Trivia
Characters
Image Gallery