Jade Barroth
Talk

4
5,749pages on
this wiki
Jade Barroth Discussion

Jade Barroth

Names

English Name:
Jade Barroth
Nicknames:
Ice Barroth
Titles:
Ice Crushing Wyvern
Romaji:
Boruborosu Ashu
Japanese Name:
ボルボロス亜種
Japanese Title:
氷砕竜
Korean Name:
N/A

Description and Information

Species:
Brute Wyvern
Element/s:
Ailment/s:
/
Weakest to:
(with snow)
(without snow)
Weakness Sign:
Limping
Signature Move:
U-Turn Charge
Habitats:
Tundra
Size:
1744.3 cm
1266.0 cm
Monsters in Relation:
Barroth

Chronological Appearances

First US/EU Appearance:
(2013)
First JP Appearance:
(2010)
Latest Appearance:
(2013)
Generation:
3

Jade Barroth is a blue and green subspecies of Barroth that lives in the Tundra. Known as Ice Crushing Wyverns, they cover themselves in snow for protection, in much the same way Barroth cover themselves in mud.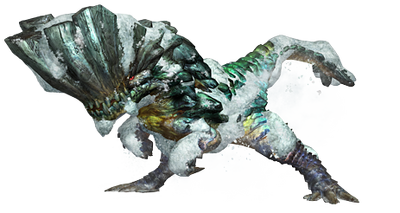 The Jade Barroth is capable of performing U-turn charges through the snow, head slams and shaking off its snow to inflict Snowman on the Hunter. The Jade Barroth's crown is also somewhat larger than its desert cousin.
When weakened, Jade Barroth will limp into Area 1 much like the Deviljho and break into the Secret Areas of Area 8 and 9. However, this time the Secret Areas will appear on the map. The Jade Barroth can be tricked into breaking into the areas without entering them by being lured into hitting the barriers with certain attacks.
In-Game Description
Monster Hunter Portable 3rd

凍土に生息する、ボルボロスの亜種。通常種の泥と同様に、雪や氷を体表にまとい、それを振り飛ばして攻撃を行う場合があるため注意が必要。発達した頭殻を氷に叩きつけるような行動をとる事から"氷砕竜"の異名を持つ。主食はブナハブラ。
Monster Hunter 3 Ultimate

A subspecies of Barroth found in colder climates. Lacking mud, they coat themselves with snow and ice, which can be flung at perceived threats. They are known for bashing their overgrown crowns into the ice, and subsist primarily on Bnahabra.
Notes
Jade Barroth eats from Bnahabra nests near the ground to recover Stamina.
Just like the normal Barroth, its scalp can be broken off and carved.
Instead of rolling in mud like its desert relative, it rolls in snow, inflicting Snowman instead of Muddy.
Similarly to its desert counterpart, ice can be knocked off of its body, which occasionally results in a Shiny Drop (Wyvern Tears, Lrg Wyvern Tears and Frozen Globs).
It has some new attacks, one of which involves it tossing three large chunks at the Hunter using its head. Jade Barroth's most notable new move is a powerful charge that can perform a U-turn. The Jade Barroth also has another unique attack, where it slams its head, causing ice to splash out, then quickly moves backwards and slams again.
Analysis
This data was directly taken from the Monster Hunter Portable 3rd Demo Version.

Monster Hunter 3 Ultimate
Images
Videos
Video


Title
『MHP3rd』DEMO Ice Barroth Lance Gameplay [TEAM]
by MHFUFIGHTERS