Ioprey
Talk

0
5,682pages on
this wiki
Ioprey are a species of Raptorial Bird Wyvern, characterized by their red-orange hide and rounded head crest. Hunters familiar with Ioprey have observed that their permeable skin constantly need moisture. For this reason, Ioprey tend to dwell in danker regions - such as the Swamp,Great Forest and Jungle - where they can easily avoid dehydration. However, Ioprey are still found in places outside these comfortable habitats, such as in the Volcano and even the drier Fortress.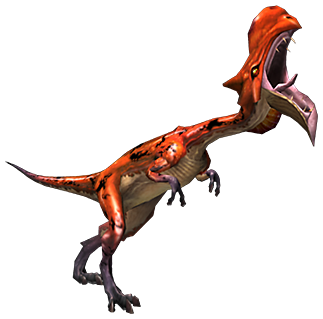 Physical Appearance
The Ioprey appears very closely like a typical small herrerasaurus. It is notably lust red in the skin, with some black markings while purplish lavender by the limbs. Ioprey's head shape arcs on the back part, while the snout looks like a very large beak. It's eyes are practically yellow-amber and has no visible pupils.
General
Ioprey are easily distinguishable from other Raptor species thanks to their larger size and bulbous frog-like throat sac. This enlarged throat houses the Ioprey's potent poison sac, which gives it the ability to spit poison at its foes. Whilst this might be a small nuisance to experienced hunters, the fact Ioprey hunt in packs can quickly make them a dangerous threat to a hunter not carrying a supply of Antidotes. The duration and toxicity of the poison varies between Ioprey found at different Ranks. Those found in G-Rank will last much longer and be far more punishing than those of Low or High Rank.
Like all Raptor species, if killed mid-jump, an Ioprey is likely to divide into multiple pieces, leaving nothing behind for the hunter to carve from. Similar to its cousins, an alpha Ioprey, known as an Iodrome, controls a pack.
The Ioprey's first appearance was in Monster Hunter, and they reappeared in every following game, with the exceptions of Monster Hunter Tri, Monster Hunter Portable 3rd and Monster Hunter 3 Ultimate.
Game Appearances
Chronological Appearances
| | | |
| --- | --- | --- |
| First US / EU Appearance: | First JP Appearance: | Latest Appearance: |
| (2004) | (2004) | (2013) |
In-Game Description
Monster Hunter Freedom 2 / Monster Hunter Freedom Unite

A vivid red species of small carnivores often found in subtropical zones. Sacs in their throat contain a powerful poison that slowly drains the health of their prey.

Monster Hunter 4

(?)

Monster Hunter Frontier G

(?)
Notes
Ioprey have the highest health of the Prey species.
Poison Sacs may be carved from Ioprey in Monster Hunter and Monster Hunter Freedom.
Trivia
Ioprey's name is similar to on of the Galilean Moon of Jupiter.

The moon is highly known for it's numerous active volcanoes and it results in intense heat on the surface.
Ioprey's poisonous nature is also similar with the Io releasing sulphur and sulphur dioxide(toxic) all around it's atmosphere.
Frontier Analysis Ioprey Normal State
Roar
X
Wind Pressure
X
Shock Trap
X
Pitfall Trap
X
Sonic Bomb
X
Flash Bomb
30
Meat
X
Stench Beads
X
Capture HP
X
Cuttable Tail
X

Resistance
Duration
Damage
Poison Resistance
100
30 sec
60
Para Resistance
50
15 sec
Sleep Resistance
50
15 sec
Faint Resistance
50
15 sec

| | | | | | | | | |
| --- | --- | --- | --- | --- | --- | --- | --- | --- |
| Hitzone | Cutting | Impact | Shot | Fire | Water | Thunder | Dragon | Ice |
| Body | 90 | 90 | 90 | 20 | 30 | 50 | 0 | 20 |