Help - MH Wiki Chat Room
Talk

4
5,759pages on
this wiki
For The IRC Mibbit Chatroom

The MH Wiki uses a chat room service called Mibbit, an Ajax (Ajax means there is no need to refresh to see incoming messages) based web chat client, currently supporting the IRC protocol. It is a simple approach to IRC that runs right in your browser without the need of a special client. For any newbie IRC users, this is a great way to get your foot in the door. This article attempts to make being on the Mibbit Chat as easy as possible with these lists of commands.
Links: Mibbit.com
Channel Mode commands Mibbit's Terms of Service -- Even if you don't use the Mibbit IRC client, you're using their IRC network and these rules still apply to you.
Also check the MOTD in the server status channel on connection, that often holds rules/other important information about the server/network.
A new feature of the wiki, where registered users (and only registered ones) of the wiki can enter and relax. Please note that the list of commands listed below does not, and will not work in the wiki's internal chatroom.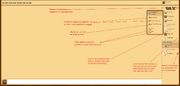 Rules
1. All kinds of Flaming/Trolling/Sexism/Racism/Obscenity/Inappropriate Behaviour is prohibited and may result in a mute/ban if it occurs.
2. Spamming, no matter the kind will lead to the spammer being kicked and eventually to a mute/ban if the person does not stop after a warning from an Operator/Administrator. Posting in ALL CAPS and advertising is also considered spam and will result in punishment. Note: YouTube videos, help sites and other such things are more tolerant to this rule, but can still lead to kick/ban if the link is overused/spammed.
3. Religious and other controversial topics, for example; abortion, euthanasia, etc., are allowed to be discussed (so long as it does not offend anyone) but it is, by all means, FORBIDDEN to personally attack another individual's life philosophy/opinions and doing so will result in a mute/ban from the #mhwikichatroom.
4. Operators/Administrators can kick/ban any user at any given time for any reason and are not required to respond to complaints against their actions/judgement.
5. Ban Evasion will Result in an ISP ban.
6. Bans will last at least 3 days, although expect longer bans.
7. All mibbit rules (applies to IRC chat only) must be followed (please read mibbit's Code of Conduct).
8. The chat is an English speaking room, Foreign languages may be spoken only if an OP or Admin can understand.
9. Personal info is Recommended to be kept to yourself, although you can freely talk about it at your own risk.
10. Foul Language is Accepted, although don't Abuse it. Racisms and other such terms are NOT accepted and WILL lead to a ban. (Rule 1)
11. The Chatroom is a GENERAL CHATROOM, anyone who keeps on insisting that it's a Chatroom exclusively for Monster Hunter will be kicked/banned without hesitation.
12. You aren't allowed to use either chatroom unless you are 13 years or older, due to Wikia's Terms of Use and Mibbit's Terms of Service.
13. The rules for the IRC chatroom also apply to the Wiki's internal chatroom.

Signs
Only seen when using the Mibbit.com chat.
| Sign | Meaning |
| --- | --- |
| Red name on namelist | That user is currently typing. |
| Users with green shirts | Using Mibbit as their chat client. |
| Users with blue shirts | Not using Mibbit as their chat client. |
| Light green name | That user has set him or herself on away status. |
| Half-Star next to name | A Half-Operator (half-op) of the chat. |
| Star next to name | An Operator (op) of the chat. |
| Key next to name | An Administrator (admin-op) of the chat. |
| House next to name | Owner (may also be Co-Owner) of the chat. |
Commands (Mibbit Chat only)
Normal Commands
Desired Effect
What to Type
Extra Info
Change name while in chat
/nick (newname)
-
Register your nick
/msg nickserv register (your desired password) (your email address)
Use this to secure your nick so others can't take it while you're offline. Mibbit will send you an email to verify your registration so use a valid email. Note that you need to copy paste the commands you get from the email
Sign in
/msg nickserv identify (your password)
Use this to sign in with your password if you have registered your nick.
Enforce nick
/msg nickserv set kill ON or /msg nickserv set kill QUICK
Use this to make your nick be enforced and makes those who want to use nicks identify in time and prevents any use should noone identify in time and gets changed to a guest (must be logged in with the nick to enforce). Note: by putting in ON, you have 1 minute to identify, by putting in QUICK instead of ON, you have 20 seconds to identify.
Recovering your nickname
/msg nickserv recover (nickname) (your password)
Use this command to disconnect the person who is using your nick without identifying, this will bring a fake user online with the same nickname and kill the real person who are using your nick. Note that this fake user will stay for 1 minute, so you must wait before claiming your nickname.
Removing the "fake" user without waiting
/msg nickserv release (nickname) (password)
By doing this command, you will kill the "fake" user without waiting 1 minute to claim your nickname. Note: If you don't know what the "fake" user is, please read command above.
Ghosting
/msg nickserv ghost (nickname) (password)
Terminates the nickname that is "stuck" in the chatroom (even though you are not using the nick) due to internet disconnection, computer crash etc.
Grouping your current nickname
/msg nickserv group (your original nickname) (your original nickname's password)
Use this command group the nickname you are using to your original nickname, this way you can have multiple aliases with just one account.
Changing password
/msg nickserv set password (new password)
Using this command will change your nickname's password. Note that you must be using the nickname that you want to change your password and are identified.
Private message a user
/msg (other user's name) (message)
You can also just double-click the user you want to private message.
Type an "action"
/me (whatever you want to say)
For example, PitchBlack696 is eating cake.
Ignore a user
/ignore (username) or /silence (username)
You will no longer see messages from the user you ignore.
Set on Away Status
/away (reason)
Your name will become light green. Note that you don't need to put in the reason, it is completely optional but it will let other people know.
Find info on a user
/whois (username)
Locates IP address.
Find info on a user who is not currently online
/whowas (username)
Locates IP address.
Opening up the banlist
/mode #mhwikichatroom +b
By doing this command, it will show a list of IP's that are banned
Op Commands
Desired Effect
What to Type
Extra Info
Ban a user
/ban *@*!(hostname from the user's WHOIS)
Bans a user from the chat, note that you still need to kick the user out if you ban them manually. You can also ban a user by clicking on a user's name and clicking on Ban. Also note that Half-Op cannot do the auto ban from clicking a user's name.
Unban a user
/unban *@*!(hostname from the banned user's WHOIS)
A banned user is able to come back. Note that you can also unban banned user's hostname by opening up the banlist and clicking on the red x button.
Kick a user out
/kick (username) (reason)
Just kick the user out. They may come back if they want.
HalfOp others (full op or above only)
/halfop (username)
Halfops the username temporarily.
Op others (admin only)
/op (username)
Ops the username temporarily.
Deop others
/deop (username)
Deops someone who have op or halfop status.
Voice others
/voice (username)
Voices someone (voice allows you to talk should the chat become a mod only chat due to a lockdown)
Devoice others
/devoice (username
Devoices someone who have voice
Customizing the Color of Your Font (Mibbit Chat only)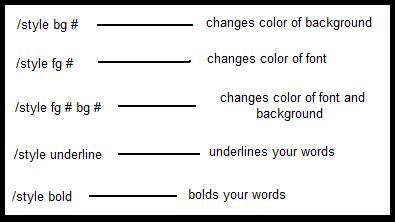 Some Keywords
Type
Description and Example
bold
bolds the words
underline
underlines the words
fg

changes color of the font

bg

changes color of the background
There are a total of 16 colors to use on Mibbit Chat.
The Colors
Number
Color
0
White
1
Black
2
Dark Blue
3
Green
4
Red
5
Grape
6
Purple
7
Peach
8
Yellow
9
Lime Green
10
Teal
11
Turquoise
12
Blue
13
Hot Pink
14
Dark Grey
15
Light Grey
Advanced Info
To connect to the chat via other IRC clients, connect using this information:
Server name: irc.us.mibbit.net
Channel name: #mhwikichatroom
Need extra help?
You can ask these people for help regarding the chatroom or the commands. Note that usernames who has a * next to their name means they also use different aliases, but the one listed below are their original/mostly used nickname.
List of People Who Have a Rank
Username
Their Rank
Shirt*
Founder/Owner
Vesuvius*
Admin
Daora*
Admin
GeneStarwind*
Operator
Golgaman
Operator
Garland/OmegaShinkai*
Half-Operator
Bobbo
Half-Operator
Bidbip*
Voice