Ad blocker interference detected!
Wikia is a free-to-use site that makes money from advertising. We have a modified experience for viewers using ad blockers

Wikia is not accessible if you've made further modifications. Remove the custom ad blocker rule(s) and the page will load as expected.
Hatsune Miku (初音ミク) is a humanoid persona voiced by a singing synthesizer application developed by Crypton Future Media. She uses Yamaha Corporation's Vocaloid 2 and Vocaloid 3 singing synthesizing technologies. She also uses Crypton Future Media's Piapro Studio, a singing synthesizer VSTi Plugin. She was the second Vocaloid sold using the Vocaloid 2 engine, and the first Japanese Vocaloid to use the Japanese version of the Vocaloid 2 engine. Her voice is sampled from Japanese voice actress, Saki Fujita. Hatsune Miku has performed at her concerts onstage as an animated projection. Hatsune Miku is portrayed to be a 16-year-old girl with long turquoise pigtails.
The name of the character comes from merging the Japanese words for first (初 hatsu), sound (音 ne) and future (Miku (ミク) sounds like a nanori reading of future, 未来, normally read as "mirai"), referring to her position as the first of Crypton's "Character Vocal Series". According to Crypton, her name is meant to signify the "first sound from the future".
Relationship with the Monster Hunter Series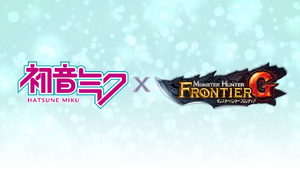 Hatsune Miku made a collaboration with Monster Hunter.
Hatsune Miku x MHF-G
The collaboration was announced on April 12, 2013. It features an Armor Set fashioned after Hatsune Miku, and features the following Weapons:
Mikuhon Dokuso (ミクホン・独奏) (Hammer)
Hatsune Seigaku Dokuso (初音声楽・独奏) (Hammer)
Mikuki Dokuso (ミクキー・独奏) (Hunting Horn)
Hatsune Kenban Dokuso (初音鍵盤・独奏) (Hunting Horn)
Miku Armor / ミクシリーズ
Blademaster


Wide-Area +3 (広域化+3)
Encouragement +2 (激励+2)
High-Grade Earplugs (高級耳栓)
Attack Up (Medium) (攻撃力UP【中】)
Weapon Handling (武器捌き)

Gunner


Wide-Area +3 (広域化+3)
Sniper (狙い撃ち)
Recoil Reduction +2 (反動軽減+2)
Attack Up (Medium) (攻撃力UP【中】)
Weapon Handling (武器捌き)
Good Luck (幸運)
Although not seen in official promotional videos and websites, a version of this Armor Set is also available for the Male gender.
Gallery
Video

01:10

MHF-G「初音ミク」×「MHF-G」コラボ

Title
MHF-G「初音ミク」×「MHF-G」コラボ
by MHFofficial
Video

00:39

MHF-G「初音ミク」×「MHF-G」コラボ 追加プロモーションムービー

Title
MHF-G「初音ミク」×「MHF-G」コラボ 追加プロモーションムービー
by MHFofficial
External Links