Great Jaggi
Talk

36
4,484pages on
this wiki
Great Jaggi Discussion

| | |
| --- | --- |
| | Great Jaggi, Great Wroggi and Great Baggi Music Theme |
Great Jaggi

Names

English Name:
Great Jaggi
Nicknames:
G.Jaggi
Titles:
Dog Wyvern
Romaji:
Dosujagii
Japanese Name:
ドスジャギィ
Japanese Title:
狗竜
Korean Name:
도스쟈기

Description and Information

Species:
Bird Wyvern
Element/s:
None
Ailment/s:
None
Weakest to:
Weakness Sign:
Limping
Signature Move:
Attack Order Barks
Habitats:
Deserted Island, Sandy Plains, Misty Peaks, and Ruins Field
Size:
1261.31 cm
831.50 cm
Monsters in Relation:
Jaggi, Jaggia, Baggi, Great Baggi, Wroggi and Great Wroggi

Chronological Appearances

First US/EU Appearance:
(2010)
First JP Appearance:
(2009)
Latest Appearance:
(2013)
Generation:
3

Great Jaggi is a Raptorial Bird Wyvern monster first featured in Monster Hunter Tri, and subsequently appearing in Monster Hunter Portable 3rd and Monster Hunter 3 Ultimate. It is easily recognizable by its long, barbed tail and the large frills on the sides of its head. The Great Jaggi is larger and bulkier than other Alpha Raptors such as Velocidrome, and gives three carves instead of two.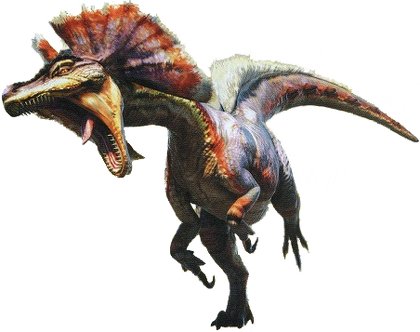 Great Jaggi, along with the Great Baggi, may attack other boss monsters instead of focusing solely on the hunter, indicating a highly competitive and intelligent demeanor. It can also call its pack of Jaggi to its aid at any time with a loud, resonating roar. Being a larger and more powerful dominant male of Jaggi and Jaggia, it is considered by players to be the boss of these monsters. Its alpha status is much more prominent than that of previous Dromes, as it features many of the characteristics of full-fledged boss monsters — the ability to become enraged, limping when weak, and having a breakable part. One should note that the Great Jaggi can be summoned by the Qurupeco at the Deserted Island, Sandy Plains and the Misty Peaks.
In-Game Description
Monster Hunter 3

The Great Jaggi is the head of a Jaggi pack. At a certain age, males leave the pack to live on their own for a period of time before returning to fight for the right to be a leader. They have a very commanding presence. It is said they can call and give complex orders to their pack with their howls and barks.
Monster Hunter Portable 3rd

ジャギィの群れを統率するリーダー。通常、オスはある程度まで成長すると群れを離れ、単独で生活する。その後再び群れへ戻り競争を勝ち抜いたごく一部のオスのみが、この座に就く。群れへの統率力は高く、鳴き声で複雑な命令を下していると言われる。
Monster Hunter 3 Ultimate

The commanding alpha male of Jaggi packs. Most males leave the group upon reaching maturity, returning to compete with others. The dominant male then becomes a Great Jaggi. Apparently, they can issue fairly complex orders via howling.
Notes
Great Jaggi will occasionally attack other boss monsters such as Rathalos or Zinogre if in the same area.
Great Jaggi recovers stamina by eating from a bone pile.
Great Jaggi has two different roars. Its first roar sounds like a the call of a howler monkey, and summons Jaggi to the area. Its second roar sounds more like a howling wolf, and will cause any Jaggi and Jaggia in the same area to gang up and attack the hunter.
Great Jaggi are one of several boss monsters in MH3 who cannot have their tails severed, along with the Great Baggi, Qurupeco, Gigginox, Ceadeus, and Jhen Mohran. However, Ceadeus and Gigginox can have their tail damaged.
The Great Jaggi will always be accompanied by at least two Jaggi. If they are killed, the Great Jaggi will call two more Jaggi to his side.
If the Great Jaggi does not notice a hunter, and there are Aptonoth in the area, it may attack them, though it will not eat them.
Great Jaggi returns in Monster Hunter Portable 3rd. It is largely unchanged, although it can now be found in the new Area, the Misty Peaks.
Great Jaggi also make a return in MH3U with no significant changes, except in G-rank where it is twice as fast.
Great Jaggi participated in four monster's opening scenes (Its own, Qurupeco in P3rd, Qurupeco in Tri and 3U and Deviljho's in 3U) and 3 CG scenes (MH Tri opening, 3U's opening and Barroth Ecology)
Great Jaggi will lead its minions to battle with other monsters. This is also exhibited by Great Baggi and Great Wroggi.
Breakable Parts
Frills

Analysis
For the damage formula (how it's calculated), hitzone charts, Great Jaggi info and more click the following links: Monster Hunter 3 Damage Formula or Monster Hunter 3 Hitzone Charts. Images created by Inkoseh.


Element Damage
Hitzone
Head
60
50
50
50
10
Body
60
50
50
50
10
Average
60
50
50
50
10

Status Effect
Poison
Paralysis
Sleep
Fatigue
Stun
Initial Tolerance
90
150
150
150
120
Tolerance Inc. (max)
+30 (210)
+20 (230)
+15 (210)
+50 (350)
+30 (240)
Tolerance Recovery
5 / 5 sec
5 / 10 sec
5 / 10 sec
5 / 10 sec
5 / 10 sec
Duration
15 sec
10 sec
30 sec
---
10 sec
Damage
75 + 5
---
---
100~200
---
Item Effect
Item Name
Able
Effectiveness
Duration (1st time)
Duration (2nd time)
Notes
Pitfall Trap
✔
★★★
15sec, 28sec (fatigue)
7sec, 18sec (fatigue)
Shock Trap
✔
★★★
12sec, 22sec (fatigue)
6sec, 12sec (fatigue)
Flash Bomb
✔
★★★
20sec, +10sec when fatigue
15sec, +10sec when fatigue
Sonic Bomb
x
☆☆☆
Dung Bomb
✔
★★★
Meat
✔
★★☆
Only works when monster is fatigue.
MHP3rd Analysis
Information is taken from mhp3rd.net
| | | | | | | | | |
| --- | --- | --- | --- | --- | --- | --- | --- | --- |
| Hitzone | Cut. D. | Imp. D. | Shot D. | | | | | |
| Head | 85 | 85 | 65 | 30 | 20 | 20 | 20 | 5 |
| Body | 65 | 63 | 58 | 30 | 20 | 20 | 20 | 5 |
Polls
Poll

Poll

Great Jaggi: Badass Meter: