The Golden Falchion is a Sword and Shield type weapon
Appearances
MHF
Golden Falchion
Attack
266
Buying Cost
Upgrade Cost
Special
460
N/A
55,000z
Affinity
0%
Buying Materials
Upgrade Materials
Sharpness
N/A
Gold Rathian Scale x8, Gold Rathian Plate x1, Inferno Sac x6
Slots
- - -
Def Bonus
-
Rarity
7
Description
-
Family Tree:
Upgraded From
>>
Golden Falchion
>>
Upgrades Into
Corona
End of path
MHF Hunter's Knife
MHF2
Golden Falchion
Attack
252
Buying Cost
Upgrade Cost
Special
480
N/A
75,000z
Affinity
0%
Buying Materials
Upgrade Materials
Sharpness
N/A
Gold Rathian Scale+ x10, Gold Rathian Carapace x8, Rathian Ruby x1
Slots
O O -
Def Bonus
-
Rarity
-
Description
-
Family Tree:
Upgraded From
>>
Golden Falchion
>>
Upgrades Into
Corona
End of path
MHF2 Hunter's Dagger
Monster Hunter Freedom Unite
Golden Falchion / (?) (MHFU)
Attack
252
Buying Cost
Upgrade Cost
Attribute
Fire, 480
N/A
75,000z
Affinity
0%
Buying Materials
Upgrade Materials
Sharpness
N/A
Gold Rathian Scale+ (10)
Gold Rathian Carapace (8)
Rathian Ruby (1)
Slots
OO-
Bonus
None
Rarity
8
Description
Shines due to precious gold wyvern scales. The same Sword lies in a king's tomb.
Remarks
One of the best Fire Element Sns at High Rank. Great against monsters weak to Fire.
It may be hard to make however, due to the requirement of a Rathian ruby, but it´s worthy to make.
Images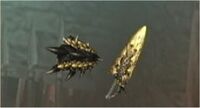 See Also
Ad blocker interference detected!
Wikia is a free-to-use site that makes money from advertising. We have a modified experience for viewers using ad blockers

Wikia is not accessible if you've made further modifications. Remove the custom ad blocker rule(s) and the page will load as expected.