The Frozen Death are Dual Sword type weapons.
Appearences
Monster Hunter Freedom Unite
Frozen Death / (?) (MHFU)
Attack
364
Buying Cost
Upgrade Cost
Attribute
Ice, 370
N/A
90,000z
2nd Attribute
None
Buying Materials
Upgrade Materials
Affinity
0%
N/A
Mellanje Ore (5)
LeathrBlangoTail (2)
HrdBlangongaPlt+ (6)
DaoraDragonScal+ (5)
Sharpness
Slots
OO-
Bonus
None
Rarity
9
Description
An immortal man was finally laid to rest by his son's hand thanks to this.
Remarks
A strong DS with both outstanding raw and elemental power. Relatively easy to make compared to other ice element DS. Rivaled by Silhouette Sabers G and UkanlosRuinerBlades. Silhouette Sabers G has inferior raw but higher ice element, while UkanlosRuinerBlades has far superior raw, minor ice element, and negative affinity.
Perhaps its major flaw is it's lack of white sharpness, as it can only attain white sharpness with the Sharpness +1 (Artisan) skill.
Images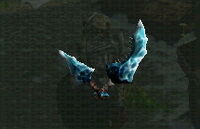 Ad blocker interference detected!
Wikia is a free-to-use site that makes money from advertising. We have a modified experience for viewers using ad blockers

Wikia is not accessible if you've made further modifications. Remove the custom ad blocker rule(s) and the page will load as expected.