The Freezing Daggers are Dual Sword type weapons.
Appearences
Monster Hunter Freedom Unite
Freezing Daggers / (?) (MHFU)
Attack
196
Buying Cost
Upgrade Cost
Attribute
Ice, 320
3400z
3400z
2nd Attribute
None
Buying Materials
Upgrade Materials
Affinity
0%
DaoraDragonScale (2)
Ice Crystal (20)
Iron Ore (10)
Earth Crystal (5)
Ice Crystal (10)
Blangonga Whiskr (2)
Machalite Ore (2)
Sharpness
Slots
O--
Bonus
None
Rarity
4
Description
Fused large Ice Crystals make this better than ore-based swords. Strong Ice.
Remarks
Very high Ice Element Dual Swords considering how easy it is to obtain them.
Images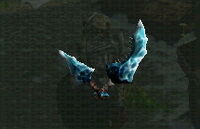 Ad blocker interference detected!
Wikia is a free-to-use site that makes money from advertising. We have a modified experience for viewers using ad blockers

Wikia is not accessible if you've made further modifications. Remove the custom ad blocker rule(s) and the page will load as expected.