The Fire and Ice are Dual Sword type weapons.
Appearences
Monster Hunter Freedom Unite
Fire and Ice / (?) (MHFU)
Attack
350
Buying Cost
Upgrade Cost
Attribute
Fire, 450
N/A
130,000z
2nd Attribute
Ice, 450
Buying Materials
Upgrade Materials
Affinity
0%
N/A
HrdFireDrgnClaw (2)
Daora Sharp Claw (3)
ThckDaoraDrgnScl (5)
BigEDragonJewel (2)
Sharpness
Slots
---
Bonus
None
Rarity
10
Description
Star-crossed warriors destined to kill each other. Their swords became one set.
Remarks
Excellent weapon with high elemental power and decent raw. Among the best Dual Swords in the game.
Images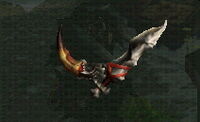 See Also