Eternal Sacrifice is a Dual Blades type weapon.
Appearences
Monster Hunter Freedom Unite
Eternal Sacrifice / (?) (MHFU)
Attack
182
Buying Cost
Upgrade Cost
Attribute
Dragon 510
N/A
140,000z
2nd Attribute
None
Buying Materials
Upgrade Materials
Affinity
0%
N/A
Purecrystal (15)
ElderDragonBlood (10)
Commendation G (1)
Big Wyvern Stone (5)
Sharpness
Slots
O--
Bonus
None
Rarity
9
Description
Made from the mysterious last technological remains of an ancient culture.
Remarks
An upgraded version of Eternal Schism. There's no significant difference between this and its lesser form, except a minor difference in sharpness, elemental power and the affinity having gone from -20 to 0%.
The best Dragon Element dual blades in MHFU in terms of elemental power, but it is also rivaled by Dual Dragon Ultimus+, which outclasses the Eternal Sacrifice in terms of Raw and Slots. It only has 190 less Dragon element, but the raw more than makes up for it.
Both are great Elder Dragon slayers. These dual blades are often considered useful against monster with great weaknesses to Dragon element (Akantor & Elder Dragons). Combined with the armor skill Element Attack Up, they can get a massive 610 Dragon element.
Images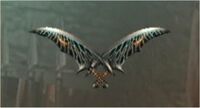 Ad blocker interference detected!
Wikia is a free-to-use site that makes money from advertising. We have a modified experience for viewers using ad blockers

Wikia is not accessible if you've made further modifications. Remove the custom ad blocker rule(s) and the page will load as expected.