The Dual Scissors is a Sword and Shield type weapon
Appearances
Monster Hunter Freedom Unite
Dual Scissors / (?) (MHFU)
Attack
378
Buying Cost
Upgrade Cost
Attribute
Water, 250
N/A
110,000z
Affinity
0%
Buying Materials
Upgrade Materials
Sharpness
N/A
Hard Ceanataur Claw (2)
Heavy Ceanataur Shell (4)
Heavy Hermitaur Shell (2)
Giant Black Pearl (3)
Slots
---
Bonus
Defense +10
Rarity
10
Description
Sword made from 2 varieties of shell with a strong Water element solution coating.
Remarks
Great raw and sharpness, and really nice water attribute. The effort of making it won't be useless!
This weapon is rivalled by Master Odyssey.
Images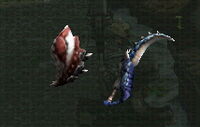 See Also
Ad blocker interference detected!
Wikia is a free-to-use site that makes money from advertising. We have a modified experience for viewers using ad blockers

Wikia is not accessible if you've made further modifications. Remove the custom ad blocker rule(s) and the page will load as expected.