Doris (Japanese ドリス) is a Guild Receptionist found in Minegarde Town and Kokoto Village.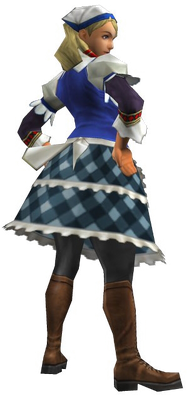 Personality
Doris is known for her blunt way of talking in private and for being embarrassed very easily, though some say she has no shame.
Background
As of late, Doris has been helping out Shirley catch up on her work. While not working with Shirley, Doris gives out G-rank quests to hunters.
Appearance
Her uniform is like Becky's uniform, however, Doris' uniform is blue in color.
Sources
Ad blocker interference detected!
Wikia is a free-to-use site that makes money from advertising. We have a modified experience for viewers using ad blockers

Wikia is not accessible if you've made further modifications. Remove the custom ad blocker rule(s) and the page will load as expected.