Deserts
Talk

1
5,676pages on
this wiki
Deserts
Information
Identifed By:
Sand, rocky mountains, and canyons
Weather:
Very hot during the day, very cold during the night
Common Small Monsters:
Cephalos, Genprey, Hermitaur, Apceros, Felyne, Melynx, Rhenoplos, Altaroth, Bnahabra, Delex, Jaggi, Jaggia
Common Large Monsters:
Gendrome, Cephadrome, Monoblos, Diablos, Tigrex, Copper Blangonga, Daimyo Hermitaur, Great Jaggi, Barroth, Rathian, Qurupeco, Sand Barioth, Nibelsnarf, Volvidon, Deviljho, Jhen Mohran, Hallowed Jhen Mohran, Tigrex Subspecies, Black Diablos, White Monoblos, Akura Vashimu, Odibatorasu, Teostra, Lunastra, Kushala Daora, Rukodiora, Kuarusepusu, Hyujikiki
Known Deserts Locations:
Old Desert
Desert
Sandy Plains
Great Desert
Gorge
Deserts are arid environments containing sand, rocky mountains, and canyons. Most of the desert's areas have very high temperatures that will drain a hunter's health, but a Cool Drink will prevent health loss. Deserts have an unusual climate in which during the day it is brutally hot, and during the night, excruciatingly cold. During the day you will need Cool Drink and during the night you will need Hot Drink.
Ecosystem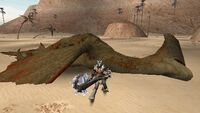 Inhabitants of the desert areas include: Genprey, Gendrome, Cephalos, Cephadrome, and the herbivorous Apceros. Apceros, Jaggi, Rhenoplos, and Genprey tend to nest at the cooler areas of desert caves, while the Qurupeco stays close to streams where it can find fish to eat. Cephalos and Delex are usually seen in the sandier regions, swimming and jumping in the sand. Deserts are largely barren and uninhabited by humans, and as a result are popular areas of civilization for Felyne and Melynx. The Tigrex lives in the deserts.
Dromes such as the Cephadrome and Gendrome also lurk in this region. It is also the exclusive living area of all Monoblos and Diablos. Rathian typically visit this desolated environment to lay their eggs away from many predators and hunting humans. Plesioth inhabit the lower watery caves and rivers of the desert regions. It is also a common living place for Daimyo Hermitaur, Plum Daimyo Hermitaur, Copper Blangonga, the Sand Barioth, and Tigrex. The Barroth stays close to its mud flats to stay cool, but will occasionally leave to look for Altaroth nests, which it breaks apart with its hard skull.
The largest and most expansive part of the desert, the Great Desert, is home to the Jhen Mohran, a massive Elder Dragon that swims through the sands, consuming large amounts of organic material as it goes. Schools of Delex often travel close by the Jhen Mohran, trying to scavenge leftovers from its most recent meals.
Exclusive Field Items
Cactus Flowers can only be obtained from the cactus plants found in the Deserts.
See Also