Desert
Names
English Name:
Desert
Japanese Name:
砂漠
General Information
Icon:
Number of Areas:
10
Hazards:
Hot regions (Area 1, 2, and 5)
Cold regions (Area 1, 2, 5, and 6)
Main Resources:
Plants and Bugs
Small Monsters:
Apceros, Cephalos, Felyne, Genprey, Great Thunderbug, Hermitaur, Melynx, Remobra, Vespoid
Large Monsters:
Akura Vashimu, Akura Jebia, Baruragaru, Cephadrome, Copper Blangonga, Daimyo Hermitaur, Plum Daimyo Hermitaur, Diablos, Black Diablos, Gendrome, Gureadomosu, Hyujikiki, Kuarusepusu, Kushala Daora, Lunastra, Monoblos, White Monoblos, Odibatorasu, Plesioth, Green Plesioth, Rathian, Pink Rathian, Rukodiora, Teostra, Tigrex, Unknown (Black Flying Wyvern)
Game Appearances:
MH2, MHF2, MHFU, MHFO
Generation:
Second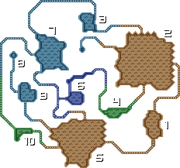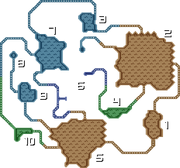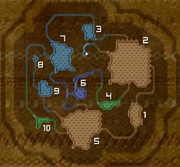 The Desert is an area introduced in Monster Hunter 2. It is characterized by vast, sandy expanses, subterranean caves, and rocky, canyon-like areas. The Desert is inhabited by many uniquely adapted monsters, such as Daimyo Hermitaur, Diablos, and Cephadrome. 
Common Resources
Bone
Unknown Skull
Small Bone Husk
Bone
Mystery Bone
Bug
Bitterbug
Carpenterbug
Killer Beetle
Flashbug
Royal Rhino
Insect Husk
Cricket
Godbug
Thunderbug
Fish
Sushifish
Rumblefish
Burst Arrowana
Goldenfish
Glutton Tuna
Knife Mackerel
Fruit
Huskberry
Power Seed
Bomberry
Green Seed
Needleberry
Tropical Berry
Red Seed
Paintberry
Mushroom
Ore
Iron Ore
Earth Crystal
Disk Stone
Whetstone
Machalite Ore
Goldstone Piece
Stone
Icecrystal
Ruststone
Suiko Jewel
Plant
Hot Pepper
Cactus Flower
Fire Herb
Herb
Sap Plant
Felvine
Sunset Herb
Secret Area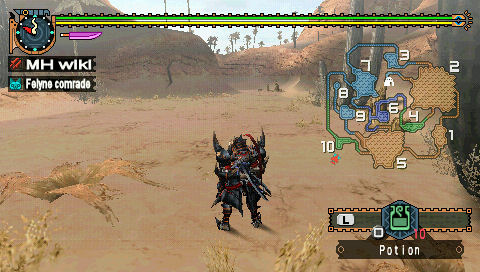 An enclosed rocky area, inhabited by Felynes. It is connected to Area 5. As with all Secret Areas, it is possible to spawn here at the beginning of a quest in High Rank. A single Mining Point, a bug-gathering point, and two Plants can be exploited here. Umbrellas, Masters Skulls and Felyne Fur Rubys can be picked up amongst the Plants.
Music Themes
| | Title |
| --- | --- |
| | MHFU/MHF-G8: Desert Music Theme (HR1-99) |
| | MHF-G8: Desert Music Theme (HR100~) |
| | MHF-G8: Desert Music Theme (G Rank) |
Videos
Video

00:18

Monster Hunter Freedom Unite -- "White Night Dune" (Desert - Day)

Title
White Night Dune
by octaneblue2
Video

00:18

Monster Hunter Freedom Unite -- "White Night Dune" (Desert - Night)

Title
White Night Dune
by octaneblue2
See Also