Ad blocker interference detected!
Wikia is a free-to-use site that makes money from advertising. We have a modified experience for viewers using ad blockers

Wikia is not accessible if you've made further modifications. Remove the custom ad blocker rule(s) and the page will load as expected.
Yasushi Nirasawa (韮沢 靖 Nirasawa Yasushi) is a Japanese illustrator, character designer, and model maker born in Tochio, Niigata Prefecture. He is well known for character designs in Kamen Rider Series entries Kamen Rider Blade, Kamen Rider Kabuto, and Kamen Rider Den-O and the creatures in the GARO series.
In 2009, he was brought onto the productions of Kamen Rider Decade, the Cho-Den-O Series, and Kamen Rider G in designing the Paradoxa Undead, the Alligator Imagin, the villains Goludora and Shilubara, and the Phylloxera Worm, respectively. He later provided the designs of the original villains of the Super Sentai Series's 2011 entry Kaizoku Sentai Gokaiger. His designs for the various Tokusatsu productions are published in UNDEAD GREEN BLOOD, GITAI, SAY YOUR WISH, and ZANGYACK WORKS LOG.
Relationship with the Monster Hunter Series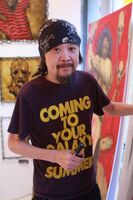 Yasushi Nirasawa made a collaboration with Monster Hunter.
クリーチャーデザイナー韮沢靖 x MHF-G: Divol Kit

The collaboration was announced on October 17, 2013. The Premium Kit was designed by Yasushi Nirasawa himself. It features Weapons and Armor Sets fashioned after the Espinas, Espinas Subspecies and Espinas Rare Species. The following Weapons are:
Divol Armor / ディヴォルシリーズ
Divol Armor / ディヴォルシリーズ
Blademaster

Gunner


Quake Res +1
Normal S/Rapid Arrow UP
Gallery
クリーチャーデザイナー韮沢靖 x MHF-G: Genome Kit
The collaboration was announced on December 12, 2013. The Premium Kit was designed by Yasushi Nirasawa himself. It features Armor Sets and the following Weapons:
Genome Slasher (ゲノムスラッシャー) (Great Sword)
Puroteoburanto (プロテオブラント) (Great Sword)
Bio Smasher (ビオスマッシャー) (Hammer)
Physio Stamper (フィジオスタンパー) (Hammer)
Genome Armor / ゲノムシリーズ
Blademaster

Gunner

Gallery
External Links