Some of the names in this Article use an unofficial English translation of its official Chinese Name.
The name is obtained either by using Chinese translating programs or through previous existing English equivalent terms in the game. The names will be used as quick references around other articles in the Monster Hunter Wiki until Capcom reveals the official English names for them.

---
Conflagration Rathian Topics:

Conflagration Rathian is a Variant of Rathian introduced in Monster Hunter Online.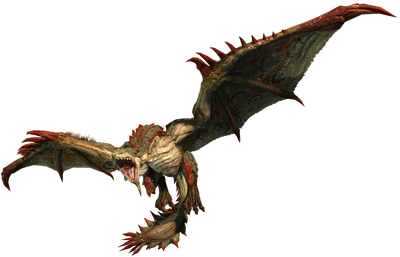 Other Non-Subspecies Forms
Rathian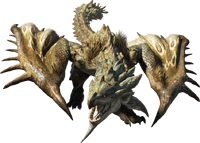 Main Article: Rathian
Game Appearances
Chronological Appearances
| | | |
| --- | --- | --- |
| First US / EU Appearance: | First JP Appearance: | Latest Appearance: |
| None | None | (2013) |
In-Game Description
Monster Hunter Online

龙盘目,兽脚亚目,甲壳龙下目,飞龙上科。肉食类。比起善于飞行的雄性来说更擅长奔走,和雄性一样有着剧毒的尾刺、火焰喷吐,在繁殖期间危险性比平时强上数倍。




Threat Level (危険度): !!!!!
Notes
Conflagration Rathian's head and each wing can be wounded, and its tail can be severed.