Cattleya (Japanese カトレア) is one of the many Guild Receptionists found within Mezeporta Square. She is apart of Mezeporta's Guide Daughters.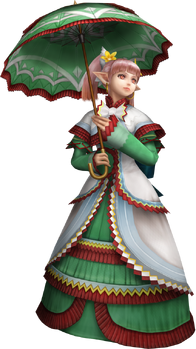 Personality
She is considered to have a noble personality along the lines of a hero.
Background
When Cattleya first appeared in Mezeporta, she was helping both rebuild and repair Mezeporta with the help of donations from hunters. She is also well-known for trying to give hunters words of wisdom before they go out on a hunt. She also has a heart for the Guku, Poogie, and Halks like the other Guild Daughters.
Appearance
Cattleya has pink hair and wears a beautiful multicolored dress.
Sources
Ad blocker interference detected!
Wikia is a free-to-use site that makes money from advertising. We have a modified experience for viewers using ad blockers

Wikia is not accessible if you've made further modifications. Remove the custom ad blocker rule(s) and the page will load as expected.