Black Diablos
Talk

6
5,481pages on
this wiki
Black Diablos

Names

English Name:
Black Diablos
Nicknames:
Black Blos
Titles:
The Fierce Black Horn, Black Phalanx
Romaji:
Diaburosu Ashu
Japanese Name:
ディアブロス(亜種)
Japanese Title:
Black Horned Monster
Korean Name:
디 아브로스 아종

Description and Information

Species:
Flying Wyvern
Element/s:
None
Ailment/s:
None
Weakest to:
Weakness Sign:
Limping or enraged after one hit
Signature Move:
Underground Dig Attack
Habitats:
Deserts and Sandy Plains
Size:
2930.3
1893.7
Monsters in Relation:
Diablos
White Monoblos
Monoblos

Chronological Appearances

First US/EU Appearance:
(2006)
First JP Appearance:
(2005)
Latest Appearance:
(2013)
Generation:
1
The Black Diablos is a female Diablos during the mating season. The change in colour is meant to act as a warning to other monsters, as she becomes extremely aggressive during this state. This aggression translates into her combat approach, with a significant boost of speed and power becoming highly evident.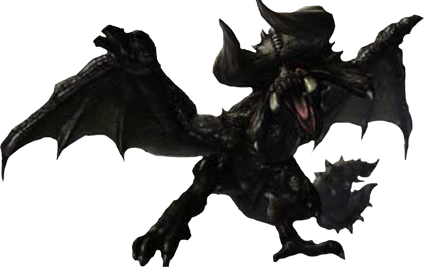 In-Game Description
Monster Hunter Portable 3rd

黒い甲殻を持つディアブロス。"黒角竜"と呼ばれ、亜種として扱われているが、実際は繁殖期における雌のディアブロスの体色が、黒く変化したものである。この変化は、他の生物に対する警告色と考えられ、実際に、非常に攻撃性が高くなる。
Monster Hunter 3 Ultimate

These black-shelled Diablos are treated as a subspecies, but are actually just normal female Diablos in heat. The color change is a warning to other creatures, as they tend to become extremely aggressive during mating season.
Notes
The Black Diablos first appeared in Monster Hunter G (Japan) and Monster Hunter Freedom (PAL).
Throwing a Sonic Bomb while the Black Diablos is underground will surprise it and cause it to become stuck in the ground. However, this does not work when it is in Rage.
Black Diablos returned in Monster Hunter Portable 3rd for High Rank quests.

Black Diablos' attacks in 3rd are the same as the common Diablos in the same game, but it catapults itself out of the ground more often than its ordinary counterpart. In fact, it uses this move as often as the Diablos met in Tri.
Interestingly, some brown markings are visible on Black Diablos in P3rd, further supporting the information that Black Diablos is a usual member of its species with color changes due to hormones.

HC Black Diablos has a new look, new behavioral patterns and new attacks. Aesthetic changes include one horn very much larger than the other, purple tongue and meat, more spikes and vein covered wings. Attacks include a roar so loud and unusual that it can create what appears to be wind shield over its body, unusual charging behavior were it just runs at a target (instead of charging horns first) and tail attacks were it slides in the direction it smashes twice.
On Monster Hunter Frontier Online Black Diablos can be a pet. Along with eating cactus, it is known to love eating Yale Nuts found in the Gorge and rarely the Tower, along with the rare Dosubisukasu flower from the Tower.
In MH3U Black Diablos can be hunted in the Moga Woods at night.
MHP3rd Analysis
Information is taken from mhp3rd.net
| | | | | | | | | |
| --- | --- | --- | --- | --- | --- | --- | --- | --- |
| Hitzone | Cut. D. | Imp. D. | Shot D. | | | | | |
| Head | 25 | 15 | 20 | 0 | 15 | 15 | 20 | 15 |
| Neck | 45 | 45 | 30 | 0 | 10 | 10 | 15 | 10 |
| Back | 23 | 42 | 20 | 10 | 15 | 15 | 25 | 15 |
| Stomach | 68 | 75 | 40 | 0 | 10 | 10 | 10 | 10 |
| Wing Bone | 23 | 42 | 20 | 10 | 15 | 15 | 25 | 15 |
| Wing Membrane | 40 | 30 | 45 | 0 | 10 | 10 | 20 | 10 |
| Legs | 35 | 35 | 35 | 0 | 5 | 5 | 8 | 5 |
| Tail | 50 | 25 | 60 | 0 | 10 | 10 | 15 | 10 |
| Tail End | 22 | 35 | 10 | 10 | 15 | 15 | 30 | 15 |