The Binding Blade is a Sword and Shield type weapon
Appearances
Monster Hunter Freedom Unite
Binding Blade / (?) (MHFU)
Attack
322
Buying Cost
Upgrade Cost
Attribute
None
75,000z
75,000z
Affinity
0%
Buying Materials
Upgrade Materials
Sharpness
Eltalite Ore (8)
RobustWyvernBone (4)
Monster Essence (2)
Carbalite Ore (15)
Eltalite Ore (5)
RobustWyvernBone (3)
Eldr Dragon Bone (5)
Slots
---
Bonus
None
Rarity
9
Description
Crafted by popular demand, this is the ultimate binding sword with G-Level power.
Remarks
Easily obtained G-rank Sword.
Images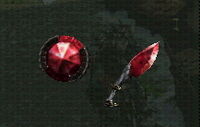 Ad blocker interference detected!
Wikia is a free-to-use site that makes money from advertising. We have a modified experience for viewers using ad blockers

Wikia is not accessible if you've made further modifications. Remove the custom ad blocker rule(s) and the page will load as expected.