Arzuros
Talk

4
5,747pages on
this wiki
Arzuros Discussion

| | |
| --- | --- |
| | MHP3: Arzuros, Lagombi and Volvidon Theme |
Arzuros

Names

English Name:
Arzuros
Nicknames:
Zuros
Titles:
Blue Bear Beast
Romaji:
Aoashira
Japanese Name:
アオアシラ
Japanese Title:
青熊獣
Korean Name:
아오아시라

Description and Information

Species:
Fanged Beast
Element/s:
None
Ailment/s:
None
Weakest to:
/
Weakness Sign:
Limping
Signature Move:
Bear Hug
Habitats:
Misty Peaks, Deserted Island, Flooded Forest
Size:
854.55cm
501.34 cm
Monsters in Relation:
Lagombi, Volvidon

Chronological Appearances

First US/EU Appearance:
(2013)
First JP Appearance:
(2010)
Latest Appearance:
(2013)
Generation:
3
Arzuros (アオアシラ) is a large, blue, bear-like Fanged Beast introduced in Monster Hunter Portable 3rd that inhabits the Misty Peaks and the Deserted Island. Arzuros is very fond of honey and will attack any hunter trying to gather it. Arzuros is seen regularly by Yukumo villagers in the Misty Peaks and is known to cause trouble for the locals.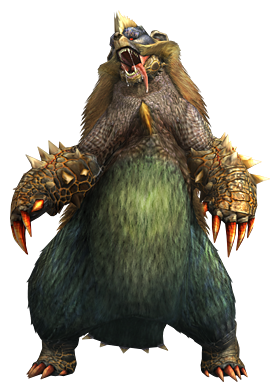 Physiology
Arzuros is a large, Fanged Beast noted for its turquoise colored fur and ursine body structure. Arzuros have a ridge of erect hair aligned with their noses. Its back is made of a tough hide, somewhat characteristic of a carapace. Hair runs from its cheeks, connecting to its back, where it forms a trim along the sides of the back. The claws of an Arzuros have elongated, red nails. Each claw has a tough brace encasing and protecting the wrist and forearm. Arzuros has large, bulky legs connected to much smaller feet. Arzuros has a short, wide tail with five spikes on it.
Abilities
Arzuros is armed with two vicious claws which it uses for most of its attacks. Arzuros uses its large body and agility for charge attacks and pinning down prey.
Behavior
Arzuros are omnivorous creatures that enjoy feasting on fish and honey. When eating honey, Arzuros pay little to no attention of their surroundings. When threatened by other large monsters, Arzuros will try to use its size and claws to frighten the monster, or will use its agility to escape. Arzuros often hang their tongues out of their mouths.
Habitat
Arzuros enjoy the lush environments of the Deserted Island and Misty Peaks, where is has access to piscine food sources and an abundance of honey.
In-Game Description
Monster Hunter Portable 3rd

温暖湿潤な地域の山や森に生息する牙獣。二足で起ち上がり、大好物のハチミツを採取したり、河原で魚を捕る事で知られる。鋭い爪と厚い甲殻を持つ前脚は非常に発達しており、その一撃は脅威。美しい青毛を持つ事から"青熊獣"とも呼ばれる。
Monster Hunter 3 Ultimate

Forest-and mountain-dwelling beasts found in humid regions. Though known more for fishing and standing upright to collect honey, their thick claws and heavy forearm plating allow them to deliver powerful blows to any aggressor.
Notes
Arzuros eats honey to recover Stamina.

Arzuros's tendency to eat or 'forage' to recover health is slightly higher than Lagombi and Volvidon.

Arzuros' signature move is a Pin Attack, much like some of the monsters in Monster Hunter 3. Failing to break free from the pin attack will result in Arzuros stealing Honey from the hunter and eating it, (if the hunter has Honey in his/her inventory) and it will stun the hunter.
If after the Arzuros pins the hunter down and steals Honey, then there is a chance of it dropping a shiny that contains Honey, while he sits down to eat it.
The guards of its forelegs can be broken. Doing so will leave it more likely to fall over after charging.
Arzuros is the target of the first Yukumo Village Urgent Quest in Monster Hunter Portable 3rd.
There's an Event Quest, where players hunt a king-sized Arzuros, also with buffed stats.
Arzuros is most vulnerable to Fire on its head, body and front legs, and weakest to Ice on its hind legs and rear.
Throwing a Sonic Bomb, or exploding a Small/Large Barrel Bomb next to it, will startle Arzuros momentarily, but not in rage. Additionally, it will drop a shiny.
Throwing a Dung Bomb at Arzuros will not only make it escape to another Area, but will also drop something shiny. However, this only works once per hunt.
Arzuros returns in Monster Hunter 3 Ultimate

The Arzuros can be hunted at night in the Moga Woods, only after achieving high rank and completing the ****** quest "Double Jeopardy".
Trapping an Arzuros will cause it to drop a shiny.

Even though Arzuros isn't in Monster Hunter 4, you can get it's armor by trading monster parts for Arzuros parts.
Analysis
Information is taken from mhp3rd.net
| | | | | | | | | |
| --- | --- | --- | --- | --- | --- | --- | --- | --- |
| Hitzone | Cut. D. | Imp. D. | Shot D. | | | | | |
| Head | 60 | 60 | 60 | 20 | 5 | 10 | 15 | 0 |
| Stomach | 50 | 50 | 80 | 25 | 5 | 10 | 15 | 0 |
| Front Legs | 33 | 35 | 28 | 30 | 5 | 30 | 20 | 0 |
| Back | 85 | 85 | 40 | 15 | 5 | 10 | 20 | 0 |
| Hind Legs | 56 | 56 | 44 | 15 | 5 | 10 | 20 | 0 |
Monster Hunter 3 Ultimate Analysis
Damage Table
Hitzone

Head
60
60
60
20
5
15
10
0
Upper Body
50
50
80
25
5
15
10
0
Front Legs
32
35
28
30
5
20
30
0
Back Legs/Belly
56
56
40
15
5
20
10
0
Butt (Back)
85
85
44
15
5
20
10
0
Poison
Low
Explosives
Low
Source: BradyGames Guide
Sidenote: The guide actually lists "butt" as an area; I didn't make that up