Ad blocker interference detected!
Wikia is a free-to-use site that makes money from advertising. We have a modified experience for viewers using ad blockers

Wikia is not accessible if you've made further modifications. Remove the custom ad blocker rule(s) and the page will load as expected.
Animal Crossing (どうぶつの森), is a community simulation video game series developed and published by Nintendo, in which the player lives in a village inhabited by anthropomorphic animals, carrying out various activities. The series is notable for its open-ended gameplay and extensive use of the game systems' internal clock and calendar to simulate real passage of time.
Four Animal Crossing games have been released worldwide, one each for the Nintendo GameCube, Nintendo DS, Wii, and the Nintendo 3DS. The series has been both critically and commercially successful and has sold 16.5 million units worldwide.
Relationship with the Monster Hunter Series

Animal Crossing made a collaboration with Monster Hunter.
Animal Crossing: New Leaf x MH4U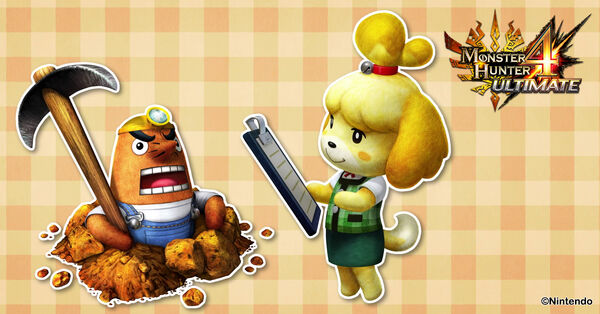 The collaboration was announced on September 20, 2014, and was simultaneously confirmed for Monster Hunter 4 Ultimate on the same day. In Japan, it is a part of Monster Hunter 4G's collaboration with 7-Eleven alongside Metroid: Other M content. It features Animal Crossing-themed Guild Card Backgrounds, and a the following Palico Armor Sets and Palico Weapons fashioned after Isabelle and Resetti:
Gallery
Video

01:39

Monster Hunter 4 Ultimate - Animal Crossing Felyne outfits

Title
3DS『モンスターハンター4』 「スーパーマリオブラザーズ」シリーズ コラボ映像
by Monster Hunter
Video

26:44

モンスターハンター4G Direct 2014.10.8 プレゼンテーション映像

Title
モンスターハンター4G Direct 2014.10.8 プレゼンテーション映像
by Nintendo 公式チャンネル
External Links