Ad blocker interference detected!
Wikia is a free-to-use site that makes money from advertising. We have a modified experience for viewers using ad blockers

Wikia is not accessible if you've made further modifications. Remove the custom ad blocker rule(s) and the page will load as expected.
| | |
| --- | --- |
| | MH4 Ancestral Steppe Music Theme |
The Ancestral Steppe is an area first introduced in Monster Hunter 4. It features vast, wide open fields of yellow grass, rocky outcroppings, deciduous forested areas, and subterranean caves, with towering mountain peaks seen in the distance. This area is home to many species of monsters, such as Seltas, Kecha Wacha, Gore Magala, and many others. Hunters can take advantage of the uneven terrain to give themselves a height advantage over their target and gain the upper hand during battle. It is located outside the Everwood and Great Desert.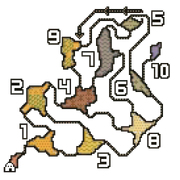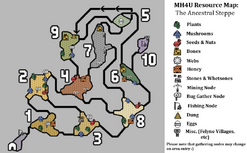 Item List
Bugs
Insect Husk
Stinkhopper
Snakebee Larva (at honey spots)
Godbug
Bitterbug
Flashbug
Thunderbug
Glueglopper
Hercudrome (High-rank)
Minerals and Ores
Stone
Iron Ore
Earth Crystal
Machalite Ore
Carbalite Ore (High-rank)
Aquaglow Jewel
Sunspire Jewel
Bloodrun Jewel (High-rank)
Lazuriite Jewel (High-rank)
Mystery Charm
Shining Charm (High-rank)
Plants
Honey
Herb
Antidote Herb
Ivy
Sleep Herb
Sap Plant
Felvine
Mushrooms
Blue Mushroom
Exciteshroom
Mopeshroom
Berries
Paintberry
Nulberry
Huskberry
Scatternut
Needleberry
Pierce Seed
Kinsect Nectar
Power Nectar: Fire
Power+ Nectar
Nectar: Fire+ (Fairly sure High-rank)
Bones
Bone Husk
Monster Bone S
Mystery Bone
Unknown Skull
Fishing
Whetfish
Sushifish
Sleepyfish
Pin Tuna
Scatterfish
Burst Arowana
Bomb Arowana
Glutton Tuna
Gastronome Tuna
Small Goldenfish
Wanchovy
Ancient Fish (High-rank)
Gallery