The Akantor Shadow Claws are Dual Sword Type weapons.
Appearences
Monster Hunter Freedom Unite
Akantor Shadow Claws / (?) (MHFU)
Attack
462
Buying Cost
Upgrade Cost
Attribute
None
N/A
145,000z
2nd Attribute
None
Buying Materials
Upgrade Materials
Affinity
35%
N/A
Ukanlos Stone (1)
Lg WyvernStone (3)
Akantor Claw (5)
Akantor Scale (7)
Sharpness
Slots
---
Bonus
None
Rarity
10
Description
Dual Blades with the power of a black deity. Users feel they can tear the heavens.
Remarks
Extremely high attack power and high affinity. However, sharpness is only green, and even with Sharpness +1 it only stays at green. Among raw-based dual swords at G-rank without purple sharpness, it deals the most damage. Rivaled by Tigrex Claws+ and Ebony Wings, both of which, however, only do their max damage for a short period of time without sharpnening, while these dual swords maintain sharpness for a longer period of time. All three, however, are defeated by other weapons with the aid of Sharpness +1.
Images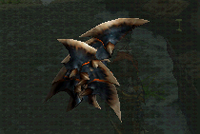 See Also
Ad blocker interference detected!
Wikia is a free-to-use site that makes money from advertising. We have a modified experience for viewers using ad blockers

Wikia is not accessible if you've made further modifications. Remove the custom ad blocker rule(s) and the page will load as expected.